Comics
Published September 27, 2018
A Very Serious Conversation with Chewbacca
The galaxy's most famous Wookiee has an in-depth chat with Marvel.com.
Pilot. Hero. Spirited Dejarik player.
His name is Chewbacca, and he stands as one of the great icons of pop culture, cinema, and being really tall. The luminous scene-stealer of Solo: A Star Wars Story, Chewbacca—or "Chewie," as he's known by adoring friends and fans—has traversed the galaxy from one side to the other. And, at last, he's speaking about it all.
I was privileged to examine the craft, life, and psyche of Chewbacca in a rare interview where we spoke about—among other things—his craft, his life, and his psyche. What is the purpose of war? What is the nature of good and evil? What is the meaning of life itself? These are questions I did not ask, but I could have, I guess. Fascinating.
Anyway. I now present a glimpse of the Wookiee beneath the wool; the brain behind the bowcaster; the eloquent, incisive reason within the roar.

Marvel.com: Thank you for joining me. To begin, the story of how you and Han met will be told in the STAR WARS: SOLO ADAPTATION comic book limited series, which starts on October 10. What's it like looking back on your years as a young, energetic, wide-eyed 196 year-old?
Chewbacca: HRRAA. HARRF! HWHHRA WHHRRAAAGH! HRAA HUHRR.
Marvel.com: Incredible. Now, the STAR WARS: SOLO ADAPTATION features some special scenes not shown in the film—do you have any insights about what those might be?
Chewbacca: GRAAAA. WHRRWHHRA WHHRRA. WHRRRRAANNH WHRA! HRAAAAGH HRHR. WRAAAAAAH. RRRAAR GGRRRRRH!
Marvel.com: Wow.
Chewbacca: HRRRRUH.
Marvel.com: I will admit, I'm a little disturbed. But also that's incredible.
Chewbacca: HUHRR.
Marvel.com: There's another comic that you feature regularly in: STAR WARS. The main series currently chronicles the adventures you, Han, Luke, Leia, Artoo, and Threepio found yourselves at the center of in-between the events of Star Wars: Episode IV - A New Hope and Star Wars: Episode V - The Empire Strikes Back. What do you remember about those days?
Chewbacca: WHRAAAAGH! HRA HGRRRRRRR… WHRAAAARRR HRAAAGARAAA! WRHRRAA. HRRAA! WRHRAAAAAGHAAAH HRRAA. WHGRRAAAAA WRHAAAA. GRRRRRRRRR RRRRRAAAAA! WHRRAAAAAAAAA! WHRAA RAAAH WRAH AAAHG. HRAARAGH WHAARAA WHRA WRAAAHAGH HRAARH HRAARGH HRAA HRAA HRHR. WHRUURAAAAGH! WRAAAAAAH HHRRRRRRRR RRRAAR. GRROOOOGGHH.
RRRRRRRRRGGGHH GRRRRHH RAARGHH. GRAAAA? HRAAAA! HRUUNNGH HUURRAAAA HRRAAAA. HRR. HRRRAARRRRARGHHR HRRAAAA! HUHRR. HRRAA. GRRR WRRYEENHH YRRRAANNH. HRRA HARRF. HRRAR HRARAARRAARH. WRAAAAAA! HRAA HWHHRRRRAH. HWHHRA WHHRRAAAGH HRRRRUH. WHRRRRRR. KRRRHHHHHH HRRRAAAA. RAARGHHH RRRAAR. GRROOOOGGHH HRHR HRAA HRAA HRHR. WRAAAAAH WRRAAAAAARR HRAARH HRAARGH… WHRA HRRRRUH WHHRAAAAAAAA! WHRRWHHRA WHHRRA WHRRRRAANNH. HRR. HRAAAA! HRUUNNGH WRAAAHAGH WRHRAAAAAGHAAAAH. HRAARAGH WHAARAA WHRA. WRAAAHAGH WHRAAARAGH. HAARH HRAARGH WHRARAAARH. HRHR HRAA. WHRRRRAANNH HWHHRRRAH. HRR.
Marvel.com: That is beautiful.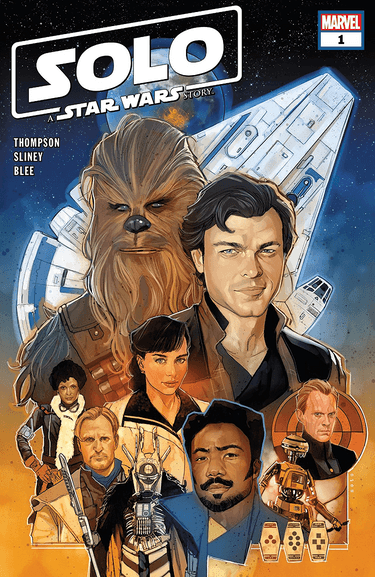 Marvel.com: I have a personality questionnaire that I'd love to have you answer. Would you?
Chewbacca: HRRRHRAAAA. HRHR WHRAAARAGH.
Marvel.com: Wonderful. What is your favorite word?
Chewbacca: GRRRR HUHRR… HRRAA WHRRWHHRA. HRHR HRRAR!
Marvel.com: What's your least favorite word?
Chewbacca: WRHRRAA HRRAA. WRHRAAAAAGHAAAAH HRRAA WHGRRAAAAA.
Marvel.com: What task do you find most enjoyable?
Chewbacca: HRHR GGRRRRHH RRRGGGH. HRRRAAAA RAARGHHH.
Marvel.com: What task do you find most annoying?
Chewbacca: WRAAAAAAH WRRAAAAAARR! HRAA HRAA HRHR. HRAARAGH WHRRHRAAAA HRRHRAAAA.
Marvel.com: What's your favorite sound?
Chewbacca: KRRRHHHHHHHH RRRAAR? HHRRRRRRR RRRAAR HRHR WHRARAAARH HRAARH HRAARGH.
Marvel.com: What's your least favorite sound?
Chewbacca: HWHHRA WHHRRAAAGH. WHRA HRAA WRAAAA HRAAAA. HRRHRAAAA HRAAAAGH!
Marvel.com: [Laughs] Absolutely! Other than co-pilot, what profession would you like to try for a day?
Chewbacca: WHRRRRAANNH HWHHRA WHHRRAAAGH. HRHR HRAAAA WHAANNGH WHAARAA WHRA. HRAARH WRRAAAAAARR.
Marvel.com: What profession would you least like to try?
Chewbacca: RRRAAR GRROOOOGGHH HRRRRGGGHH.
Marvel.com: If you could become one with the Force, what would you like to do as a Force ghost?
Chewbacca: RAARGHHH HRRRAAAA. HWHHRA WHHRRAAAGH WHRA HRRAR HRRAA. HARRF! HRRAA HUHRR. HRR.
Marvel.com: Well, thank you again for being here. Where can we find your work?
Chewbacca: GRAAAA HRAAAA HRUUNNGH HUHRR. WHGRRRRRR. WHRA HRAA GGRRRRRHH. RRRGGGH WWWHHRRRHH HRAA HRHR RAARGHHH.
Marvel.com: Ah yes, space. Be well.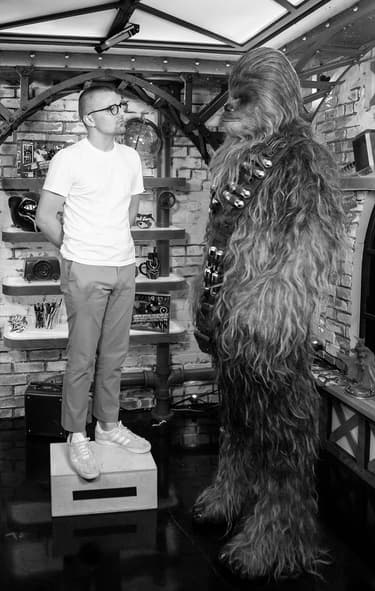 Solo: A Star Wars Story is available on Digital and Blu-ray now!
The Hype Box
Can't-miss news and updates from across the Marvel Universe!