Comics
Published January 17, 2018
A Worthy End: Part One
Jason Aaron sounds a death knell for The Mighty Thor!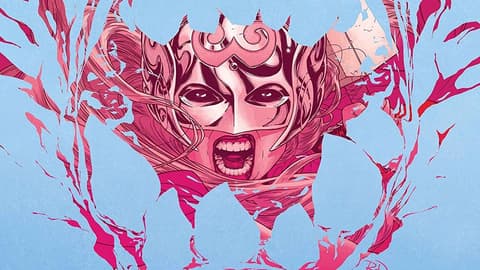 As Mangog rampages through Asgardia, Thor—the last hope for the innocent lives at risk—lies dying from a cancer that has brought her body to the brink.
Jane Foster, faced with the responsibility of her heroic mantle and the sickness that it exacerbates, can see the end on the horizon. And as "The Death of the Mighty Thor" story arc continues, we can too. Today, issue #703 of writer Jason Aaron and artist Russell Dauterman's MIGHTY THOR sets a grave course of events in action—and on February 21, issue #704 escalates the situation entirely.
We caught up with Aaron for an expansive two-part interview about the climax of this iconic series.
Marvel.com: Now that "The Death of the Mighty Thor" arc has begun, what's going on in Jane's head?
Jason Aaron: Well, in issue #702, we saw Odinson confront her and point blank tell her that she's got to stop. He's one of the few people who knows her secret and knows what being Thor is doing to her, so he directly confronted her and she seemed to understand and relent. But by the end of the book she had collapsed, so…as to what she's facing and where her mind's at, I think you'll have to see issue to issue.
I will say that issue #703, directly and specifically lays out what her situation is, what her health looks like, and what that means going forward. By the next issue, the decision she faces is very clear.
Marvel.com: As a quick catch-up, what events have been leading to this moment in MIGHTY THOR?
Jason Aaron: Well, Jane Foster's been Thor for the last two years or so and that whole time she's been fighting some of the biggest, craziest enemies from around the various realms—most importantly Malekith the Accursed, who's at the center of a War of the Realms that's created chaos across the landscape.
So at the same time Thor's been dealing with all of that, she's had cancer as Jane Foster and the two kind of spiral together; being Thor is making her condition worse. See, every time she transforms into Thor, it neutralizes the cancer treatments she's been receiving. And when she goes back to being Jane she's worse than before. Jane knows all this, but she continues to pick that hammer up because somebody's got to. Somebody has to do that job and try to stop this War of the Realms from spreading to every realm.
So she's been dealing with all that, and then in issue #700—the beginning of this whole arc—the Mangog showed up. Mangog is one of the original Stan Lee and Jack Kirby villains and one of my favorite Thor villains.
Marvel.com: And even War Thor couldn't stop him.
Jason Aaron: Right, he beat the crap out of War Thor. He defeated War Thor and tore the hammer apart.
Marvel.com: So what does the Mangog want?
Jason Aaron: The Mangog hates the gods and wants vengeance against them because he was born when Odin slaughtered an entire alien race. The Mangog exists as sort of the combined rage and hate of all those billion, billion beings channeled into one monster, out for justice. It's come for revenge many times over the years and gets defeated, but always somehow comes back stronger than he was before.
We talked in issue #701 a little bit about why that is, what fuels the Mangog, and how he's become a bigger thing than just a means of vengeance against Odin for that original sin…he's sort of become a bigger force of nature, a cosmic judgment against all the gods. It remains ambiguous whether he's justified in that vengeance or not, though, and very much ties into the themes going back to my first arc on the book and that initial idea: "Are the gods really worthy?"
Marvel.com: It's so amazing that the thematic seeds of this finale were planted so long ago. Did you have the big story events planned from the very beginning or did they evolve organically over time?
Jason Aaron: Oh, I've known for years that the Mangog was coming. I always had plans to use him from the get-go and, if you go back over the course of my whole run, you'll see references and teases to the Mangog going back several years. I've always known we were building towards that and I've known from the beginning of the Jane Foster Thor story that her story was building towards this very specific moment.
Marvel.com: What inspired your choice to bring the book to this point?
Jason Aaron: I mean, when I first started working on MIGHTY THOR, the first thing I did was sit back down and read those first Lee and Kirby issues from the very beginning. I think a lot of what I've done—the toys I've played with—has come from those issues. You know, I'd never read a lot of those stories before and the Mangog was one of the first things to jump out to me.
I wasn't a huge THOR fan at first, if you can believe it.
Marvel.com: Really?!
Jason Aaron: I mean, I knew the Walter Simonson stuff, but that was my only reference, really. But when I read all the way through, I realized that the character that I was drawn towards was Mangog. And the more I read, the more I could see stuff that I really wanted to sink my teeth into.
I think the job is that, no matter the character, you don't ever want to go into it and just preach to the choir, assuming everybody already knows why this character is cool. You want to show why this character is different from any other character in the Marvel Universe; what makes their adventures so unusual and exciting. I do try to keep that up in every new issue.
Marvel.com: Of course, this is very much Jane's story, but I'm curious about the Odinson's emotional reaction to all of this. If Jane dies, might he get his identity as Thor back? Does he want it back? He must be feeling a lot of conflict.
Jason Aaron: Well, he's got a very conflicted relationship with the hammer and that idea of worthiness. But as far as his relationship with Jane goes, I think he's just worried about his friend. Regaining that hammer isn't even part of that equation right now—he just wants to try to save her life.
The thought about the Thor identity is definitely one of the questions going into this story. I would say most all of them will be answered by the end of it. Maybe not all of them, but a lot of them…just perhaps not in the way that you'd expect.
The end begins in Jason Aaron and artist Russell Dauterman's MIGHTY THOR #703—available now! Then continue the tale in issue #704 on February 21!
The Hype Box
Can't-miss news and updates from across the Marvel Universe!