Comics
Published January 18, 2018
A Worthy End: Part Two
Jason Aaron signals the end for The Mighty Thor!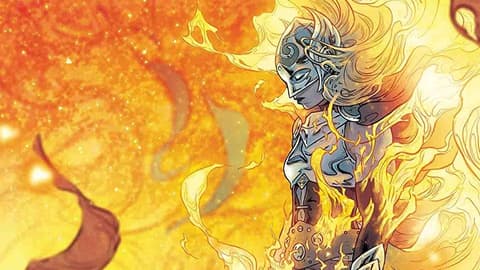 Jane Foster's body decays. The War of the Realms rages. The Mangog roars. As these events culminate, a moment of reckoning arrives for The Mighty Thor.
With Asgardia on the brink of destruction—and the other realms soon to follow—the wielder of Mjolnir needs to make a choice: will she sacrifice her own life in exchange for those at risk on the other side of the universe? On February 21, witness the beginning of the end in writer Jason Aaron and artist Russell Dauterman's MIGHTY THOR #704!
We sat down with Aaron for a wide-ranging two-part interview about this modern classic. Read the first half of the conversation here before jumping into Part Two below.
Marvel.com: Jason, tell us about the wonderful artists you've worked with on this storyline.
Jason Aaron: I'm tremendously proud of what those guys have put on paper over the course of this run. What Russell Dauterman and [colorist] Matt Wilson are doing on this arc is so great. And, no hyperbole, I genuinely think Russell is doing his best work yet; he just raises the bar with every new storyline. It's been great to have Russell come back for #702; to have Matt and Russell work together with this arc. I've been so blown away with what they've done on this series. I wanted to do this finale right and not screw the story up, so it felt good to really just sit down and write those issues all in a row, something I haven't had the luxury of doing in eight or ten years.
[Artist] James Harren did such a great job on issue #701. I've been wanting to work with James for a long time on MIGHTY THOR, actually. That fight between the Mangog and the War Thor was originally going to take place at the end of #700, which would have been just a seven-page  brutal beat-down. But our scheduling changed around a little bit and then we thought, with the art being so evocative, why don't we just make that fight an entire issue? Initially James had just signed up to draw those pages in #700 but thankfully he was able to do #701 as well and I think he's the perfect guy to draw that fight. He loves the Mangog and I love his version of the Mangog, so that was a huge thrill.
Marvel.com: How does it feel to see this end on the horizon?
Jason Aaron: This arc is something I knew we've been heading towards for a long time, and something I've both been looking forward to and dreading. On the one hand it's a total joy, but it's also tinged with sadness. I mean, I'm pretty sure that this issue #705 was the first comic that ever made me cry while I was writing it.
Marvel.com: There are going to be a lot of tear-stained issues out there in a couple months.
Jason Aaron: [Laughs]
Marvel.com: As this story comes to a close, I wanted to see if you have any meditations on the concept of "worthiness." Obviously, you've had years of in-depth philosophical examination on that idea in this book…
Jason Aaron: I think I still have lots of thoughts on that idea and you can still see them playing out in this storyline. This is not my last storyline on THOR, so I think you'll continue to see those themes playing out in the comics for the foreseeable future as long as I'm on the book.
I can see where the end point is for me on this series and I've always known what those last few stories will be. Some of it should be obvious and some will be a bit of a surprise.
Marvel.com: Do you ever ponder the concept when thinking about yourself? (Not that you should!)
Jason Aaron: Well, I try not to think of it that way and would never presume to say I'm worthy to follow in the footsteps of people like Jack Kirby and Walt Simonson, but I think, as a creator, the worthiness of your writing is for other people to decide.
A few years ago I was the world's biggest fan of [writer] Garth Ennis' PUNISHER MAX run—one of my favorite comic runs of all time. And when Marvel announced that he was leaving, I thought, well, I want to be the next guy. Even though it's incredibly intimidating to follow something that you have such tremendous respect for, I knew I could never do what Garth had done, but I wanted to carry it on and continue to tell the story of that character in my own way.
That's how I approach every job. You can't stop to wonder whether you're good enough to do this. You can't get intimidated by that prospect or let it stop you from telling your own story. I certainly don't feel as good as those creators who I idolize, but…man, I can't wait to throw my hat in the ring every time.
The finale nears in MIGHTY THOR #704, by Jason Aaron and artist Russell Dauterman, on February 21!
The Hype Box
Can't-miss news and updates from across the Marvel Universe!