Comics
Published December 12, 2019
Al Ewing Says "War Is Coming" in 'Guardians of the Galaxy' #1 Next Month
"It's a high-octane, action-packed, spy-fi adventure with rogue gods, galactic empires, and sweet gadgets..."
It's going to be a tough new world for the Guardians of the Galaxy when they return for a new series in 2020. Al Ewing (IMMORTAL HULK) and artist Juann Cabal will be taking the cosmic reigns from Donny Cates beginning with GUARDIANS OF THE GALAXY #1, in comic shops Wednesday, January 22 -- but what's going to be different this time around? Marvel.com asked Ewing to spill what he could!
You're moving from Valkyries and Hulks to a crew of cosmic misfits – does writing GUARDIANS OF THE GALAXY satisfy a different part of you as a writer?
GUARDIANS is a different book from both of those and requires different things – it's a little more action-packed, potentially less meditative, especially in the first couple of issues, which very quickly dial up to a breakneck pace and don't slow down until all the fireworks are through. But while it's coming from a different place, it's still coming out of some of the things I've been thinking about for the last few years – things like what we owe to each other as people, where the world is heading, when to fight and when to show kindness and when they're the same thing. A big secret ingredient in GUARDIANS is an exploration of what family is, so that's the lens I'm putting all this through. It's a high-octane, action-packed, spy-fi adventure with rogue gods, galactic empires, and sweet gadgets – that wraps around the struggles, highs, and lows of a found family, trying to get through interesting times.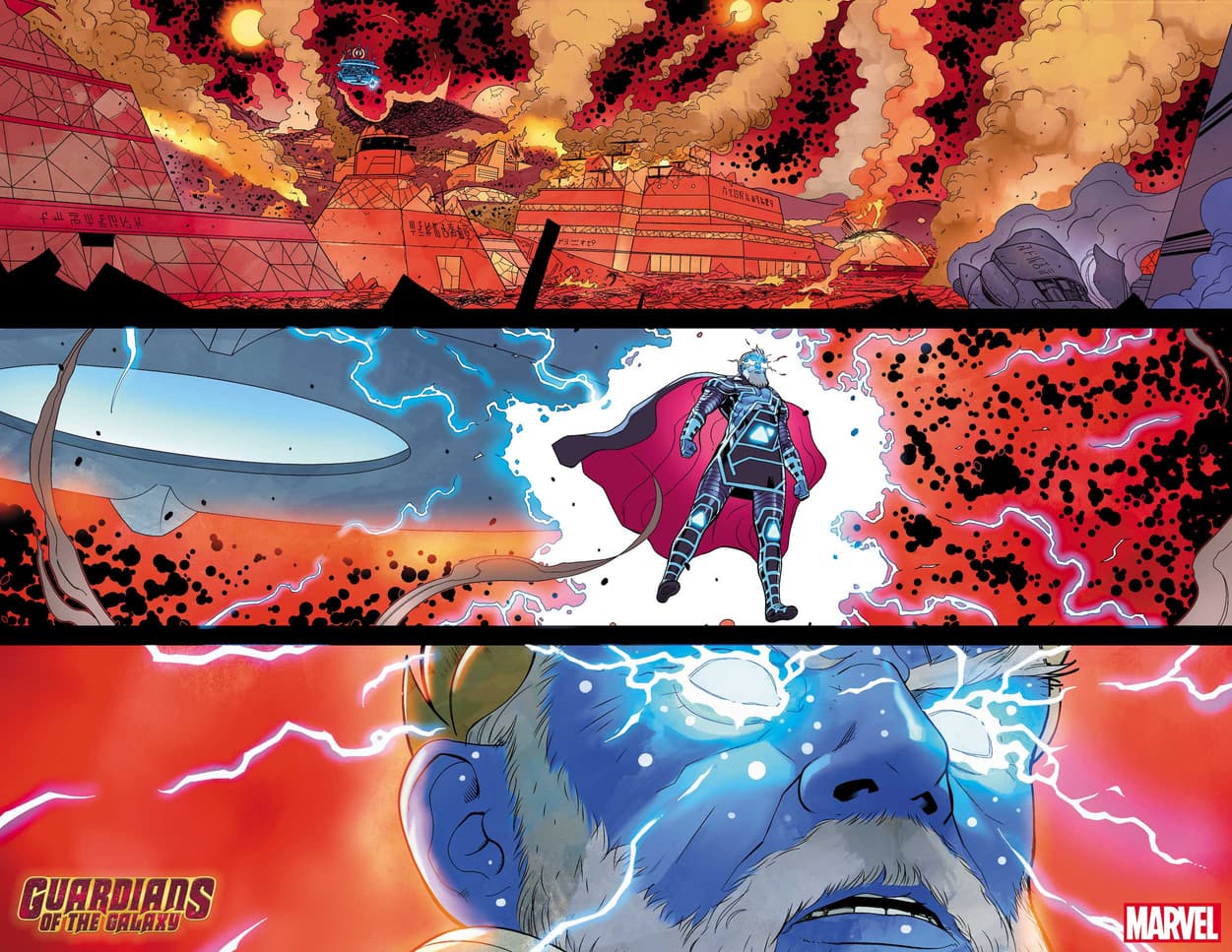 How did you decide on your lineup for these Guardians?
I didn't want to use the classic "fab five" – at least not all together. Part of my instinctive urge when I was asked what I'd do with Guardians was to get away from that, to return to the earliest days when there were some surprises about who was on the team – not just Rocket and Groot, but people like Bug and Mantis and Captain Universe – and there was that crackle of energy because you had no idea how, or if, all of those people would get along. Recently we've been taking steps in that direction – Phyla-Vell, Moondragon, Beta Ray Bill, the Cosmic Ghost Rider, etc. – but I wanted to keep following that path rather than go back to a cozy place. Not that the big five will be exiled from the book at all – we're just shaking up their world a little more.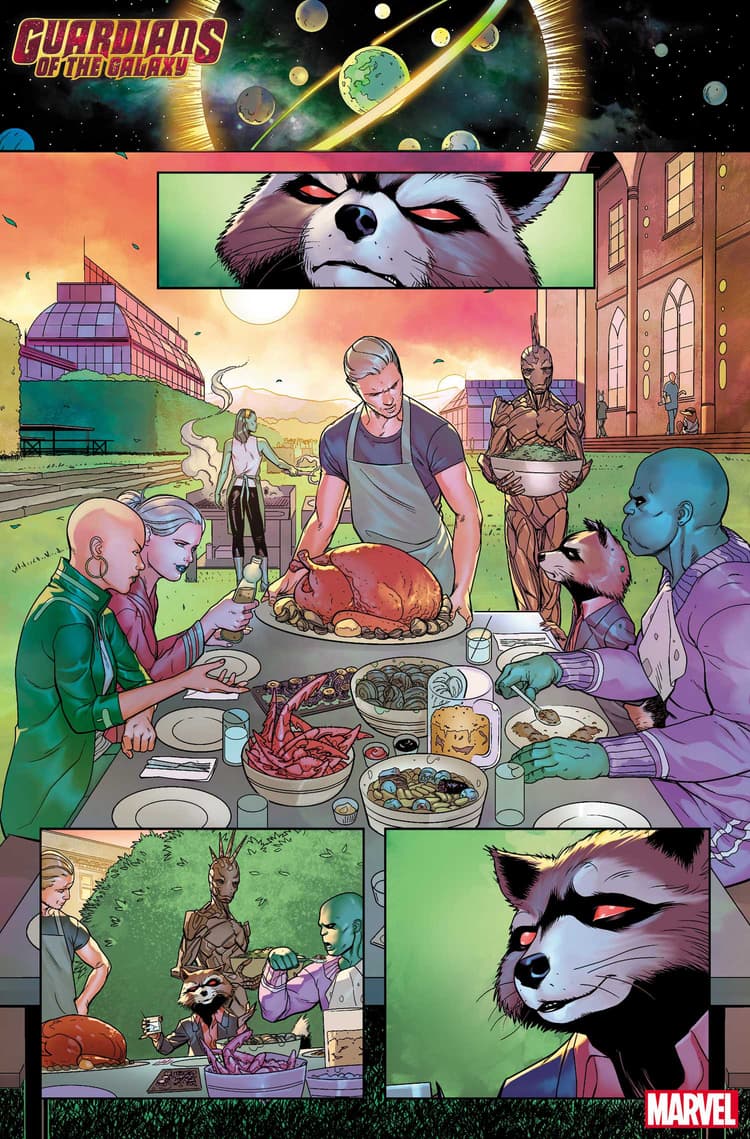 Rocket seems to have a new look on Juann Cabal's cover – has his role changed?
I can't talk too much about where Rocket is when we start until the last issue of Donny's run on the book is out, but I doubt it's a huge spoiler to say that he's been through some stuff. But also, this is actually an old look. When I did my ROCKET mini-series with Adam Gorham, we made it a very noir tale, reminiscent of Richard Stark, and as part of that, we put Rocket in a suit. And also we put Rocket in a suit because he looks really good in a suit, and frankly he should dress better as a point of principle. He's been constantly wearing that same jumpsuit for years now and he needs to take a little pride in his appearance and have some style. Has his role changed? That's something of a bone of contention in issue #1...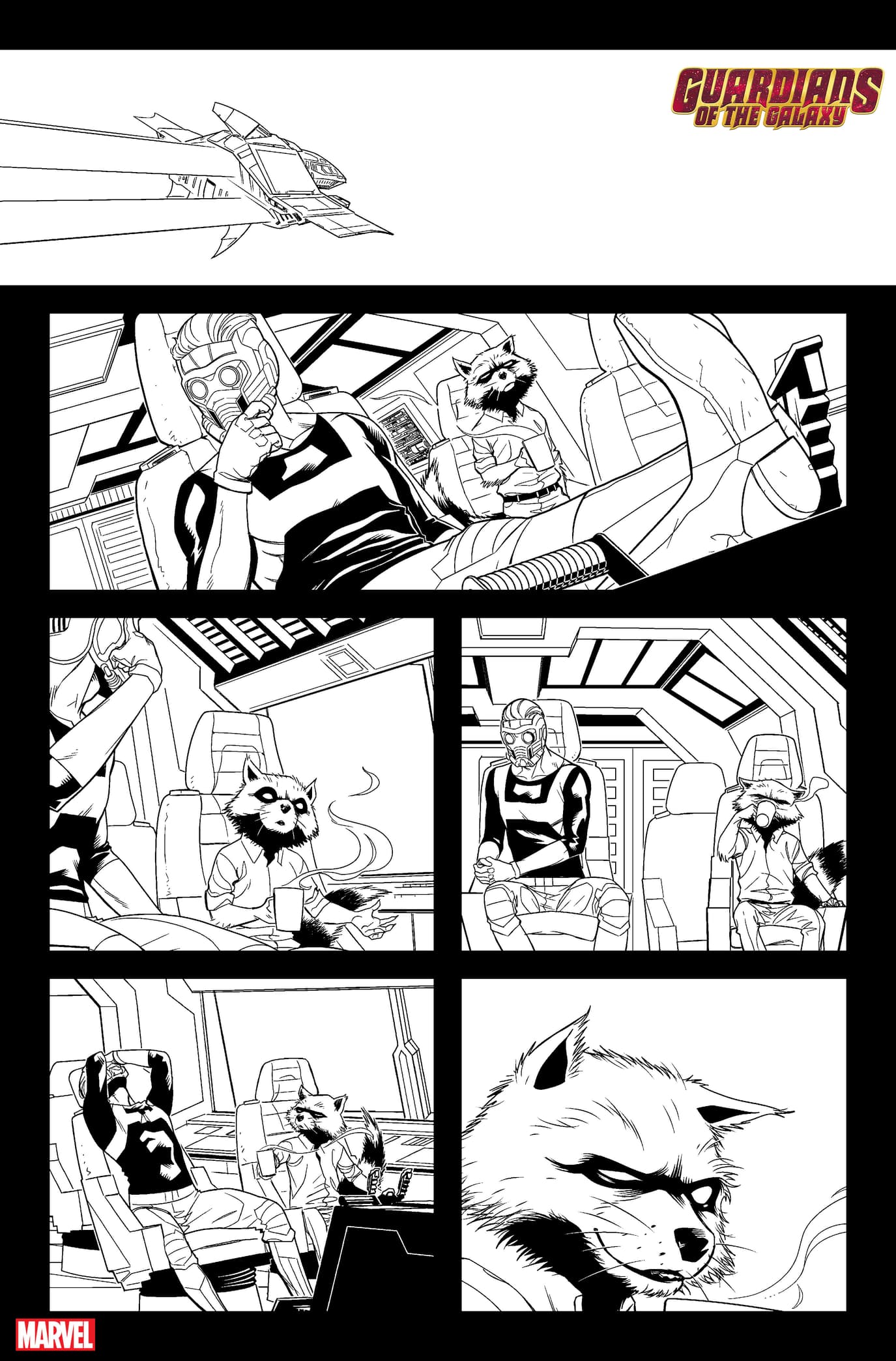 The description of the comic paints a pretty bleak picture. Can you talk about what the Guardians are up against?
Well, as we've all now been informed, space is for warfighting. And war is coming. I dropped a lot of hints in the GUARDIANS annual that the situation in the galaxy was degeneration, and the Nova Corps were the only thing holding the worst back. Well, now the Nova Corps is gone, and only Richard Rider and Sam Alexander are left – everyone else died or quit. And Sam Alexander has a lot to do on Earth, with this OUTLAWED business you may have heard of. So Richard Rider is on his own in the face of an accelerating galactic collapse that's going to create strange new threats and powerful new enemies, starting with the Gods of Olympus, who've been altered drastically by their death/rebirth cycle and have declared themselves harbingers of the coming storm. They're razing peaceful sectors in the name of conquest, and Nova can't stop them alone...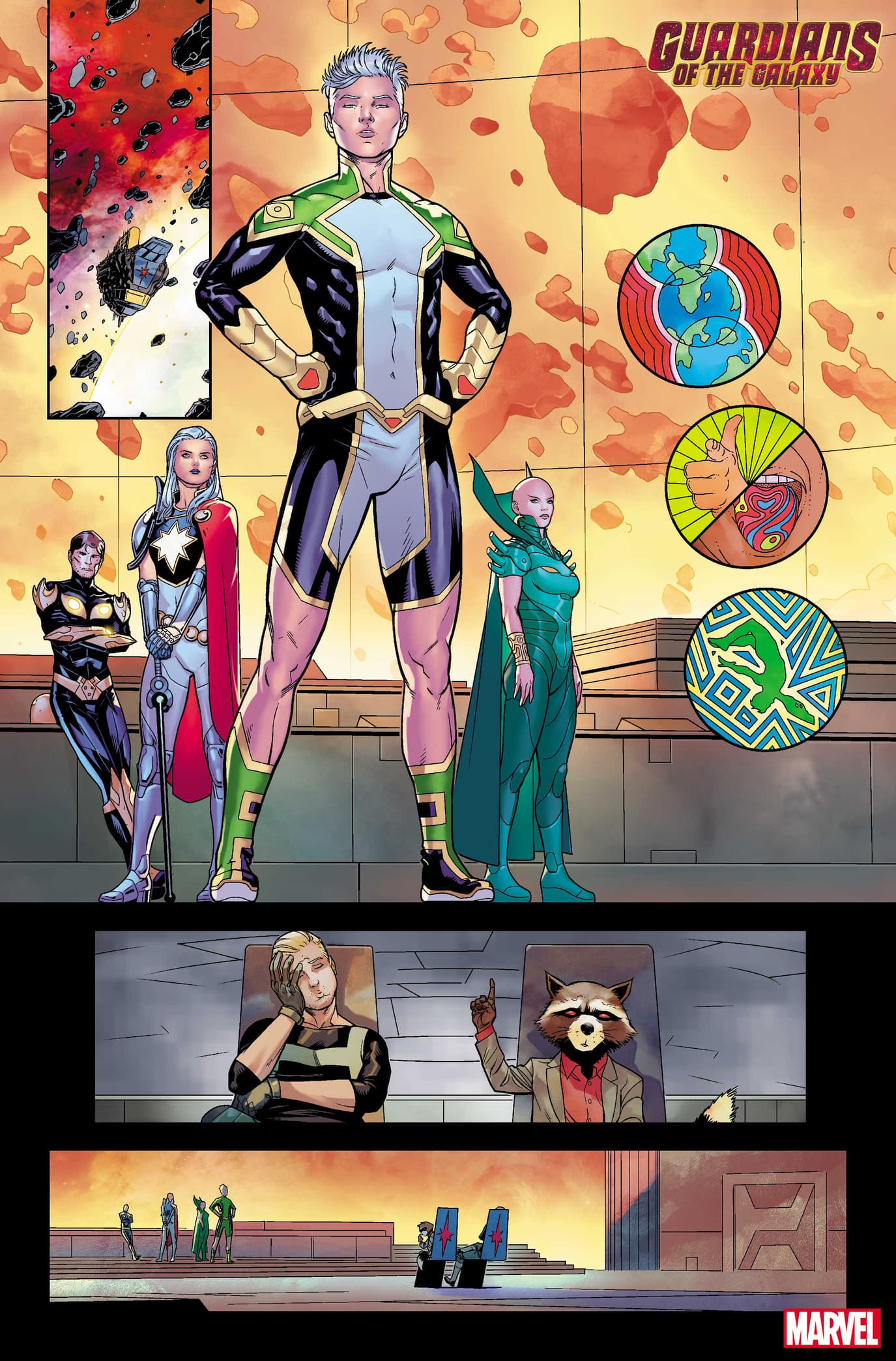 What have you liked the most about Juann's art so far?  
So hard to pick one thing, but I think I'd have to go with his hunger for experimentation. He's always experimenting with design, with layouts, with timing. He offers useful input at every stage and always with a view to pushing it to that next level of excellence. And his art is truly beautiful. It's a sharp, clean, clear-line style that brings out the emotions and feelings in each character, not to mention making them all look very runway-ready. This is a sexy book about sexy people in decidedly unsexy times, and Juann brings all of that out.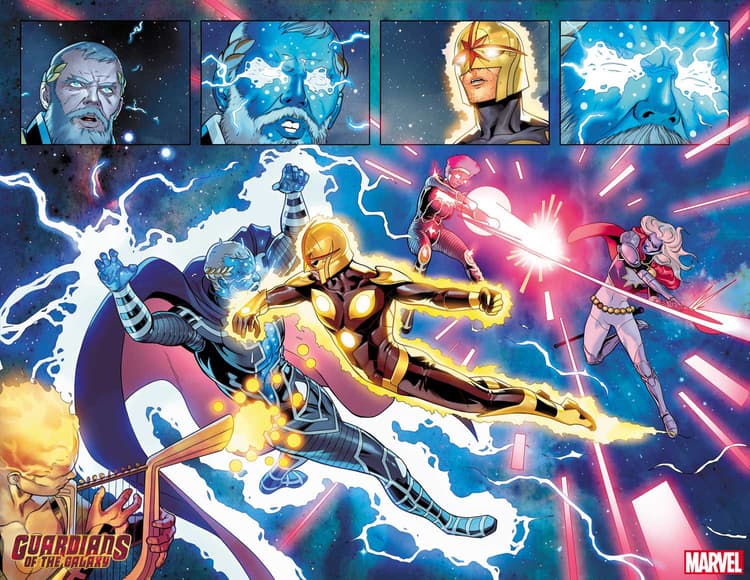 Don't miss the latest cosmic caper starring the Guardians of the Galaxy!
GUARDIANS OF THE GALAXY #1, written by Al Ewing with art by Juann Cabal, goes on sale Wednesday, January 22. Pre-order your copy today online or at your local comic shop!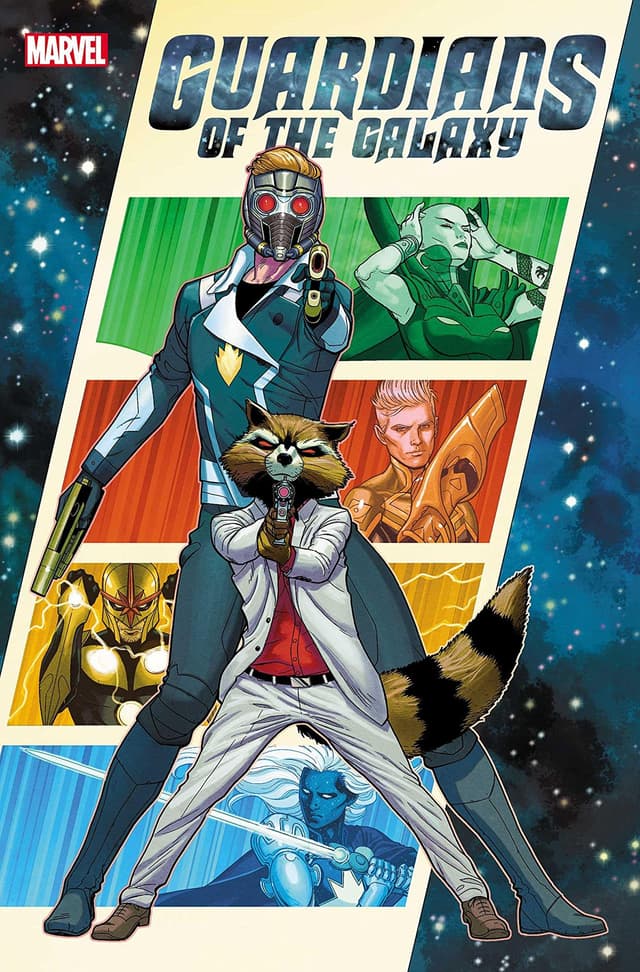 The Hype Box
Can't-miss news and updates from across the Marvel Universe!