Comics
Published December 18, 2018
Aliens Are Coming to Town in Next Year's 'Meet the Skrulls'
Writer Robbie Thompson talks about how his family of Skrulls -- aka the Warners -- are planning to take over Earth!
It's a premise that seems harmless enough -- a family of aliens visits Earth in disguise to get a sense of the place. But in this case, those aliens are Skrulls -- and Skrulls aren't here for a sightseeing tour. MEET THE SKRULLS, written by Robbie Thompson with art by Niko Henrichon with covers by Marcos Martin on the first two issues, makes its debut next March, and as expected with the Skrulls' primary objective, there could be galactic warfare afoot.
Marvel.com spoke with Thompson for a preview of what's to come in MEET THE SKRULLS:
Marvel.com: MEET THE SKRULLS has a deceptively Normal Rockwell air about it, but knowing the Skrulls, this façade can't possibly last for long. What can we expect from this book?
Robbie Thompson: MEET THE SKRULLS is about a Family Unit of Skrulls, embedded in the suburbs of Stamford, Connecticut, each of them with a mission to infiltrate and subvert mankind! We were definitely inspired by FX's "The Americans," but another big source of inspiration was the Fantastic Four. The FF go on crazy adventures and travel the multiverse, but at its core, it's a book about family. MEET THE SKRULLS is rooted in that same dynamic -- the characters may be shape-shifting aliens, but they are also a (dysfunctional) family... with all the ups and downs that come from that. So, sure, they may be green-skinned aliens bent on world domination, but they're just like us! Only they're better, obviously, because the Skrulls are the most advanced and brilliant societies in the known universe. (Sorry, there's a Skrull holding a blaster to my head and making me type this!)
Marvel.com: In MEET THE SKRULLS, we're introduced to the Warner family, who are in disguise as humans while they plot to infiltrate society. Are we going to start taking the Skrulls' side?
Robbie Thompson: Yes! The Skrulls are our friends! It's their time to shine! (Again, under duress here, people -- please send help!)
Seeing the Warners at home, living a domestic life -- it's definitely a side of Skrulls previously unseen in the Marvel Universe. We delve into what they are like when they're NOT trying to take over the world/universe. And in the process, since they are outsiders trying to blend into our world, they hold up a mirror to who we are today. That may come from the "bad guy" point of view, but it's still rooted in what makes Marvel Comics so great: empathy. In their pursuit to fit in, the Warners study and reflect mankind, shining a light on what makes us tick, warts and all.
Cover by Marcos Martin
Cover by Marcos Martin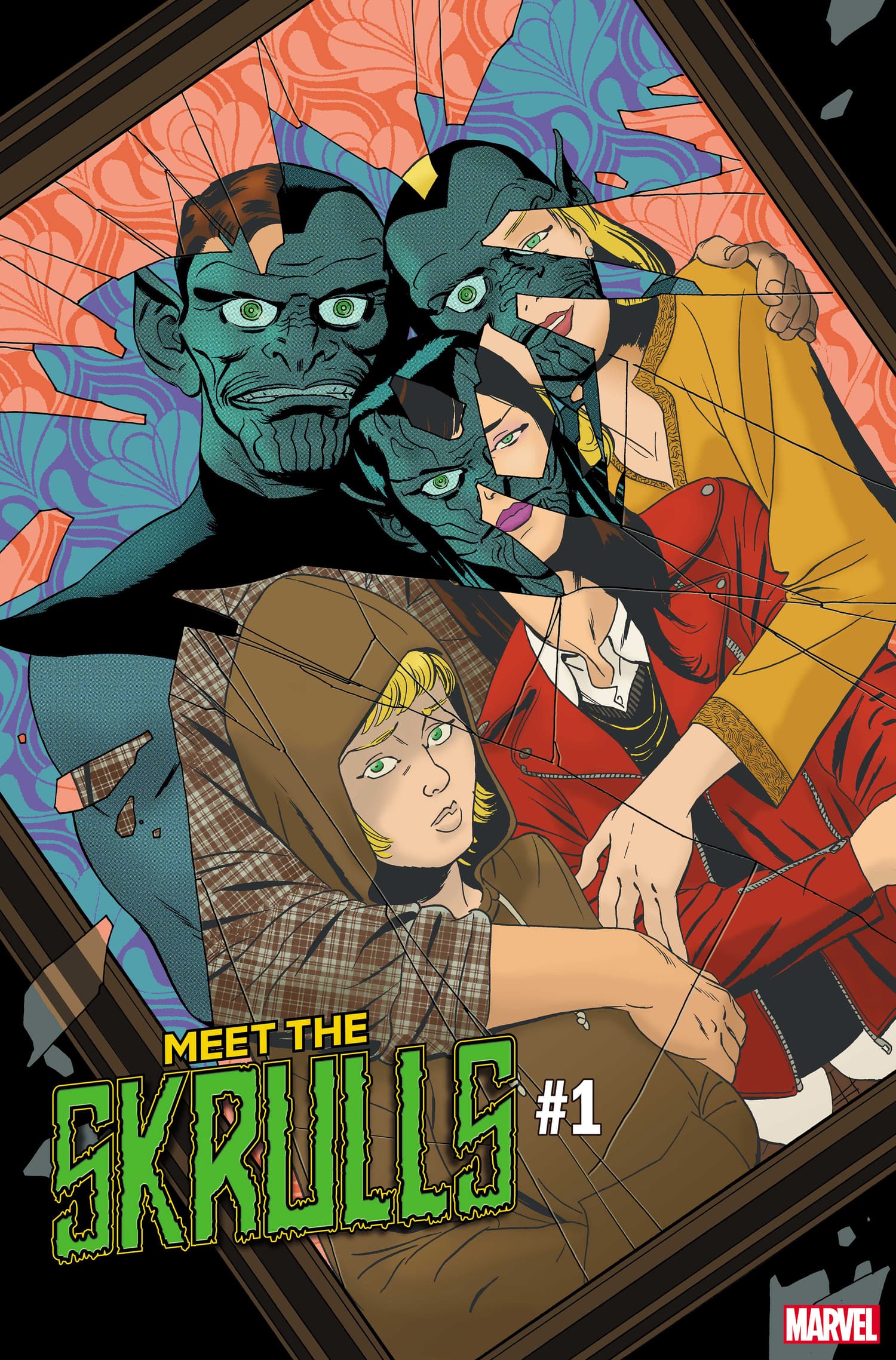 Marvel.com: What is the Warners' endgame (to use a heavily loaded word in the current Marvel Universe)?
Robbie Thompson: Um, to avoid Thanos's snap?! Haha just kidding, ALL Skrulls survived the Thanos snap. Because Skrulls are perfect. And our friends.
The Skrull Empire has had an eye on Earth for some time. And I'm not gonna sugarcoat it for you, it hasn't changed: they're here for Earth. Humans can kneel or get out of the way. But as they live among us, will they sympathize with humanity, or see us for the lesser, wretched creatures that we clearly are (Their words, not mine! I love mankind. Mostly!)
Marvel.com: The Skrulls have had run-ins with so many characters in the Marvel Universe. Can you tell us if they will encounter any familiar faces in MEET THE SKRULLS?
Robbie Thompson: You will absolutely see familiar Marvel faces in this series! In fact, Carl Warner, the family patriarch, works for one Tony Stark, AKA Iron Man, who makes an appearance in the first issue. And there's a cameo from one of Marvel's biggest characters in the second issue!
Cover by Marcos Martin
Cover by Marcos Martin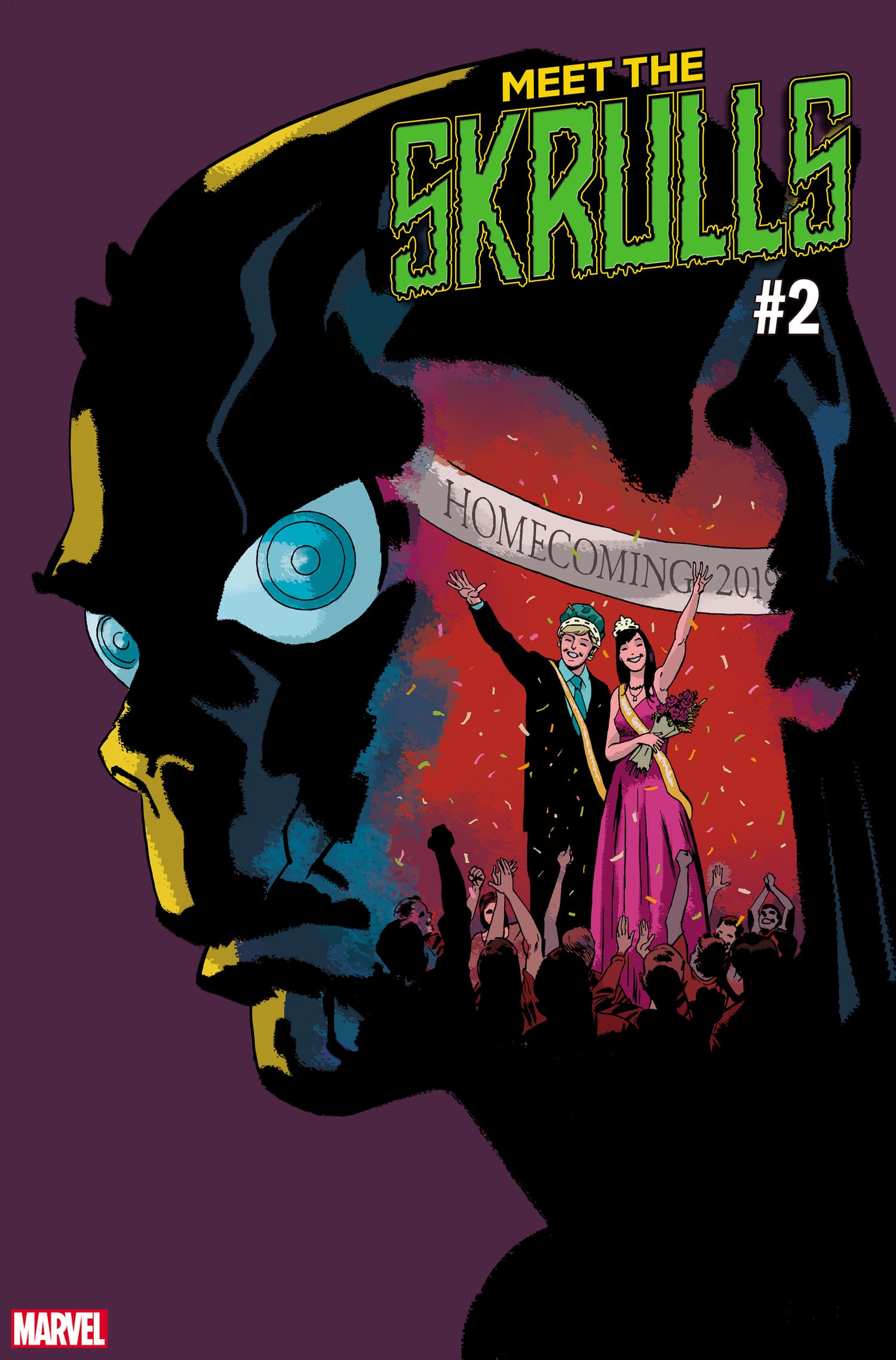 Marvel.com: Your artist on this is Niko Henrichon, and we've been told he's bringing a new look to the Skrulls. What have you seen so far, and how has it been collaborating with him?
Robbie Thompson: Editors Nick Lowe and Kathleen Wisnewski have assembled a dream artistic team for this book. I've been a long-time fan of Niko's work and I'm thrilled to be telling this story with him. His designs for the family, in human and Skrull form, and their suburban home are just perfect. He adds so much nuance and performance to the characters in every panel. Niko's variant cover for Issue #1 really captures the look and tone of the book perfectly. He's a fantastic and moving storyteller, and his art is incredible on this book -- as are his colors which I just saw on the first issue, which are simply stunning. Niko is the absolute best and I really can't wait for people to see his work on this series.
Nick and Kathleen also brought Marcos Martin in for covers, and his work is unbelievably gorgeous. Marcos sends thumbnail sketches for different iterations for each cover and it's impossible to choose because they're all so brilliant. His cover for the first issue really set the tone from jump, and I'm grateful he's telling this story with us.
Marvel.com: Finally: After working on a Skrull-focused book, what advice do you have for identifying a Skrull in disguise?
Robbie Thompson: Skrulls love Reese's Peanut Butter Cups. It's their weakness. If you see someone eating a Reese's, be warned. That's probably a Skrull. Or it's someone who loves delicious candy!*
*unwraps fifth Reese's, was replaced by a Skrull mid-interview, shifts into owl, flies away.
MEET THE SKRULLS #1, written by Robbie Thompson with art by Niko Henrichon with a cover by Marcos Martin, goes on sale in March! Stay tuned to Marvel.com for a release date and more information.
The Hype Box
Can't-miss news and updates from across the Marvel Universe!