Comics
Published April 6, 2017
All-New Guardians of the Galaxy: Shoot for the Stars
Writer Gerry Duggan spotlights the members of his titanic new team!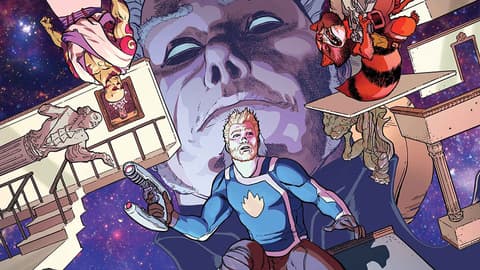 Following their stint grounded on Earth, the Marvel Universe's strangest super group returns to the cosmos—with some serious trouble and an unhappy Nova Corps not far behind. On May 3, the team blasts off with ALL-NEW GUARDIANS OF THE GALAXY #1!
Star-Lord, Gamora, Drax, Rocket, and Groot head back to where they belong, led by the all-star creative team of writer Gerry Duggan and artist Aaron Kuder. The new series will be double-shipped, with character-centric issues set to enhance the background of the Guardians' story.
We spoke to Duggan and editor Jordan White about heroic influences, team dynamics, and kicking off a new era of cosmic adventure.
Marvel.com: Gerry, in an interview a couple of months ago, you mentioned that you've been reading up on a few classic cosmic Marvel stories to get inspired for the new series. What books did you look back on? What insight and influence did they provide?
Gerry Duggan: From time to time I revisit some of my favorites runs. Like [Walter] Simonson's THOR and [Frank] Miller's DAREDEVIL. One of our biggest, saddest, and [most] messed up stories is simmering in the background for a while. Readers will know more about the coming threat than the Guardians. Walt took his time and let his Thor story unfold in such a way that we were dying to know who was forging that sword and why. When Surtur showed up, we were filled with dread. In our first arc we'll reveal more problems than we'll solve.
Marvel.com: In the past, there's been a kind of family element to the Guardians—what's the team dynamic look like when this new series kicks off?
Gerry Duggan: At the beginning of our story, it may not be clear why some of the characters are acting as they are. The stakes will come into focus pretty quickly, and a long emergency is going to need to be dealt with. The team will push and pull itself in different directions, and it won't be too long before the team looks…different.
Marvel.com: You've mentioned that you might be looking forward to playing the narrative long game in this series; giving us visions of characters' pasts as well as setting up their futures. What makes that such a fun way to approach and write a story?
Gerry Duggan: We're starting several fires out in the galaxy that will threaten to spread. A few of the fires are being set by the same arsonist. That unknown subject will be one of this run's big villains. You're going to see some familiar faces turns up in some unexpected places. The past few years on UNCANNY AVENGERS and DEADPOOL I learned the value of the short, digestible comic books that become part of a longer mythology. It's a meat and potatoes design, with some really big, fun, and bonkers ideas in the execution. I'm just trying to write fun scripts for Aaron Kuder and our other guest star artists. If I'm having fun, even as I write terrible things happening to good characters, I've found that the sense of fun is passed on. It makes it through the process and onto the page. Speaking of pages, wait until you see what is coming your way the next year. Truly epic and amazing pages are going to print, with even more on the drawing board.
Marvel.com: Jordan, as Gerry just alluded to, some very exciting news for fans is that ALL-NEW GUARDIANS OF THE GALAXY will be double shipped for the first arc with some character-focused issues in between the larger story. What artists can we look forward to popping up with the Guardians over the next few months? Which characters will be getting the spotlight treatment?
Jordan White: Doing 24 issues of Guardians of the Galaxy in a year is no small feat—and one we knew we could not physically ask one artist to do alone. That said, we were very committed to making sure Aaron Kuder got to make this book his own as the main artist of the series. As such, over the first 12 issues, Aaron will be doing six of our issues, alternating with guest-artists who will come in to draw spotlight issues revealing something big for each of our cast members. Frazer Irving is drawing our Gamora issue in June, touching on a secret she is keeping from the rest of the team. Next up, in July, Chris Samnee is drawing some gorgeous Star-Lord-focused pages as we speak, dealing with Peter's ongoing quest. Mike Hawthorne is signed on to do our Rocket and Groot issue, revealing what happened to make Groot so very small. Plus, we're gonna have an issue showing how Drax became a pacifist; and we're also working on a spotlight issue for a new team member we have not announced yet! I think their joining the team will be a big surprise.
Oh—and so you know, we're not going to keep up the alternating issues forever, just for that first arc. We've already got an artist drawing our next arc, so they can have five issues in a row after which Aaron will be back with five in a row, too. Lots of issues means lots of planning ahead. Thankfully, that's something both Gerry and I have gotten good at.
Marvel.com: Gerry, one last thing—we know the Guardians are headed back into the galaxy in this series. What can you tease about the galactic challenges the team is headed for?
Gerry Duggan: The Guardians are their own worst enemy at the moment, unfortunately even worse enemies wait in the wings. Old cosmic foes. New cosmic foes. Hope you enjoy issue #1 and our Free Comic Book Day chapter on sale the first week of May. See you in space.
ALL-NEW GUARDIANS OF THE GALAXY #1, by Gerry Duggan and artist Aaron Kuder charts its course through the cosmos on May 3!
The Hype Box
Can't-miss news and updates from across the Marvel Universe!