Comics
Published November 20, 2017
All-New Wolverine: Come Alive
Tom Taylor details Laura's return to the place where it all began!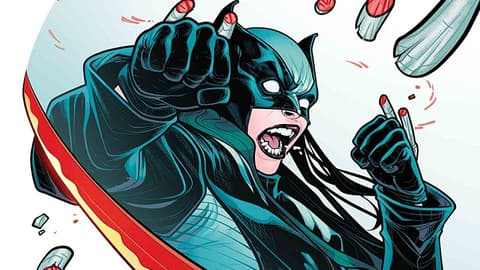 Laura Kinney has followed the Orphans of X to the Facility—the place where, as a child, she got tortured and programmed to be an assassin. And upon her arrival, she discovered her mother…alive.
Her mother—the woman Laura thought she accidentally killed years ago. On December 13, writer Tom Taylor and artist Juann Cabal test our hero like never before in ALL-NEW WOLVERINE #28!
We spoke with Tom about what to expect from this devastating family reunion.
Marvel.com: Catch us up on what's been going down in the "Orphans of X" storyline so far!
Tom Taylor: Daken has been blown up, taken by the mysterious Orphans of X, and then tortured for information. His arm has been found—without the rest of him attached—dangling from a bridge on Roosevelt Island. Laura and Gabby were alerted to this arm and a note attached to it brought Laura back to the Facility, where she got tortured and turned into an assassin as a child. But Laura didn't find Daken in this place full of painful memories, she found…her mother.
But Laura's mother, Sarah, died at Laura's unwilling hand years ago. Now the tortured Daken, the confused Laura, and the previously thought dead Sarah Kinney have been placed on a collision course.
Marvel.com: How does artist Juann Cabal capture the complex emotional tenor of this story?
Tom Taylor: What Juann and [colorist] Nolan Woodard did with those scenes at the Facility blew me away. You see so much going on, and Juann adds to it in beautiful ways. But this can be said of the whole arc. I think, as a team, we've all worked to lift this story to another level, and editors Mark Paniccia and Christina Harrington are right there with us. Terry and Rachel Dodson's cover to issue #28 has become one of my favorites, too.
Marvel.com: How has Laura's relationship with Daken evolved in recent times?
Tom Taylor: Laura and Daken have had a fractious and violent history, but they have grown close over the years. Logan's death has drawn them slightly closer as well. Daken has very little respect for anyone, but he clearly respects Laura. They've gone from rivals to siblings.
Marvel.com: Can you tell us anything about the Orphans of X?
Tom Taylor: All I can say is they clearly hate Laura and Daken with a passion. And they have means and numbers. Issue #28 will reveal a lot more.
Marvel.com: Laura has tried so hard to put her past behind her—how does she feel about being forced to re-live it?
Tom Taylor: Laura won't have a lot of time to think about reliving her past in this issue. Everything escalates here, and Laura and company will need to react very quickly. But this also isn't just about Laura's past…this is about Daken's as well. A life of violence and death can't simply be ignored.
Marvel.com: How does an empathetic character like Laura handle a group that has such hatred of her and her family? Will she try to reach out to them, or will this be the mission that gets her killing again?
Tom Taylor: I don't want to spoil that just yet…but there will be a lot of challenges coming Laura's way. And this is certainly our most violent story.
Grab ALL-NEW WOLVERINE #28, by Tom Taylor and artist Juann Cabal, on December 13!
The Hype Box
Can't-miss news and updates from across the Marvel Universe!