Comics
Published February 13, 2020
All the 'Empyre' News That You Need to Know
Marvel's upcoming intergalactic comic event is approaching -- see the latest developments here!
EMPYRE is getting closer, and Marvel fans found out more details about the cosmic comic event coming in April! Below, see all the updates that happened around the web this week, and stay tuned for even more developments!
EMPYRE: X-MEN #1 and #2
EMPYRE: X-MEN #1 written by Jonathan Hickman and Tini Howard with art by Matteo Buffagini & cover by Mike McKone, EMPYRE: X-MEN #2 written by Gerry Duggan, Benjamin Percy, and Leah Williams with art by Lucas Werneck
It's going to be a battle so monumental that it'll take the entire writing crew of the X-Men to depict it! The intergalactic visitors coming to Earth in Marvel's 2020 event will be arriving just in time to face off against an army of mutant undead this May in EMPYRE: X-MEN. Don't miss the X-Men's strange return to Genosha in this unpredictable series written by all your favorite current X-Men writers. It all begins in EMPYRE: X-MEN #1 written by Head of X Jonathan Hickman and writer of EXCALIBUR, Tini Howard, and continues in EMPYRE: X-MEN #2 written by Gerry Duggan (MARAUDERS), Benjamin Percy (X-FORCE, WOLVERINE), and Leah Williams, writer of the highly anticipated series, X-FACTOR.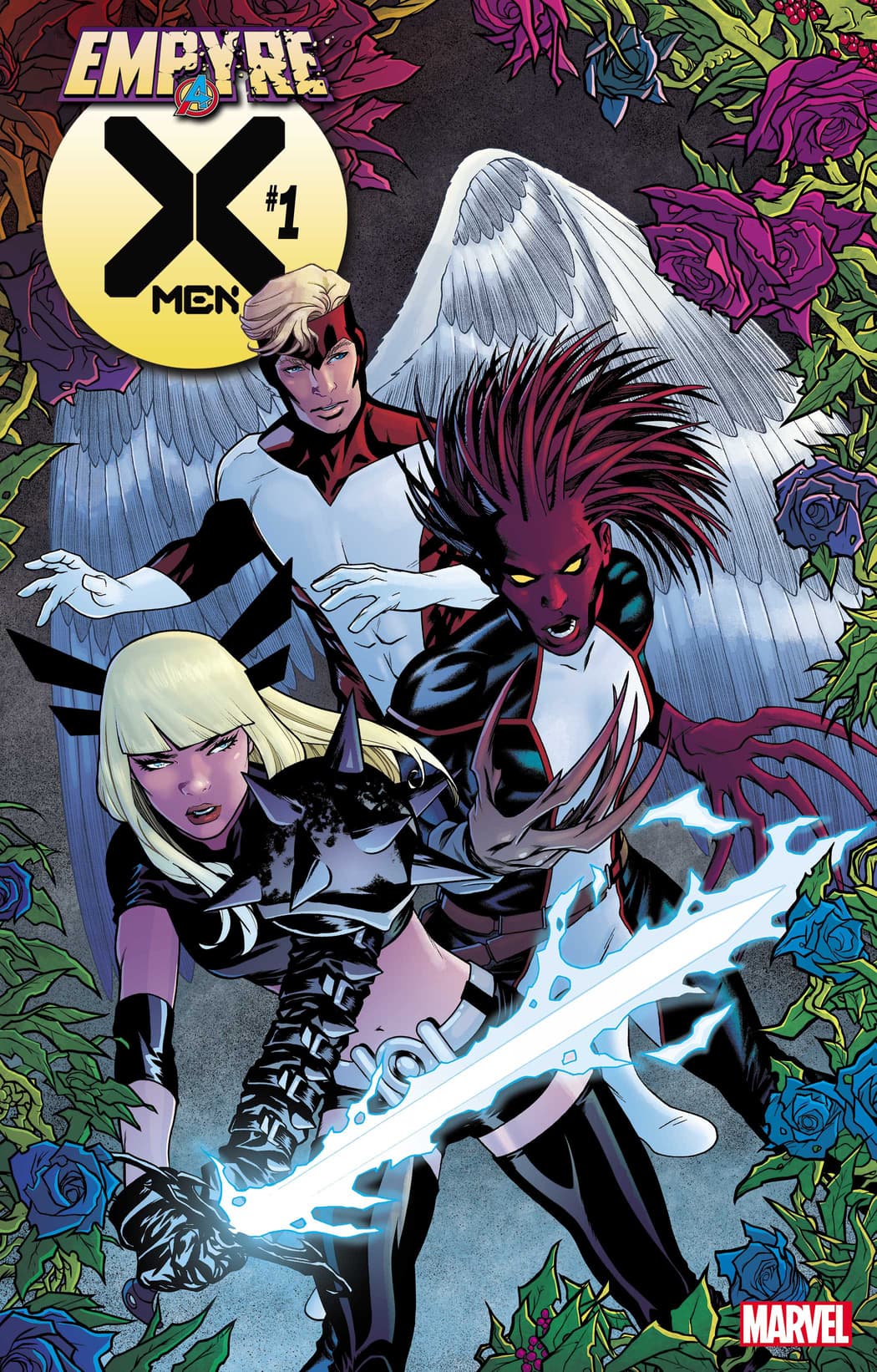 LORDS OF EMPYRE: EMPEROR HULKLING #1
Written by Chip Zdarsky and Anthony Oliveira with art by Manuel Garcia and a cover by Patrick Gleason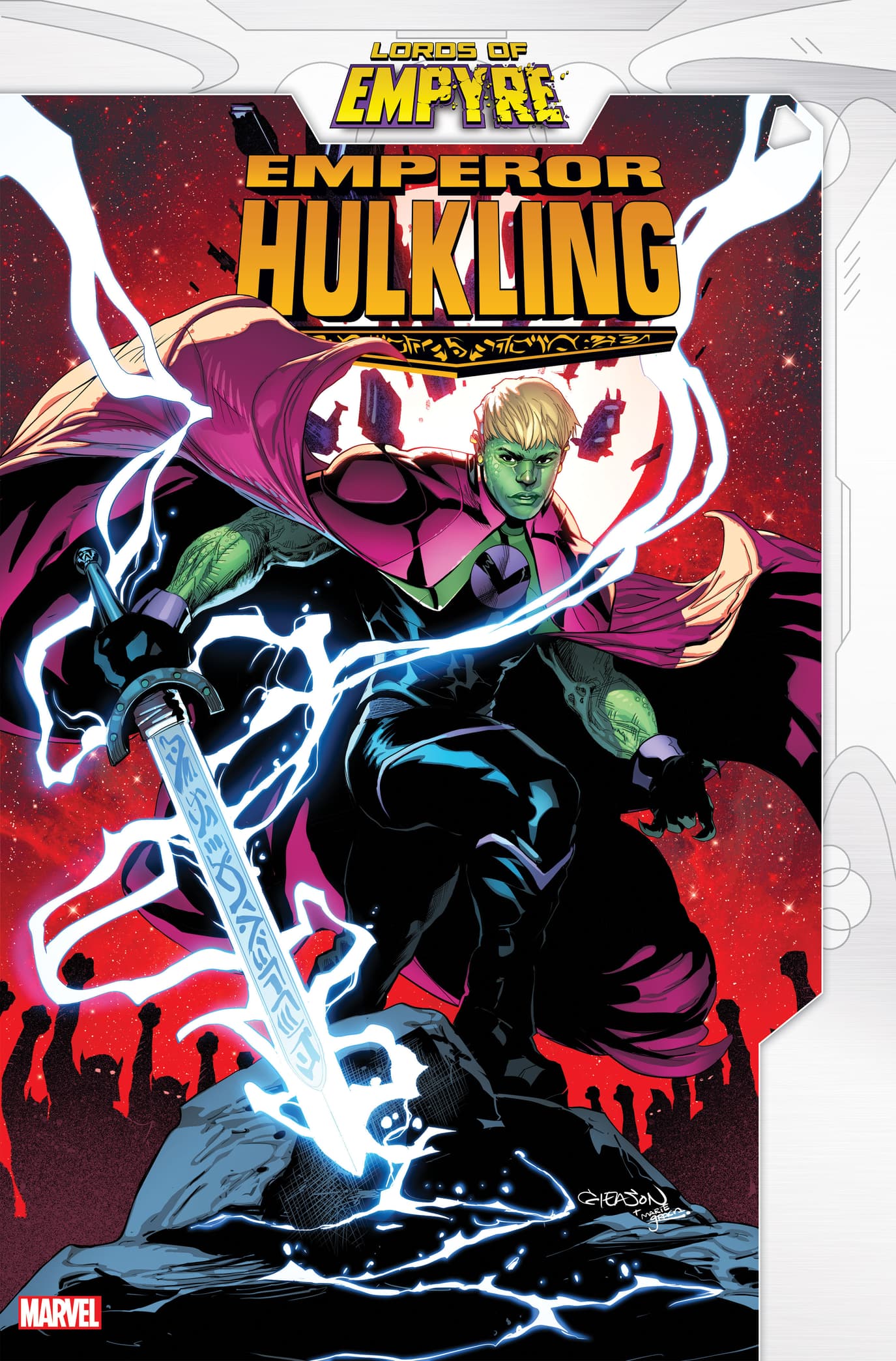 For as long as the universe can remember, the Kree and Skrull empires been locked in what seemed like a never-ending war but a former Young Avenger has done the impossible… Abandoning Earth, his fellow heroes, and the love of his life, Hulking has united both intergalactic empires under his rule and now heads to Earth with one of the largest armadas the cosmos has ever seen. What happens next will be chronicled in Marvel's biggest event of 2020, EMPYRE, as well as the essential one-shot, LORDS OF EMPYRE: EMPEROR HULKING. Written by Chip Zdarsky and Anthony Oliveira with art by Manuel Garcia, LORDS OF EMPYRE: EMPEROR HULKLING will show readers what led Hulkling on his bold new path and what his mysterious plans are…
"Hulkling is one of the coolest characters in modern comics -- he's the great scion of two galaxies-spanning empires, yet somehow one of its most sweetest, kindest, and down-to-earth heroes," said Oliveira. "This story is about really delving into that sense of restlessness, and his epic, classic hero's journey - star-crossed romance! colossal space battles! a long lost prince! - grounded in its heart with a question about what it might mean, and what it might cost, to be king."
LORDS OF EMPYRE: EMPEROR HULKLING arrives in comic shops on Wednesday, April 22!
EMPYRE: SAVAGE AVENGERS #1
Written by GERRY DUGGAN with art and a cover by GREG SMALLWOOD
CAPTAIN MARVEL #18
Written by KELLY THOMPSON with art by CORY SMITH and cover by JORGE MOLINA
EMPYRE: THE INVASION OF WAKANDA #1
Written by JIM ZUB with Art by LAN MEDINA and Cover by Dustin Weaver
EMPYRE: STORMRANGER #1
Written by SALADIN AHMED with Art by STEVEN CUMMINGS and cover by FEDERICO VICENTINI
EMPYRE #3
Written by AL EWING and DAN SLOTT with art by VALERIO SCHITI and cover by JIM CHEUNG
Marvel's Pull List revealed a mountain of mags coming out in May! Watch the video for more details!
EMPYRE: CAPTAIN AMERICA #1
Written by Phillip Kennedy Johnson with art by Ariel Olivetti and a cover by Mike Henderson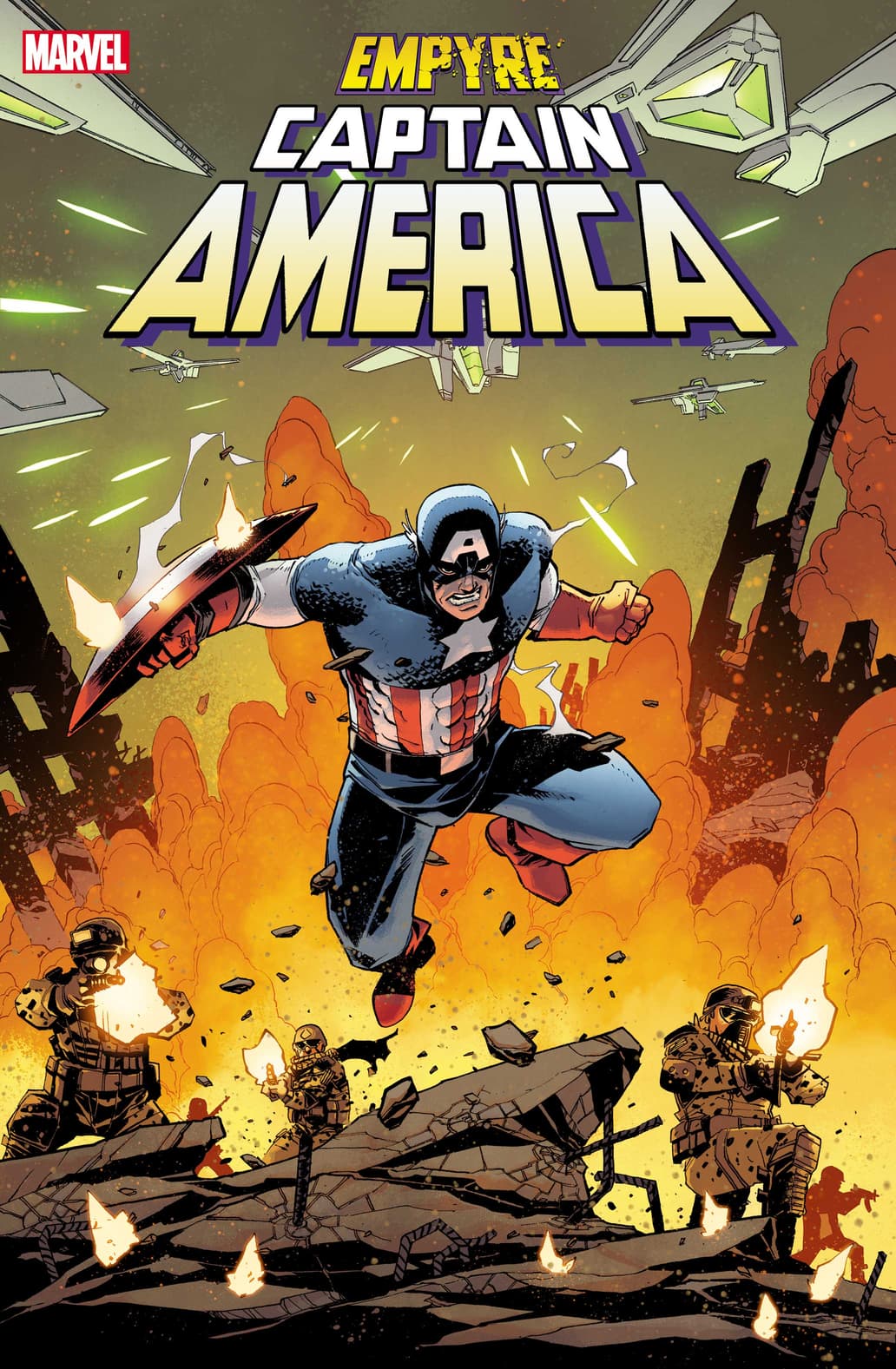 The invasion has made landfall! Captain America stands on the front lines – but when the threat goes global even he won't be enough to stem the tides! Will Captain America be able to find allies willing to fight alongside him – or will he fall in the face of this intergalactic incursion?
Johnson revealed to CBR: "In the EMPYRE: CAPTAIN AMERICA miniseries, Cap faces a global invasion that is simply too big for the Avengers to handle alone, and it falls to him to not only get the U.S. military behind him, but to unite military forces all around the world. Instead of his usual crew of gods, legends, and superheroes, we'll see him getting muddy and bloody alongside ordinary soldiers and civilians who stand to lose everything, and who need a leader like Captain America to bring them together."
EMPYRE: CAPTAIN AMERICA #1 goes on sale in May.
EMPYRE: THOR #1
Written by Ram V with art and a cover by Pasqual Ferry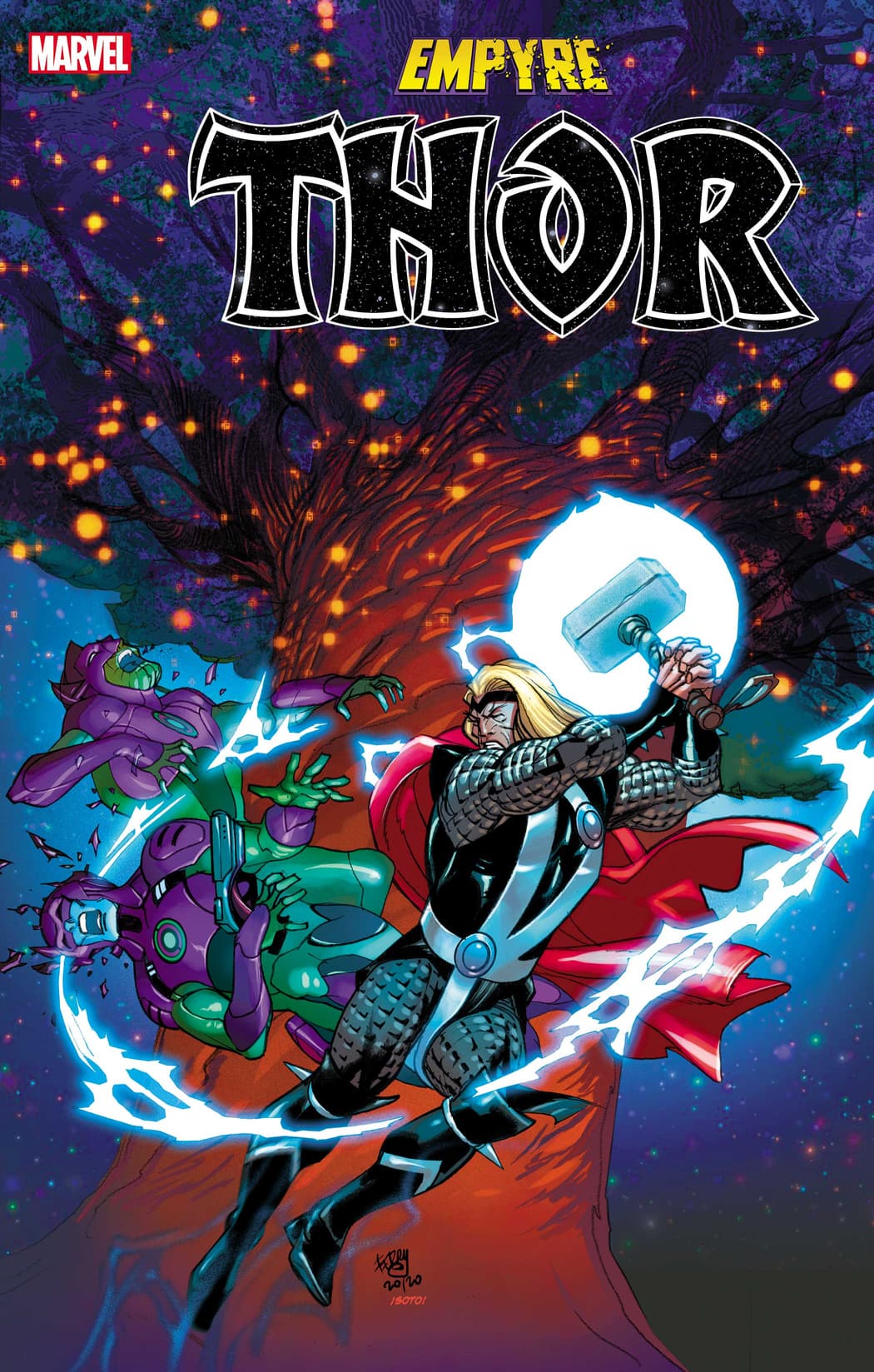 The Earth is under attack — and for Thor, the fight is personal! Gaea, goddess of nature and Thor's birth mother, has fallen ill… and it has something to do with the reason the Kree and Skrull are here! The journey to save her — and all Midgard — will expand the Asgardian pantheon in a whole new direction!
Ram V told Comicbook.com: "[Thor is] one of those characters that's the perfect mix of all the things I enjoy. I get to blur sci-fi and fantasy genres. I get to play with world mythologies and I'll be taking Thor to unexpected places, facing off against exciting new threats. All of that with glorious art from Pasqual Ferry whose work has been nothing short of iconic! I think fans are going to see some thunder and lightning like they've never seen before. And I'm thrilled it's tying into the big summer event at Marvel. It's brilliant working in that sandbox, weaving Thor's story in with those from the other brilliant creators involved!"
EMPYRE: THOR #1 goes on sale in May.
EMPYRE: SQUADRON SUPREME #1
Written by Mark Waid with art by Dio Neves and a cover by Paco Medina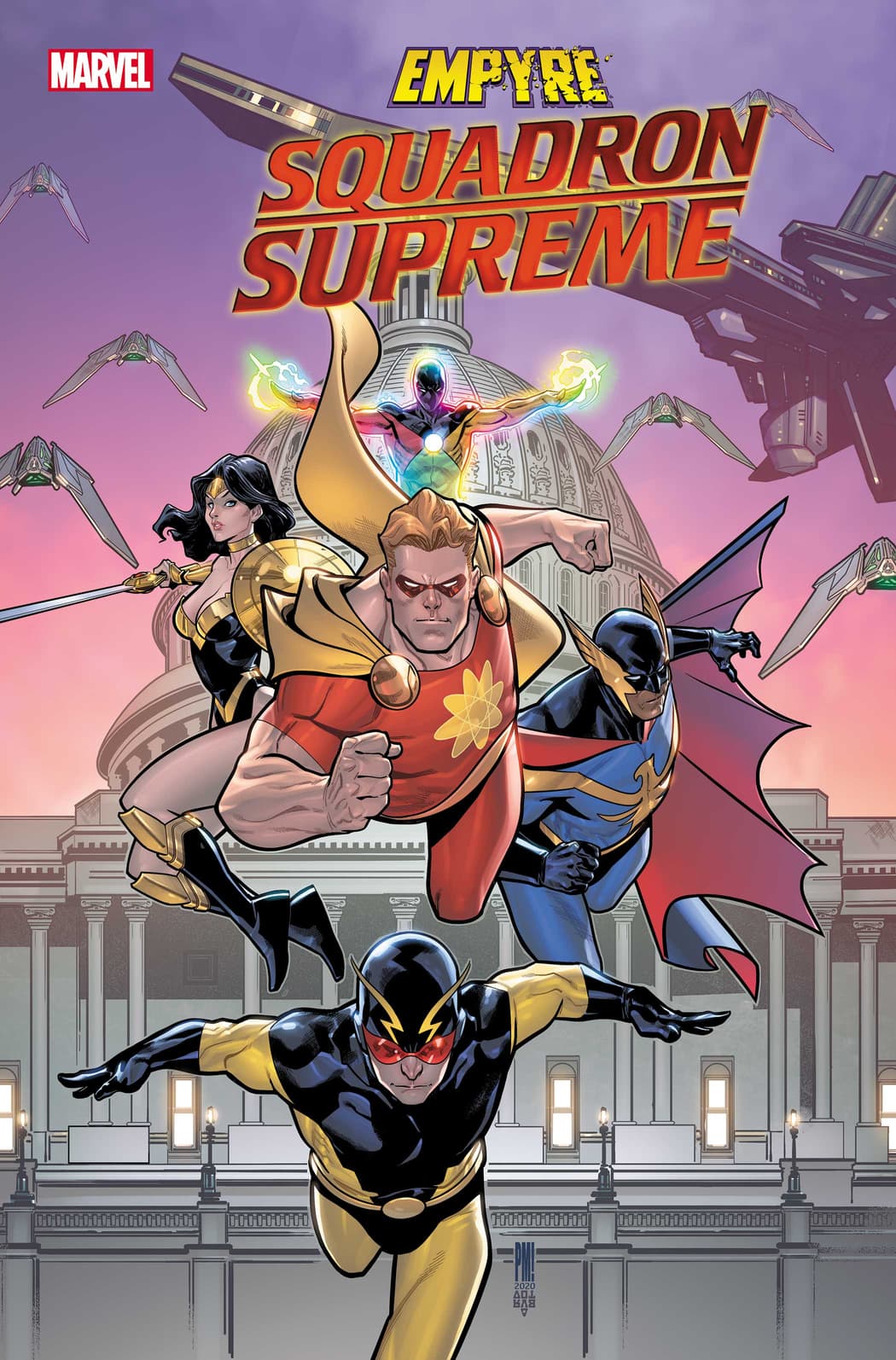 The invasion has begun! But the alien invaders soon encounter resistance in the form of the Squadron Supreme of America! As the two forces clash, only one thing is clear… the fight for America's survival has begun!
Waid told Newsarama: "The Squadron Supreme of America finds itself dead-center in battleground Washington, D.C., caught between two invading forces in a story that puts a modern spin on some of the Silver Age of Comics' more familiar tropes. It's a blast to write."
EMPYRE: SQUADRON SUPREME #1 goes on sale in May
LORDS OF EMPYRE: CELESTIAL MESSIAH #1
Written by Alex Paknadel with art by Alex Lins and a cover by Rod Reis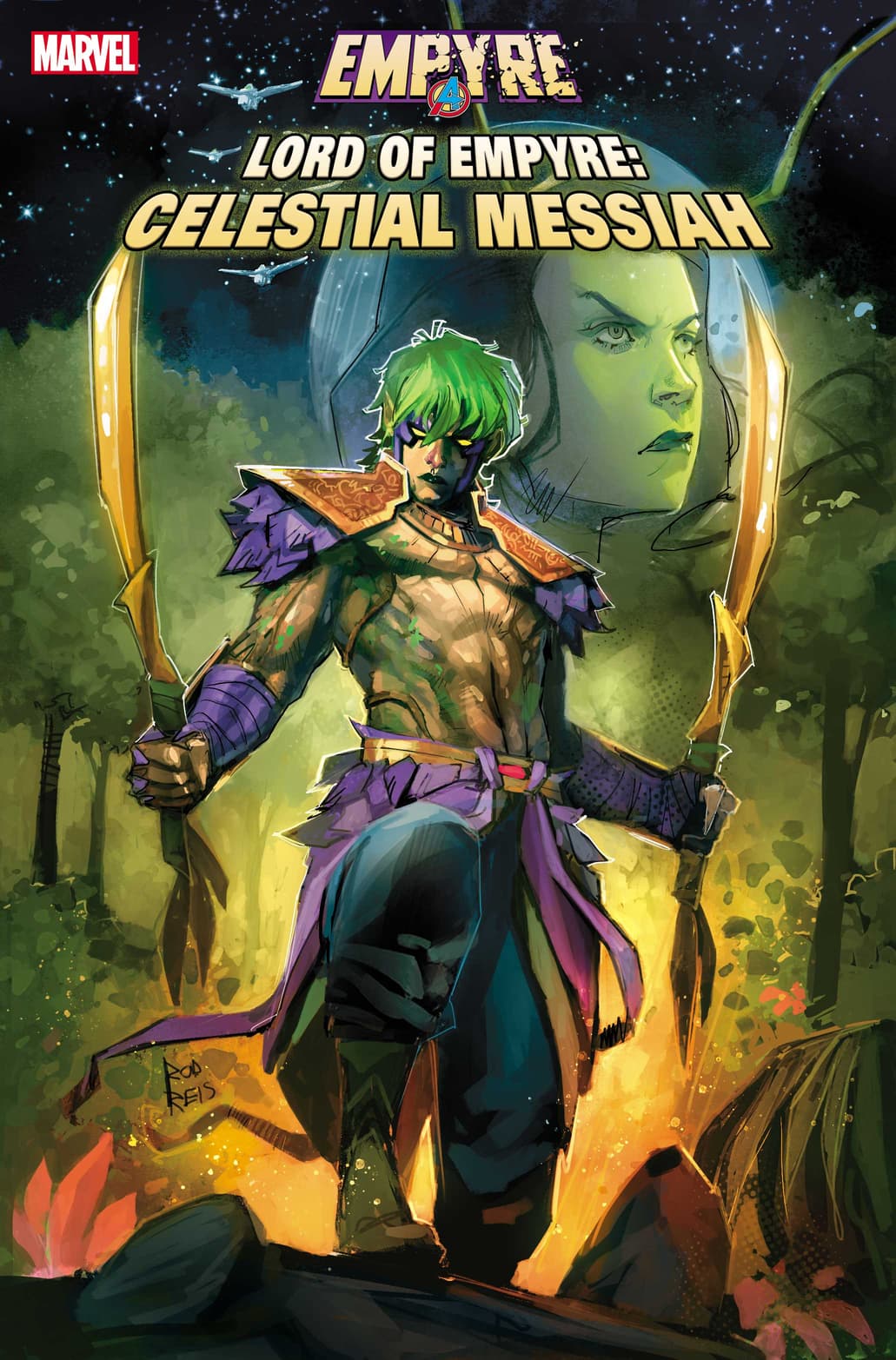 The eve of Quoi's ascension is at hand! But when the trials are interrupted by an unexpected interloper—Mantis—who will win this battle of wills? Don't miss out as mother and son go head-to-head, revealing secrets that will shape the course of the galaxy!
Paknadel told AIPT: "The Celestial Messiah is one of the more conflicted and intriguing players in the EMPYRE event, so I was thrilled when Marvel approached me to bring his story to life. This tie-in is an all-you-can-eat buffet of high-stakes cosmic melodrama and I had an absolute blast writing it."
LORDS OF EMPYRE: CELESTIAL MESSIAH #1 goes on sale in May.
EMPYRE: GHOST RIDER #1
Written by Ed Brisson with art by Jefte Palo and a cover by Aaron Kuder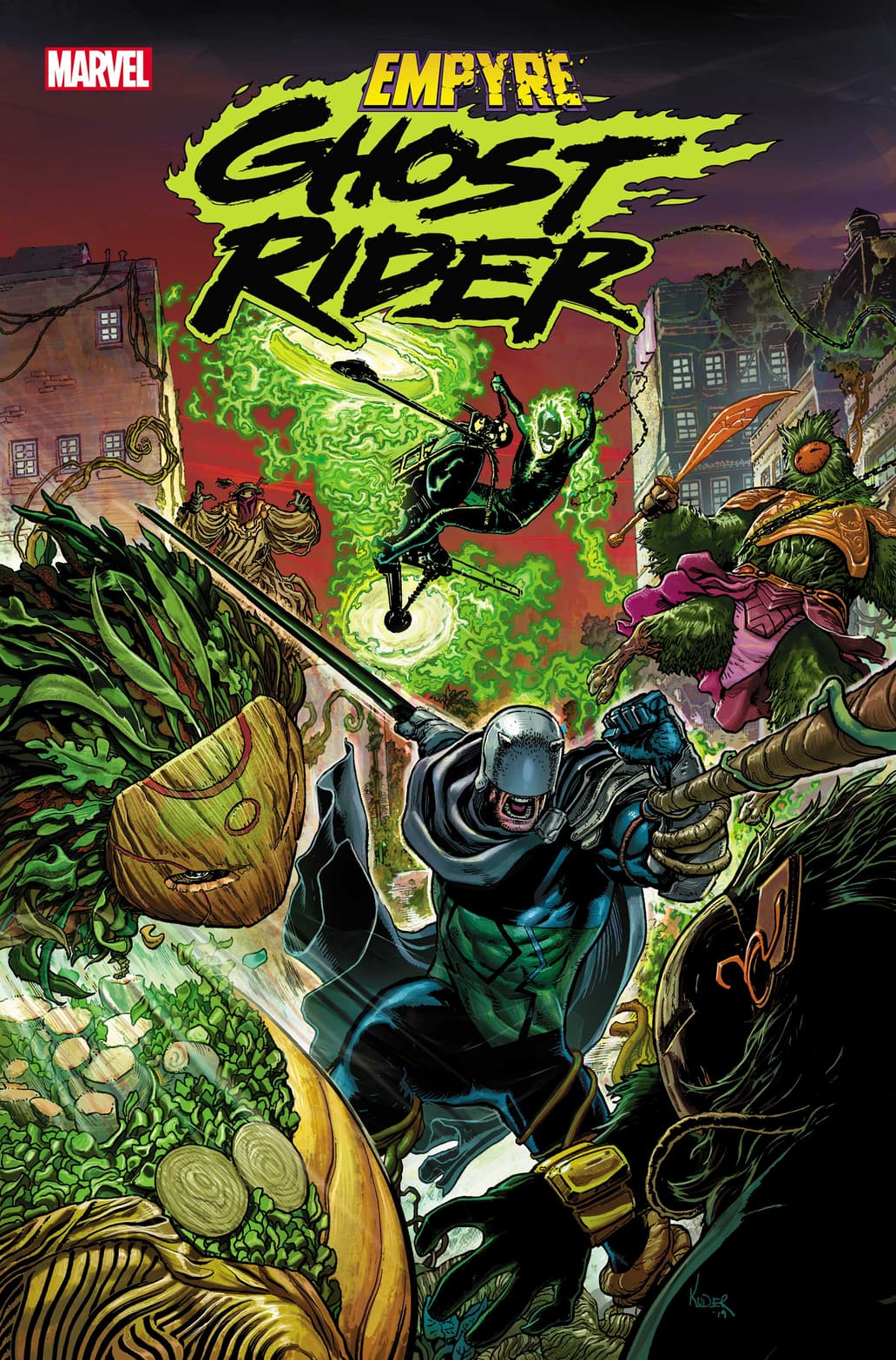 An intergalactic war comes crashing into a supernatural showdown between the Spirit of Corruption and the Spirit of Pollution! But who will be left standing?
Brisson told Monkeys Fighting Robots: "Danny Ketch and Vengeance working side-by-side?!? These two have a tumultuous relationship (that's putting it lightly) and are going to have to put aside their differences to fight off an intergalactic invasion."
EMPYRE: GHOST RIDER #1 goes on sale in May.
Want more news about what's in store for EMPYRE? Stay tuned to Marvel.com for updates!
The Hype Box
Can't-miss news and updates from across the Marvel Universe!