Comics
Published February 14, 2020
All the Wright Places
Arriving in comic shops on February 19, MARVEL'S VOICES #1 features a collection of brand-new Super Hero adventures, as well as seven essays from creatives and cultural journalists discussing their favorite Marvel characters, stories, and comic book eras. Each written from the author's unique perspective, the essays present a diverse range of reflections, topics, and themes. These are Marvel's voices.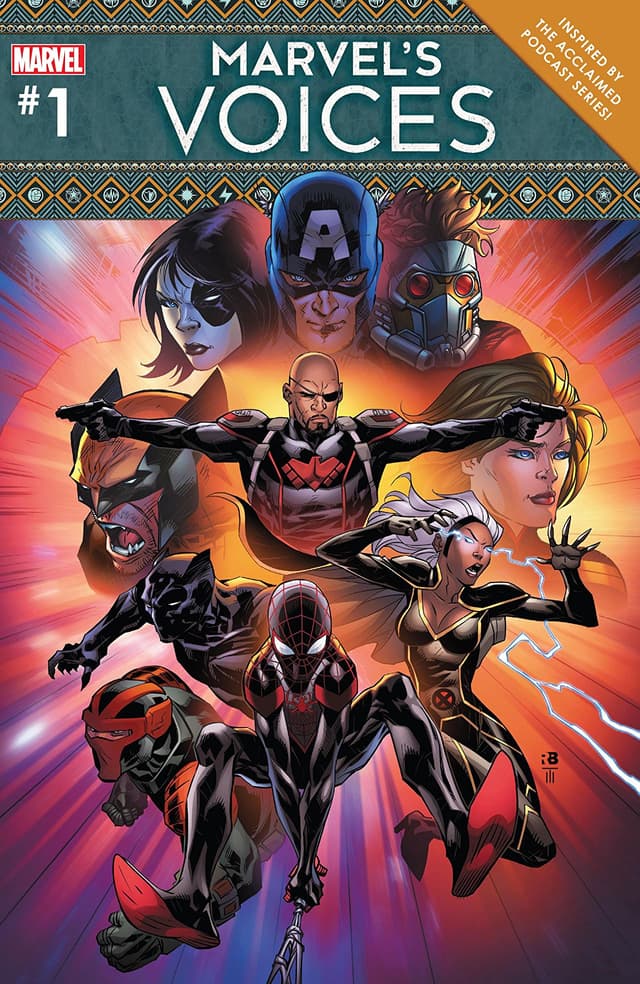 It was the Marvel Universe, not the university where I teach, that led me blissfully back to the works of Richard Wright in 2017. My affinity for Richard Wright's nonfiction inspired BLACK PANTHER AND THE CREW (BP & TC)—specifically Wright's reflections on the Bandung Conference (Asian African Conference) of 1955, chronicled in The Color Curtain: A Report on the Bandung Conference. The Color Curtain opens with Wright in Paris discovering an announcement for the Bandung Conference in the local newspaper. "Twenty-nine free and independent nations of Asia and Africa," it read, "are meeting in Bandung, Indonesia, to discuss 'radicalism and colonialism.'" Wright immediately made plans to attend this gathering "to promote goodwill and cooperation among the nations of Asia and Africa."
The Color Curtain is part memoir, part journalism. In his foreword to the book, Gunnar Myrdal writes that Wright is "telling us what he, a visiting stranger and a good reporter, heard and saw there and what he himself thought and felt." This is the perfect inspiration for a mystery series featuring multiple Super Hero narrators reflecting on their lives in exile in Harlem. Much of BLACK PANTHER AND THE CREW involves issues of alienation, double consciousness and, of course, battles for justice and love. Black Panther, Storm, Luke Cage, Misty Knight and Manifold reunite in Harlem to find out who murdered their mentor, the activist Ezra Keith.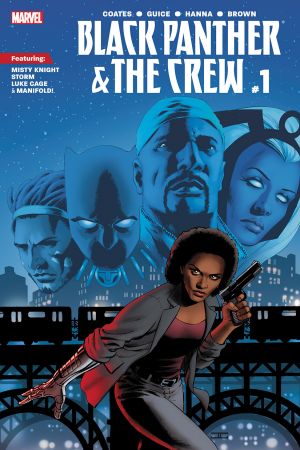 Black Panther and the Crew (2017) #1
published

added to marvel unlimited

inker (cover)

penciler (cover)

inker

penciler

colorist (cover)

colorist

editor

letterer

writer
What is Marvel Unlimited?
I can see Ezra's struggles with colonial power (what we called "Empire" in the comic) in creative conversation with Wright's work. Wright believed the struggles of Black Americans were deeply entwined with the struggles of people of color around the world. He saw Black Americans as "a colonial subject, but one who lives not in China, India or Africa but next door to his conquerors, attending their schools, fighting their wars and laboring in their factories." In the world of comics, Super Heroes face similar predicaments in their relationships with mankind.
In a 2018 interview, comedian and political commentator Bill Maher disparaged fans mourning Stan Lee's death earlier that year: "I don't read comic books; I didn't read them as a child… A culture that thinks that comic books and comic book movies are profound meditations on the human condition is a dumb &#%$!*@ culture." Sadly, Maher is not alone in this view of comics as an art form bereft of intellect. But this view couldn't be more wrong.
As a library and information science graduate student, I read dozens of articles and studies crediting comics as gateway texts for reluctant readers and an integral part of the lives of children who go on to become voracious readers and thinkers as adults. Many comic book and graphic novel readers attest to the influence of Greek, Roman, Norse and African mythology that inform many a fantastical tale—not to mention current politics, music and poetry. These kinds of influences echo throughout the pages of BLACK PANTHER AND THE CREW.
Maher's willful ignorance as to the value of comics inhibits him from recognizing the emotional struggles and triumphs delivered to us every Comic Book Wednesday. Why should a man whose empire revolves around his limited perspective suddenly see? For everyone else, though, there's an opportunity to view Black Panther, Storm, Luke Cage, Misty Knight and Manifold in a new light—a light that does not blind but illuminates the depth and complexity of who these characters might be.
Read MARVEL'S VOICES #1 at your local comic shop on February 19!
The Hype Box
Can't-miss news and updates from across the Marvel Universe!