Comics
Published May 13, 2021
Allegheny Health Network and Marvel Honor Unsung Healthcare Heroes in Emergency Medical Services
New comic book, 'The Vitals: True EMS Stories,' features stories of EMS providers serving the community through the worst of the COVID-19 pandemic.
In 2020, the Pittsburgh winter felt darker and colder than most. The COVID-19 pandemic was at its peak, and hospitals were jammed with patients as every day an increasing number of people were diagnosed with the virus. The roads stayed quiet as people sheltered in their homes, missing the fun of gathering for sporting events or celebrating Christmas with family and friends.
But nothing stopped Emergency Medical Services (EMS) providers—in ambulances and in medical helicopters, in the western Pennsylvania region and throughout the nation—from providing front-line care to people in need, in their homes and in their communities. In fact, EMS services were in demand, more than ever before.
Now Allegheny Health Network (AHN) has collaborated with the legendary Marvel Comics to tell the true-life stories of first medical responders from AHN and community EMS services. Set in the winter of 2020, the first responders' stories are brought to life in a comic book, titled THE VITALS: TRUE EMS STORIES.
"EMS providers are truly the unsung heroes of the COVID-19 pandemic," said Robert Twaddle, Vice President, Prehospital Care Services, AHN. "With demand for their services at unprecedented heights, and facing exposure to a highly contagious and dangerous virus, they never faltered in delivering outstanding face-to-face care in patients' homes and in community settings and accident scenes. I am honored to work with these brave and selfless individuals every day.
"We are thrilled to see our EMS providers portrayed as the heroes they truly are, and we hope seeing THE VITALS: TRUE EMS STORIES gives them a moment of pride at the remarkable work they have done over the past year," Twaddle said.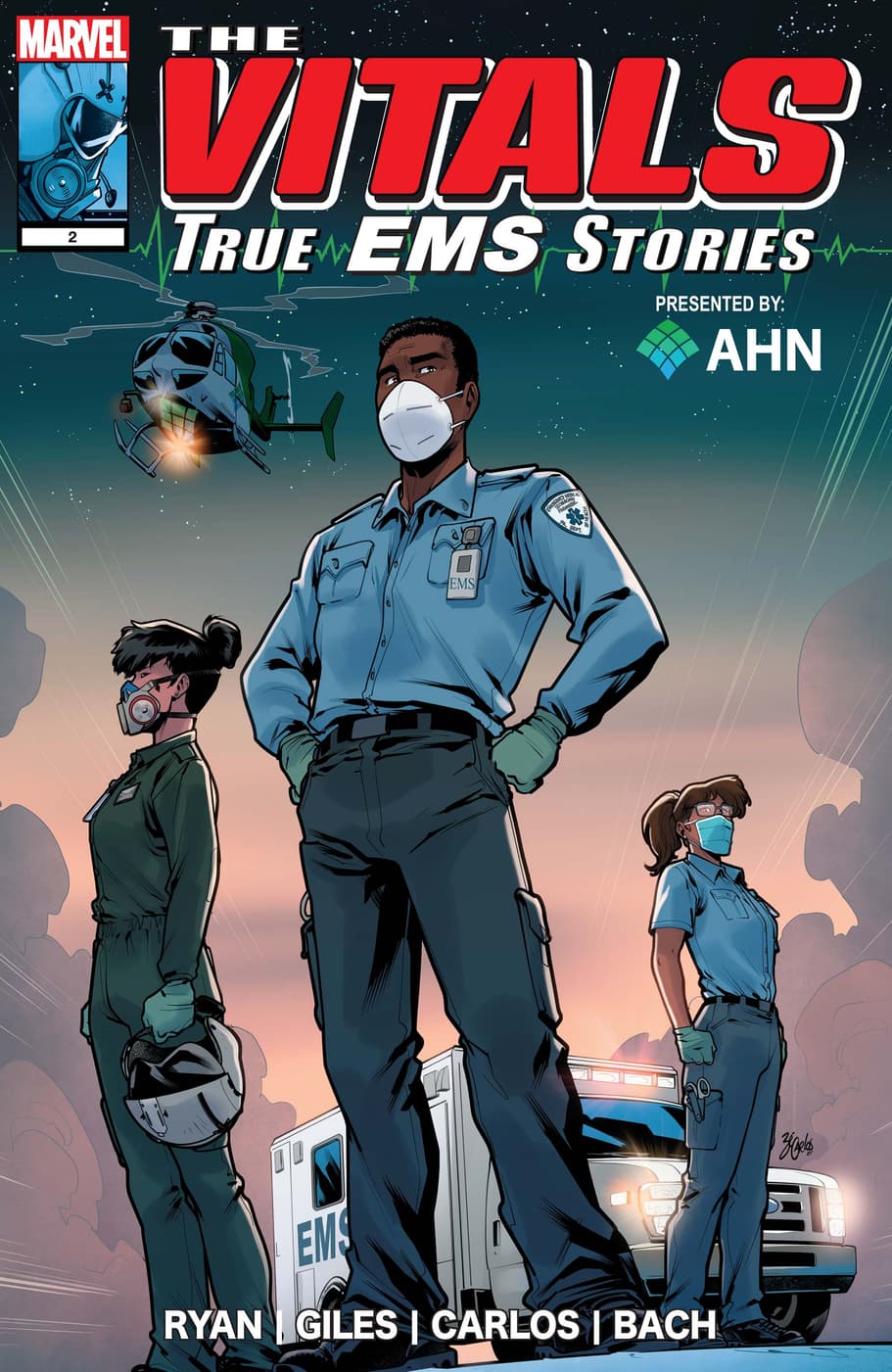 According to the National Association of State EMS Officials, in 2020 there were 27.5 million 911-initiated EMS activations resulting in direct patient contact, up from 17 million in 2018. They put themselves at risk to serve their communities; nationwide more than 128 medical first responders have died of COVID-19, according to an investigation by Kaiser Health News and the Guardian.
"Just like in Marvel comic books, we see each of these stories as a chance to experience the heart and drive behind the heroes working tirelessly to save lives," says Dan Buckley, President of Marvel Entertainment. "After the incredible reaction we saw from our first comic book with AHN and Doner, we knew these stories were truly special. We are honored to help AHN tell more of these stories, which now give us another glimpse into the world of healthcare heroes saving millions of lives every day."
"Though the EMS personnel depicted in the comic book are based on eight real individuals, we want all our EMS partners in the community and at AHN to know: This comic book is about all of you," Twaddle continued. "It represents all your stories, all the hard work you have done to continue delivering care throughout the COVID-19 pandemic. No matter who you are, this is your story."
The comic books will be distributed to EMS personnel and an e-reader will be available for digital distribution on https://ahn.org/TheVitalsEMS.
THE VITALS: TRUE EMS STORIES is a follow-up to Marvel Comics' THE VITALS: TRUE NURSE STORIES, a comic book depiction of the heroic stories of AHN nurses during the pandemic, which debuted to national and international acclaim in December 2020. As with the nurses depicted in the initial "The Vitals," EMS providers were nominated by their co-workers for inclusion in this follow up comic book story.
"We are happy, but not surprised, that so many EMS colleagues took the time to write glowing, detailed nominations of their co-workers," said Thomas Campbell, MD, Chair, Emergency Medicine, at AHN. "Our local EMS partners never forget that delivering effective emergency medical care always requires teamwork. They value and support their teammates, and take pride in their accomplishments. All of us who work in emergency medicine are proud to be part of their team."
The accomplishments of the eight EMS personnel depicted in THE VITALS: TRUE EMS STORIES include calmly talking a psychiatric patient off a ledge where he was threatening to jump, delivering a breech birth premature baby and delivering mouth-to-mouth resuscitation to the tiny infant, continuing to provide direct patient care despite risk factors for COVID complications such as asthma and cancer survivorship, spending spare time collecting winter coats and backpacks for young people in need, and performing an in-field cricothyrotomy (airway incision that allows a patient to breathe) on a burn patient.
THE VITALS: TRUE EMS STORIES is written by Marvel Comics' Sean Ryan, drawn by artists JL Giles, Zé Carlos, and Ramon Bachs. The cover art was created by artists Zé Carlos and Rachelle Rosenberg.
ABOUT AHN
Allegheny Health Network (https://ahn.org/TheVitalsEMS), a Highmark Health company, is an integrated healthcare delivery system serving the greater Western Pennsylvania region. Among the network's 300 clinical locations are 13 hospitals and five Health + Wellness Pavilions. AHN also is home to a comprehensive research institute; home- and community-based health services; and a group purchasing organization. The network employs more than 20,000 people and has more than 2,400 doctors on its medical staff. Established in 2013, AHN's member hospitals share legacies of charitable care that date back more than 160 years.
The Hype Box
Can't-miss news and updates from across the Marvel Universe!