Comics
Published November 21, 2017
America: Last Call
Gabby Rivera teases a final showdown with The Exterminatrix!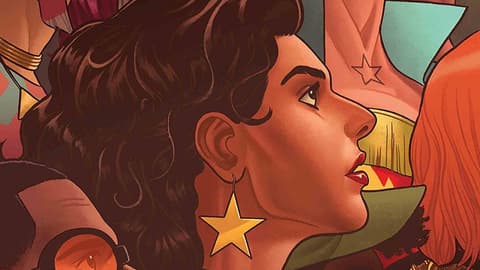 The Exterminatrix has America Chavez up against the wall. And now that she's been isolated from her friends and allies, the only one our hero can rely on might just be herself.
On December 20, America's fight against The Exterminatrix comes to an epic conclusion as writer Gabby Rivera and artists Jen Bartel and Joe Quinones set the hero up with her final shot at the villain in AMERICA #10!
We caught up with Gabby to hear more about America Chavez's big moment.
Marvel.com: America has a few new powers in her repertoire. Tell us a little bit about them!
Gabby Rivera: One of her new abilities will be the power stomp, which we saw when she went to Vegas with Madrimar. If she flies upward and uses a lot of her energy to come back down, she can slam hard enough into the ground in a way that basically levels everything. That's something I wanted to play around with—the ways in which Madrimar can help America fine tune her abilities and find the other special things that she can do. She already has so much power, so now it becomes about the ways we can hone that and give her other cool tricks.
One of the powers that she has developed over the series has been the ability to punch open multiple portals to find someone she's looking for. Storm helped her develop that, and she's trying to use it to subvert Dr. Brightly, which would allow her to do the right thing under a change in administration at the school… But I don't want to say too much!
Marvel.com: By the way, Storm's recent interactions with America have been so great to read!
Gabby Rivera: Oh my god, I love that! It felt legendary for me to write Storm. I felt like it might've been one of the best moments of my life. I loved being able to bring Storm in as a top-level, iconic mentor for America; to have them engage with each other in a thoughtful way, a loving way, and also a very physical way. They fly and fight and learn together. Storm shows America that she'll always be there for her. It's important to show women of color bonding and helping each other evolve. There's a Storm renaissance!
Marvel.com: The Exterminatrix stands as a very formidable opponent—and she has the Midas Corporation on her side. How will America's new powers help her in this fight?
Gabby Rivera: The "Exterminatrix" arc has showed that, yes, America's powers are important, but so is her team. Exterminatrix has so much power behind her, but we realized that America does too. So how do we build up Prodigy and the Betas and others? They're present, and they're also part of the fight for the soul of Sotomayor University. America is super powerful and she could obliterate everything, but it's never that simple.
Because Exterminatrix is so powerful and her weaponry is so refined (and sociopathic!), America really experiences a tremendous injury. So how does she recover from that and where does it take her? We link her pain to the connections she experiences with her family and her ancestors. In her pain and in her healing, she sees that people have her back. And she has the ability to say, "Okay, I don't have to do everything on my own. In what ways can I really channel what I'm supposed to be doing and what I've learned in order to defend the school and be part of the team?"
Marvel.com: Beyond this fight, how what she learns here impact her approach to being a super hero moving forward?
Gabby Rivera: This is a non-traditional super hero story. America Chavez navigates grief, identity, and personhood. And we want to do it in a way where she's reflective, and still headstrong, brave, and a little reckless. She possesses a spiritual power that she hasn't tapped into yet, but we got the seeds of that in issue #7 with her origin story.
Marvel.com: What do you see as the most important takeaways from this arc?
Gabby Rivera: That she's not alone. That folks love her and that she has family. And also, just because you can use force to fix a problem and blow something up doesn't always mean that it's the best thing to do.
Even though she had a leadership position with the Ultimates and she has proven herself as a person who can make good decisions, now she's forging her own path. And I think that, even though we can often show up for a group, sometimes we don't do that same thing for ourselves. So now, America is learning that she has to show up for herself too.
AMERICA #10, by writer Gabby Rivera and artists Jen Bartel and Joe Quinones, drops on December 20!
The Hype Box
Can't-miss news and updates from across the Marvel Universe!