Comics
Published October 3, 2017
America: Nowhere to Run
Gabby Rivera teases the hero's Marvel Legacy clash with Exterminatrix!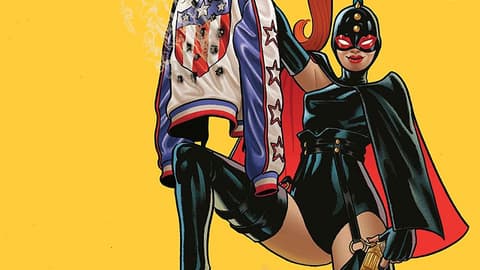 Exterminatrix has finally caught up with her prey. And America Chavez faces one of her greatest foes yet in AMERICA #8!
A.K.A. Oubliette Midas, the baddie claims to have killed vampires and gods, so America will be tested like never before. As Marvel Legacy dawns, she'll need Grandma Madrimar—and all of her friends—to survive and somehow defend Sotomayor University. Written by Gabby Rivera with art by Joe Quinones, the test has never been tougher for the red, white, and blue hero.
We caught up with Gabby to hear more about what she has in store for America.
Marvel.com: America has some incredibly impressive abilities, but so does Oubliette…would you consider her powers a match for our hero's?
Gabby Rivera: Exterminatrix will wreak havoc on America Chavez and Sotomayor University. Oubliette's ability to manipulate any situation to her advantage will blindside America and her crew. She'll be at least ten steps ahead the entire way.
America's going to have to see past the mind games and dig deep into what really motivates Exterminatrix.
Marvel.com: Something else going against America—Oubliette has the Midas Corporation on her side…
Gabby Rivera: The Midas Corporation has already taken shots at America in issue #5 and #6—the two-story arc with Kate Bishop A.K.A. Hawkeye. We saw their hold on Magdalena—America's childhood friend and almost ex-girlfriend—and how deep their reach goes into the Underworld. We haven't seen the last of Midas, that's for sure—and with Exterminatrix invested in America's downfall, they're bound to pull out all the stops.
Marvel.com: How will America handle this threat?
Gabby Rivera: America's not going to want to play as dirty as Exterminatrix…but she might have to be brutal to save both Sotomayor and herself.
Marvel.com: What else can you tease about issue #8?
Gabby Rivera: X'Andria and Prodigy have some really great moments in this upcoming Exterminatrix arc…I'd keep an eye out for them too!
Enter the fray with AMERICA #8, by Gabby Rivera and artist Joe Quinones, on October 25!
The Hype Box
Can't-miss news and updates from across the Marvel Universe!