Comics
Published June 16, 2017
America: Reunion
'Hawkeye' Kate Bishop drops by for a two-part escapade!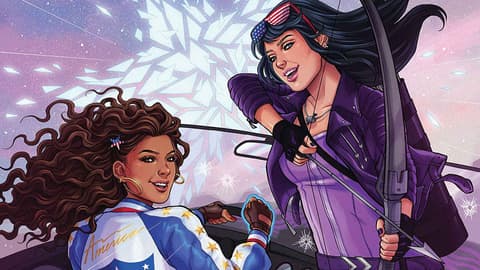 In our humble opinion, America Chavez and Kate Bishop have one of the best friendships in the Marvel Universe. They always seem to really enjoy each other's company, and they show up for one another when things get rough. In the upcoming AMERICA issues #5 and #6, we'll see the two buddies teaming up, and facing down some challenges from America's past.
We spoke to editor Wil Moss and associate editor Sarah Brunstad about all the Amerikate goodness we can look forward to in this two-part story.
Marvel.com: Why do you think everyone loves America and Kate's friendship so much?
Wil Moss: I think it in part has to do with the fact that they're very open with each other. They like each other a lot, and that comes through in their exchanges. I think it makes their friendship feel real.
Sarah Brunstad: And they're really honest with each other, which is the best kind of girl friendship.
Wil Moss: And they each need someone like that in their lives. America almost checks Kate sometimes a little bit, and with America, Kate kind of brings her down, grounds her a little bit.
Sarah Brunstad: That really is a big part of this two-part story: getting America to open up about all of the things that have been happening to her, about being the leader of the Ultimates and the kind of pressure that's on her. And she opens up with Kate in a way that she doesn't with practically anyone else.
Wil Moss: The story opens up with her going to Kate's to unwind. She goes to Kate's because she needs to download; she needs to not be "America Chavez" for a couple minutes.
Marvel.com: We've seen both America and Kate going through a lot of changes lately, entering new chapters, and striking out on their own. Do you think they can support each other through all that turbulence? Does teaming up feel a little like coming home for them?
Wil Moss: Yeah, probably so. America has started this journey of self-discovery, both at Sotomayor University and also with the new aspects of her powers that she's learning about in the AMERICA series. And Kate with her private eye practice. They're both going on these new paths. It's like when you go home and see your high school friends for the first time during your freshman year in college; it's important to have that person in your life who can be the same when you're going through a lot of changes.
Sarah Brunstad: Yeah, there's no gap there.
Marvel.com: I think the fact that America and Kate really seem to get each other really contributes to the strength of their friendship. They both care deeply about others and they have big hearts, but they also both love snarkiness and kicking butt.
Sarah Brunstad: Absolutely. This whole story is really kind of a buddy story in that way. We wanted to embrace that. And the first arc of America's new series is really action packed, there's a lot that happens, she discovers a lot about her life. And in this arc—there's still a lot going on, there's a lot of action and she needs to deal with this crush that she's got—but we really enjoyed being able to let her breathe and let them enjoy each other's company for a little bit.
Wil Moss: Yeah, there are some big problems in this story, for sure! They don't just sit around and talk! Things go south real quick, and it's a lot of fun for both characters.
Marvel.com: Without giving too much away, Kate and America are will face a new threat in AMERICA #5. What challenges can we expect to see them going up against?
Wil Moss: As Sarah mentioned, we meet somebody from America's past. We don't know much about America's past. We basically know about her origin, that she left the Utopian Parallel and then, and then the in-between years, we don't know as much about. So we meet someone from America's past who's a crush, a prior relationship—this girl whom America reconnects with while she's on this trip to go see Kate. And that old flame brings nothing but trouble. That's what really gets the story going. There are boxing matches with super villains; there's a lot packed into this two-part story.
And I'd also like to talk about the art. Joe Quinones is the main artist on the series. We've got this two-parter where Ramon Villalobos our guest artist, and our guest colorist is Tamara Bonvillain. Ramon is amazing. He loves America the character and it comes through in his art, which has hyper detailed visuals and great layouts. He just gets America's character and you can tell right away. He did a nice variant for AMERICA #3. He's killing it on these two issues.
Marvel.com: And America has such a great sense of style. She seems like a fun character to work on from a visual perspective.
Sarah Brunstad: Yeah, I know Joe has a lot of fun with the fashion in every issue. He always brings that to the supplementary characters, also. He has really fun designs. The Betas, the sorority sisters America interacts with, are all kind of playing off of the same elements. There's a lot of pop culture going on between writer Gabby Rivera and Joe. The whole thing is just really visually exciting.
Marvel.com: What did you enjoy most about working on this story arc?
Wil Moss: It's its own, stand-alone thing, so anyone who hasn't read the book so far can dive in pretty easily. But at the same time, it advances the larger story that Gabby's telling, the mystery of who has been behind a lot of the trouble that America has run into in the opening four issues. And that's part of why she goes to see Kate, because she wants to use her detective skills to help her figure some stuff out. And also, the second part, issue #6, ends with a pretty big revelation for America that upends a lot of stuff she things she knows. So the story is going to leave a mark.
Sarah Brunstad: It has also been really fun getting Gabby and Kelly Thompson, the writer of HAWKEYE, to work together. It's a great collaboration. Kelly knows Kate's voice instantly, and has been able to have a lot of fun with Gabby in putting this together.
Wil Moss: We're calling Kelly our archery consultant. If Gabby's at the stick driving the car—it's a bad metaphor—but we've been talking with Kelly a lot about getting Kate's voice, and it has been great.
Marvel.com: Would you like to tease or mention anything else?
Sarah Brunstad: Issue #7 is going to be really exciting, just to plug that for a second! We're going to go back and tell America's origin which, as Wil said, has never really been told before. We know what happened with the Utopian Parallel, but we don't really know anything else about her young life. That issue is going to have a cast of several different guest artists.
Wil Moss: Some cool guest artists for sure! We've got Annie Wu, Jen Bartel, Joe Quinones, Chris Visions, and a couple other people. And Joe Quinones is returning in number full to the book with issue #8, to pick up the next big arc. We do want to highlight that Joe Quinones is coming back, he's not gone.
It all gets started in AMERICA #5 by Gabby Rivera and Ramon Villalobos, available July 19!
The Hype Box
Can't-miss news and updates from across the Marvel Universe!