Comics
Published November 21, 2016
America the Beautiful
Miss America Chavez takes control in her own ongoing series from Gabby Rivera and Joe Quinones!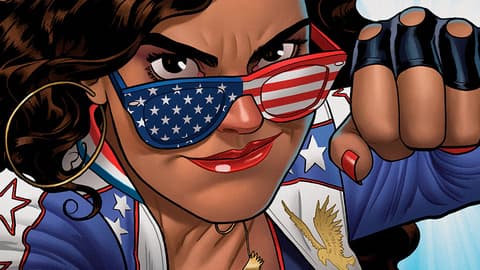 Many of us consider America Chavez one of our favorite characters. She has an independent streak and a strong sense of self that resonate with a lot of readers.
And now, she has her own series!
We caught up with writer Gabby Rivera and artist Joe Quinones on what it has been like to work on this fan favorite and what to expect when AMERICA launches in March of 2017.
Marvel.com: America has a very loyal fan base, and many readers have been hoping to see her in her own book for some time. What do you think makes her so popular?
Gabby Rivera: From talking to some of my friends who love America, I think people find her identity and her attitude appealing. They like that she's Latina, and that's she's queer. And not only that, I see her as kind of a tough girl, and I think people like that. It reminds me of that old Michelle Rodriguez movie, "Girlfight," where she plays a boxer. Many of the experiences coming up in this country now have relevance to America's story. And the folks we're trying to uplift, support, and watch shine can relate to her.
Joe Quinones: I'm one of those readers! I fell in love with the character while reading Jamie McKelvie and Kieron Gillen's amazing run on YOUNG AVENGERS and have since both wanted to draw her and see her carry her own book. I think her popularity stems from three things: her uncompromising tough girl demeanor, her sense of fashion, and the representation she imparts to LGBTQ, Latina, and female communities. Yet these aspects of her character don't completely define her. Instead, behind her tough exterior, we find a person who cares for her fellow man and friends and will fight for and protect them fiercely.
Marvel.com: A lot of fans really love America's friendship with Kate Bishop, who also has an upcoming book of her own. Do you envision any crossovers?
Gabby Rivera: I'll say to readers that they should look out for a little Kate Bishop in this book. Anything is possible!
Joe Quinones: I consider Kate my other favorite character from YOUNG AVENGERS. Given their past, we can expect at least some appearances from Kate here. No plans as yet for a crossover, but I had such fun doing the Howard the Duck/Squirrel Girl crossover with Chip Zdarsky, Ryan North, and Erica Henderson. I'd certainly enjoy doing one again with two of my favorite characters. And I so look forward to Kelly Thompson and Leonardo Romero's HAWKEYE series, so color me interested.
Marvel.com:  Now that we'll get to see America's character explored a little more deeply, what can we expect to see that maybe we couldn't have seen before she had her own book?
Gabby Rivera: I'm finding in my research that readers want to know everyday things about her. What kind of music does she listen to? What books does she read? What goofy character traits or nuances haven't been fleshed out before? I've had fun writing that part of her, because I can do anything. She could listen to Oasis, she could like knitting—not that I've put those things in the book. But I've enjoyed the endless potential.
A big chunk of the book will show her going to college and searching for connections to her family. At her age, the transition from childhood to adulthood, you want to figure out not only, "what do I find interesting, what do I want to study?" but also, "where do I come from?" and, "what didn't I learn in school that I want to study in university?" In this book, we'll get to see how these things she learns and the classes she takes impact the way she approaches learning about herself, where her ancestors come from, and what she can really do with her powers.
Joe Quinones: I think we can expect to further peer behind her hard exterior and get a sense of what drives her. We find her looking outside of the world she has known and hoping to grow.
Marvel.com: What do you think this boost in visibility for America says about the direction of representation in comics?
Gabby Rivera: I just recently visited the Marvel headquarters for the first time, and it's as dope as you'd imagine! Sana Amanat, the Director of Content and Character Development, is a badass woman of color! Walking into that space and talking to everyone there, I could tell that Marvel wants authentic voices and real people who feel invested in this type of work and this type of writing. They've brought on Roxanne Gay and Ta-Nehisi Coates, oh my god! I feel beyond humbled and honored to be a part of this world, where they create books dedicated not only to the craft of comics, but also to uplifting voices, and breaking down racism, sexism, and homophobia. It feels big. And I feel excited that readers will get to see this story at this time in our country.
Joe Quinones: We still have a long way to go, but I see a heartening trend toward better representation in the industry. You can't underestimate the impact of seeing yourself reflected back in the culture. It says you have importance. It says you matter. You too can achieve great things. The doors are not closed to you. The ceiling is not too high.
Marvel.com: The events of Civil War II hit America pretty hard. Will that affect her story in the new book?
Gabby Rivera: We'll see her doing a lot of reflection, but through a fun story that's unique to America. We'll get to know more about her and how some of her past experiences shape her decisions to go to college, and to try to kind of break away from the super hero scene for a while.
Joe Quinones: Certainly. Given the way Civil War II played out, America has found herself a bit disillusioned and looking outside of the super hero community.
Marvel.com: Can you tell us a little about your experience collaborating together?
Gabby Rivera: We're still in the early stages, and it feels kind of like your first week of school, when there's a lot excitement about finding yourself in this new space. Joe creates stunning work—wait until you see it! I really enjoy working with someone of his skill level and artistry. And I love the way that he draws America. Her body is powerful and her clothing is fresh and sexy, but not sexualized.
And as someone working on my first comic, I love seeing the art turn from pencil sketches to fully inked, vibrant work. I'm enjoying learning the ins and outs of this process. I've felt really supported [through] all of it.
Joe Quinones: While Gabby continues fine-tuning her script, I've been working on designs for the book. I feel very excited by what I've seen so far. She clearly has got a feel for America's voice. I so look forward to working with her further.
Marvel.com: What have you found unique or interesting about working on AMERICA?
Gabby Rivera: Personally, I've found it a wonderful challenge. Marvel didn't tap me for this because I write comics; I don't write comics, I write quirky, coming of age novels. I've really enjoyed taking that style and aesthetic—my kind of goofy, weird stuff—and using that to explore a character who has super powers. Also, working with America, I've had so much free space in terms of figuring out what exactly she can do with her powers, and how she does it. And I've loved having the chance to write a book that's pro-women and pro-people of color. I can say, "I want to make this professor of America's Afro-Latina and I want her to do x, y, and z," and the people at Marvel tell me, "Yeah, do it! Run with it!"
Joe Quinones: I've never spent so much time looking up crop jackets in my life. America has such a unique and definitive style, so I've been researching and designing outfits for her that are new but still line up with her uncommonly patriotic fashion sense. I've had fun with it.
Marvel.com: Would you like to tease anything else about the book?
Gabby Rivera: Readers should get ready for a cameo from Storm!
Joe Quinones: HOWARD THE DUCK saw the introduction of my cat Biggs into the 616. I hope to introduce at least one other favorite pet of mine into the Marvel Universe. Time will tell…
Join Gabby Rivera and Joe Quinones in casting your vote for AMERICA beginning in March 2017!
The Hype Box
Can't-miss news and updates from across the Marvel Universe!