Comics
Published June 30, 2020
An Interview with Luciano Vecchio
We talk with the 'Ironheart' artist about inspiration, Pride, and real-life heroes.
Luciano Vecchio's influence as an artist has spread outside the Marvel Universe, branching into the independent global comics community too. In addition to his work on IRONHEART (2018) and 2020's MARVEL'S VOICES, Luciano is the creator of SERENO, a futuristic Super Hero story starring the "Nightwatchman" of Nueva Teia.
Luciano was also the founder and driving force behind SECUENCIA DISIDENTE, a digital comics archive that collected and spotlighted the stories of Latinx LGBTQ+ creators throughout Argentina.
We spoke to Luciano about his IRONHEART run and more, including his earliest fandom and comics career.
Have you always been a lifelong fan of animation and Super Hero comics?
Comics and Super Heroes were always a part of my world. I have a brother eleven years older than me who was a comics reader, so I had his collection around feeding my imagination since long before I learned how to read them. Super Hero cartoons were my favorites on TV, and comics were like the expanded infinite version, where I lived most of the time.
Do you remember a specific first comic experience or character that made things click for you too?
There were many significant moments from Super Hero stories, but I'd mention George Perez's Wonder Woman as a clicking experience. I read it in my early teens, and it was a run that intersected Super Heroes with mythology, feminism, and activism through positive action. That reboot was a turning point from seeing comics as "this is awesome and fun" to "this is also important, emotional and inspiring."
In your MARVEL'S VOICES story, you feature a wide assembly of LGBTQ+ Super Heroes celebrating real-life heroes, including Pride founders Marsha P. Johnson and Sylvia Rivera. What other real-life heroes have inspired your work?
People in the comics field have inspired me throughout the years. Like the work of George Perez as I mentioned. Grant Morrison's work with his brain stimulation and magic lessons. Phil Jimenez as the hero I aspired to, who I eventually got to meet, and get a bit of mentoring from...
Gail Simone with her writing and enormous positive impact in the medium. Rebecca Sugar with her game-changing use of animation to emotionally educate a generation. Enrique Alcatena, one of the most important Argentinian comic artists who is also an example of class and generosity, and who gave me the platform to explore my dimension as a writer/artist on SERENO. But most of all, the heroes that inspire me are in the ever-growing pantheon of local Argentinian queer artists doing activism through culture-making, many of whom are also my friends.
Journalist and HIV activist Lucas Fauno, non-binary tango singer Fifí Tango, lesbian cartoonist and convention producer Agustina Casot, queer Cumbia band Sudor Marika, just to name a few out of an enormous local scene. Even the son of our current President [Alberto Fernández] is a vocally gender-fluid drag performer.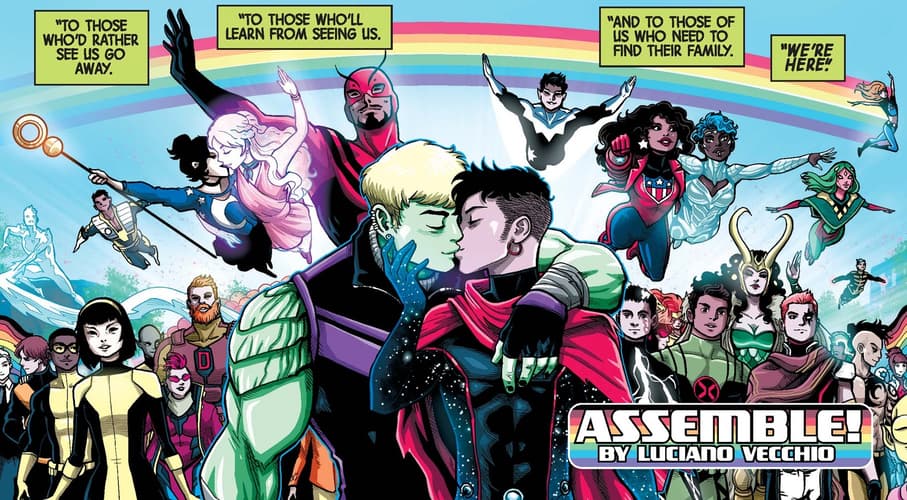 Speaking of LGBTQ+ identity, is there a Marvel character for you that embodies Pride?
I think no one individual character can completely embody the myriad of intersectional subjectivities and challenging of social inequities that compose Pride, and that is a good thing.
It is way too much pressure on any character (or person) when they're the only member of an underrepresented demographic in media, and that's why in my 'Voices' story I wanted to focus on community and shared cause, which to me is the essence of Pride. Though decades ago, I think the mutants served that (and other) collective allegories, but we're past that point. Now, having more characters being visibly LGBTQ+ in their unique way is more relevant and necessary than the metaphor. When we zoom in on specifics, I like that Northstar felt anger when coming out, and I appreciate America Chavez's sassiness, or Loki's fluidity. All of that embodies their uniqueness. Pride is present in all of them.
In addition to VOICES, you were also the artist on Ironheart's first solo series, paired with writer Eve L. Ewing. What about Eve's scripts stood out to you the most?
IRONHEART was special for me, being my first assignment in the Marvel Universe canon, and it hit all the right notes—a character I already liked, an inspiring female lead, social discourse, highly emotional moments and explosive action. It had it all.
But what stood out the most from Eve's writing was her style and pace, the way she delivers information, and advances the plot in a uniquely emotional way. The structure of the extra-long first issue, cliffhanger included, is a standout. The series moved me to tears in many moments, especially the closure of the first arc in issue #5. And a personal favorite was the Shuri/Riri dynamic introduced in the Wakandan arc in issue #9. It was an incredibly joyous ride all the way.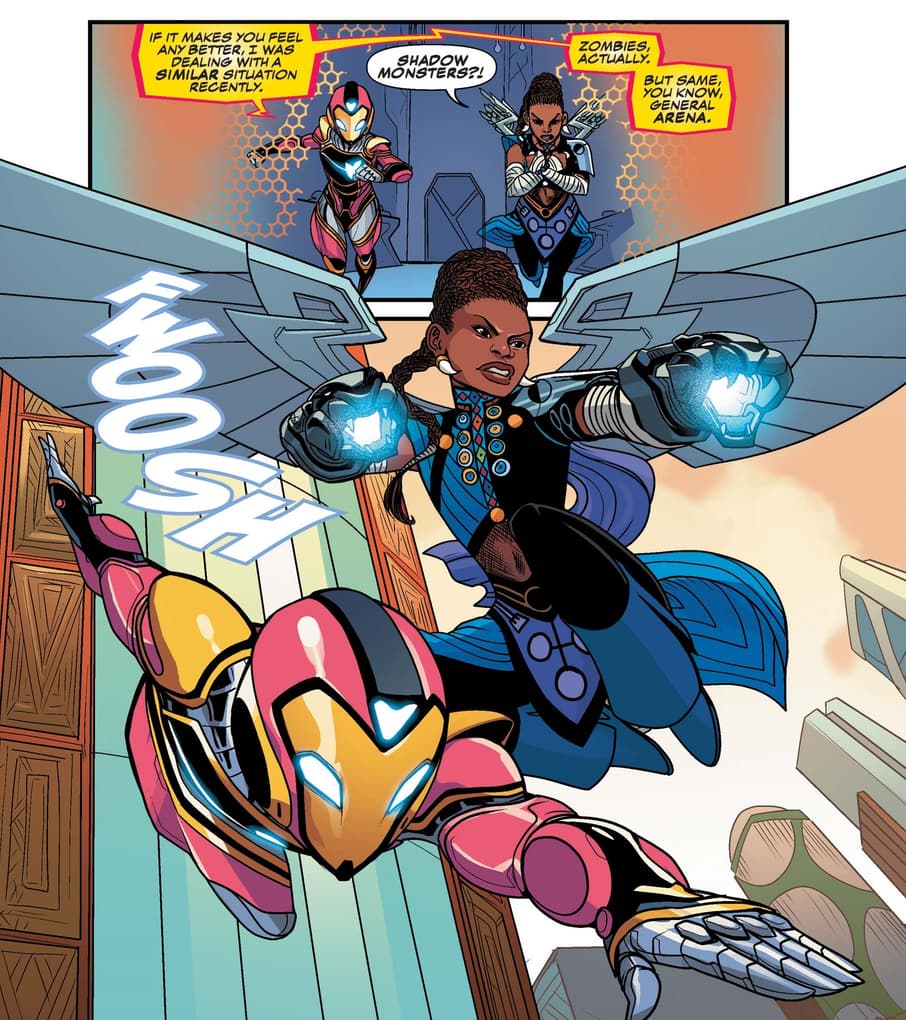 One of Ironheart's defining traits is her resourcefulness and ability to bring any idea to reality. Has there been a time as an artist when you've had to channel your inner Riri Williams?
I am nowhere near that level of genius and resourcefulness, I'm more of an intuitive "work from the guts and hope for the best" kind of artist. But I do identify with Riri's socially awkward personality, especially when I was her age. And I try to embrace and act on her inspirational quote when I need it: "Those who move with courage make the path for those who live in fear."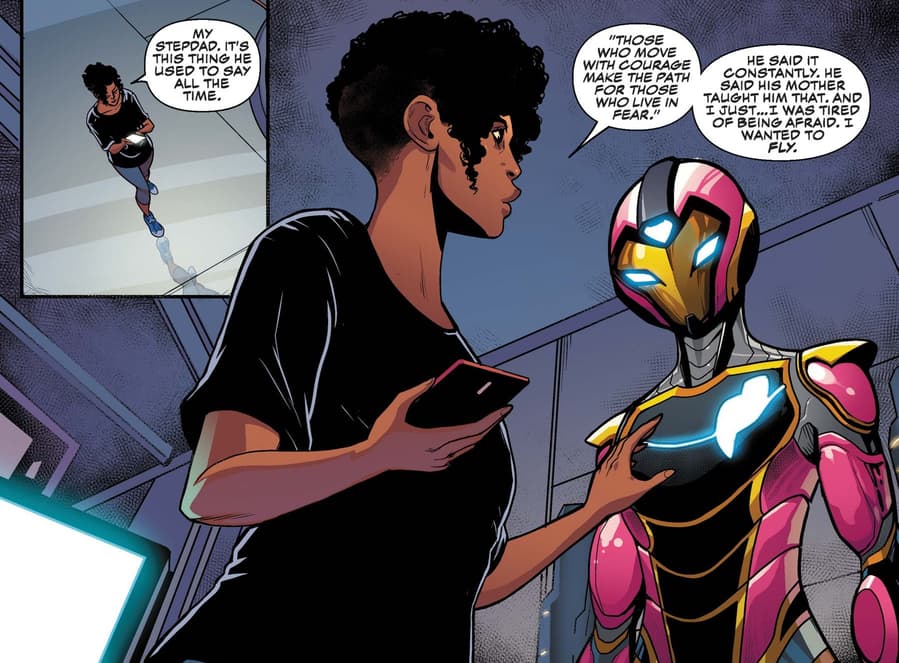 Besides your love for Riri—any other favorite Marvel characters?
Wiccan and Hulkling are my favorites. At the time they were introduced, such an image of a well-adjusted, out and proud unconditional queer love (with supportive friends, family and mentors) didn't abound, and they provided not only a point of identification but also a positive aspiration that I was especially drawn to ever since the first volume of YOUNG AVENGERS (2005).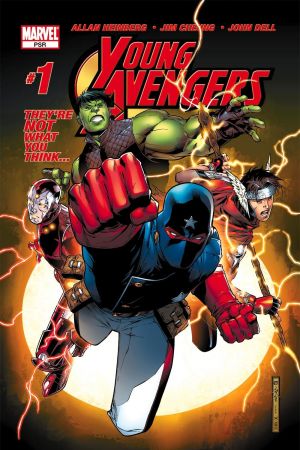 Outside of Marvel, you created SECUENCIA DISIDENTE, an Argentinian LGBTQ+ digital comics anthology. How exactly did that project come to be?
In the context of many comic events, publications, and discussions challenging the old cis-het male-dominated status quo of the local scene, we LGBTQ+ authors started to see each other, and vanish the illusion each had of being the only one. I created a private group for us to connect which led me to realize there were more of us than I imagined, and that there was a volume of LGBTQ+ comics going under the collective radar. I created SECUENCIA DISIDENTE to compile the preexisting work of LGBT-themed comics by more than fifty queer authors, for everyone to read. We gathered our works into one digital space to amplify each other, gain visibility through numbers, make a collective statement, and provide a platform and community for new LGBTQ+ authors. After two years, the new generation of queer authors and publications vastly outnumbered what the project could contain, and we felt it served its purpose. It was an awesome experience and it gave me the family of peers that became my core support ever since.
For more of Luciano's work, read MARVEL'S VOICES and IRONHEART: THOSE WITH COURAGE. Both are free right now on Marvel Unlimited, part of our larger offering of free arcs, complete series, and pivotal storylines you can read through the month of July.
Continue your celebration of Marvel Pride with our Marvel Unlimited character spotlight.
For more of Marvel's greatest comic books in print, please reach out to your local comic book shop to ask about services they may offer, including holding or creating pull lists, curbside pick-ups, special deliveries and other options to accommodate. Find and support your local comic book shop at http://comicshoplocator.com.
The Hype Box
Can't-miss news and updates from across the Marvel Universe!