Comics
Published March 30, 2018
Announcing the Marvel Knights 20th Anniversary Trade Program
Beginning this September!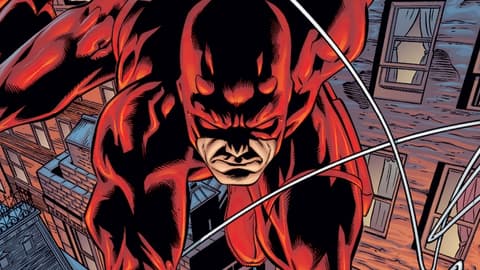 Visionary creators such as Joe Quesada, Brian Michael Bendis, Alex Maleev, Garth Ennis, Christopher Priest, Steve Dillon, David W. Mack, Grant Morrison, Jimmy Palmiotti, Jae Lee, Kevin Smith, Jeph Loeb, and more created the stories that would change the comics industry! And together, with co-founders and editors Quesada and Palmiotti at the helm, they would become superstar legends for their revolutionary work!
With Marvel Knights, Marvel traded traditional style for daring storytelling, creating new and bold tales for Marvel icons such as Punisher, Daredevil, the Inhumans, Black Widow, and Black Panther. By reinventing classic characters and focusing on strong stand-alone story arcs, Marvel Knights nearly recreated the Original Graphic Novel as monthly comic format—and became the industry's spark that paved the way for the bright and intrepid stories of today's heroes!
This fall, in honor of the critically acclaimed imprint's 20th anniversary, Marvel is celebrating the inception of Marvel Knights by bringing fans a uniform set of new trade paperbacks featuring the best of Marvel Knights, as well as two brand new Omnibus editions.
Look through the covers here, then find your favorite in your local comic shop starting this September!
SEPTEMBER:
DAREDEVIL BY SMITH & QUESADA: GUARDIAN DEVIL TPB

COLLECTING: Daredevil (1998) 1-8, 1/2
BLACK PANTHER BY PRIEST & TEXEIRA: THE CLIENT TPB

COLLECTING: Black Panther (1998) 1-5
OCTOBER:
MARVEL KNIGHTS BY DIXON & BARRETO: DEFENDERS OF THE STREETS TPB

COLLECTING: Marvel Knights (2000) 1-15
FANTASTIC FOUR BY MORRISON & LEE: 1234 TPB

COLLECTING: Fantastic Four: 1234 1-4, material from Marvel Knights Double-Shot 2
DAREDEVIL BY BENDIS & MALEEV: UNDERBOSS TPB

COLLECTING:Daredevil (1998) 26-31
BLACK WIDOW BY GRAYSON & RUCKA: THE COMPLETE COLLECTION TPB

COLLECTING:Black Widow (1999) 1-3, Black Widow (2001) 1-3, Black Widow: Pale Little Spider 1-3
NOVEMBER:
CAPTAIN AMERICA BY RIEBER & CASSADAY: THE NEW DEAL TPB

COLLECTING:Captain America (2002) 1-6
MARVEL KNIGHTS BY JOE QUESADA OMNIBUS HC

COLLECTING: Daredevil (1998) 1-15, 1/2; Daredevil: Father 1-6; Marvel Authentix: Daredevil 1; material from Marvel Knights Double-Shot 1
DECEMBER:
PUNISHER BY GARTH ENNIS: THE COMPLETE COLLECTION VOL. 1 TPB

COLLECTING:Punisher (2000) 1-12, Punisher (2001) 1-5, Punisher Kills the Marvel Universe
MARVEL BOY BY MORRISON & JONES TPB

COLLECTING: Marvel Boy 1-6
DAREDEVIL: MARVEL KNIGHTS by BENDIS, GALE & JENKINS TPB

COLLECTING:Daredevil/Spider-Man #1-4 & one-shot, Daredevil: Ninja #1-3, Daredevil (1998) #20-25
DAREDEVIL BY MACK & QUESADA: PARTS OF A HOLE TPB

COLLECTING: Daredevil (1998) 9-15
JEPH LOEB & TIM SALE: YELLOW, BLUE, GRAY & WHITE OMNIBUS HC

COLLECTING: Daredevil: Yellow 1-6, Spider-Man: Blue 1-6, Hulk: Gray 1-6, Captain America: White 0-5
The Hype Box
Can't-miss news and updates from across the Marvel Universe!