Comics
Published December 14, 2016
Archrivals: Daredevil Vs. Bullseye
Recalling the fiercest fights between the Man Without Fear and the assassin who never misses!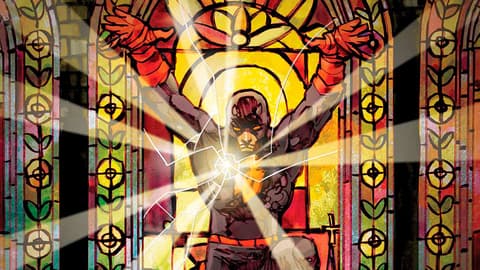 Some enemies will be forever entwined. They have fought so long, harmed each other in so many ways, that neither will ever truly be free of the other. The history of their antagonism ends up written on one another's skin, in each bruise, burn, and scar.
Daredevil and Bullseye have this kind of relationship; this hard earned, long tended hatred. Below, we look back on how things got this bad.
The Birth of Antagonism (DAREDEVIL #131-132)
In the midst of investigating a dubious real estate mogul who turns out to be none other than his girlfriend Heather Glenn's dad, Daredevil runs aground of a wildly gifted assassin anxious to be known by the world. That hired killer quickly stands revealed as none other than Bullseye.
Bullseye quickly makes his mark—literally and figuratively—on Daredevil by drubbing the Man without Fear. Round two goes to DD, establishing both their evenly matched skillsets and creating the basis of what will quickly grow to an all-out hate fest.
Bullseye Finds His Boss (DAREDEVIL #169-172)
The arc begins with a Bullseye fighting a losing battle against a brain tumor causing him to hallucinate that everyone around him is the hated, humiliating Hornhead. Leaving a pile of bodies on Manhattan's city streets nets him enough attention to get the surgery he needs, but, alas, it does not end the assassin's terrible threat.
Still driven by a desire to be recognized for his horrible gifts, Bullseye seeks out The Kingpin and earns a slot as the big man's most reliable and dangerous freelancer, sealing the trio's unbreakable cycle of fighting and destroying one another over and over again.
They May Be Good, but Him? He's Magic (DAREDEVIL #181)
One of the most iconic images of the Marvel Universe—Elektra impaled on her own sai as wielded by Bullseye—occurred in this very issue.
Taking their conflict to the next level, the assassin seeks not to hurt Daredevil physically, but psychologically by killing DD's recently returned former lover—and his own chief rival for the position of Kingpin's right hand enforcer. It all works better than Bullseye expects as the Man Without Fear savagely hunts him down and leaves him crippled by issue's end.
No Bullets Left (DAREDEVIL #191)
10 issues later, Bullseye remains in a hospital bed, in a coma. Daredevil cannot let the man who killed Elektra recover in peace, however, and breaks into the room one night to engage in a "conversation" with his nemesis and to play a game—Russian Roulette specifically—with his "captive" audience. A chamber piece that proves comics can do knuckle whitening tension like no one's business.
Identity Swap (DAREDEVIL #284-290)
After months fighting to get himself back to mental and physical heath and return to NYC, Matthew Murdock ends up with amnesia almost the minute he enters the Big Apple. Bullseye, meanwhile, realizes Daredevil has not been seen within Manhattan in some time and decides to buy himself a DD costume and have some fun.
What follows involves a quest for identity for both hero and villain that culminates in the two, wearing the other's distinctive costume, fighting each other in the boxing ring of Matt's father's old training gym, with victory going to Daredevil, certainly—but which one?
Going "Hardcore" (DAREDEVIL #46-50)
In what might be the fastest head to head in their history, Bullseye returns to New York and to his old job as Kingpin's chief hitman only to find Daredevil in a very different mindset than ever before. Showing up to threaten Milla Donovan, the villain encounters a DD more than ready for him. Hornhead batters the assassin without hesitation and then signs his work, defacing Bullseye's new head tattoo as his carves his prone nemesis's forehead with a shard of glass.
A Real Riot (DAREDEVIL #86)
The FBI send Daredevil and Kingpin to the same jail. Then, they thought, "not volatile enough," and ship Bullseye there as well—with corrupt agents slipping him a pack of cards to really stir the pot.
Unsurprisingly, soon after the Man Who Can't Miss arrives, the prison explodes in a riot. DD and Kingpin, both well aware they have been set up for death, combine their efforts to survive and escape. When Bullseye joins them, however, it proves a step too far. Risking his own life, Matt fights the assassin amidst the chaos.
Crossing the Line (SHADOWLAND #1-5)
It seemed inevitable. Someday one would kill the other. But no one quite expected it like this.
Daredevil, now the leader of the Hand and effectively the ruler of Hell's Kitchen, faced off on a rooftop against Bullseye who had just blown up an entire apartment building to get DD's attention. Hornhead's nickname, however, has become far more literal and the assassin has no clue. Possessed by the Beast— the demon the Hand worships—the Man Without Fear has stopped being a man at all. And so, he no longer has his morality, meaning when he gets the upper hand, he does not capture Bullseye. He murders him.
The Manipulator Revealed (DAREDEVIL #24-27)
Someone has been working against DD behind the shadows, almost entirely without the hero's knowledge. That mysterious figure? Bullseye.
No longer dead but trapped in an iron lung with nearly no senses thanks to a botched Hand ritual, Bullseye has done what he does best. No longer able to grab or use anything, he still remains able to make anything into his weapon and this time, that means using simply his mind.
The Hype Box
Can't-miss news and updates from across the Marvel Universe!