Comics
Published May 26, 2017
Art of the Standalone Story
Secret Empire: Brave New World writer Paul Allor shares some tips!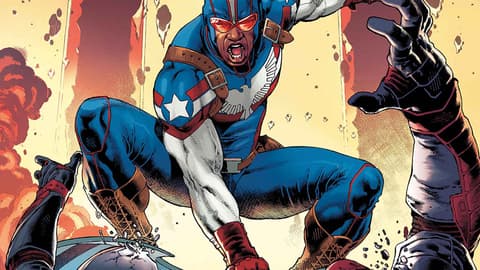 Stan Lee's famously charged to his creators that every comic could be someone's first, and it should be accessible to any reader. This summer, Marvel readers will have the opportunity to feast their eyes on a number of standalone issues from the summer event taking place with Secret Empire to later in the season with the release of GENERATIONS.
Many readers may not be aware of the amount of work that it takes to craft a single-issue story that delivers all the goods in just one shot. We spoke with SECRET EMPIRE: BRAVE NEW WORLD writer Paul Allor about some tricks of the trade given his experience in working within this format.
Marvel.com: Paul, you originally cut your teeth working on short stories and one-shots. How did this help you with your current work?

Paul Allor: Oh man, it helps tremendously. Like you said, it's been a big part of my career thus far; my first self-published book was a collection of 12 five-page stories, with 12 different artists; I followed that up with a one-shot called Orc Girl; my first couple of work-for-hire gigs were Teenage Mutant Ninja Turtles one-shots, and most of my work for Marvel has been in the shorts-to-one-shot category as well. And honestly all of that experience made my writing as a whole so much stronger, and, I believe, really pays off in my longer work.
The reason is that, when it comes to the craft of comics writing, shorts and one-shots are basically a microcosm of larger stories. The best ones contain within them everything that makes a great story of any length, but with no room for error. If your short story or one-shot lags, it's painfully obvious. If the character motivation isn't there, it shows. If you have nothing to say, there's no hiding from it. So yeah, it helped my current work in a real and significant way, by giving me a platform to solidify all the basic elements of the comics writing craft.
Marvel.com: When it comes to writing a stand-alone issue, what are the most important elements a writer needs to keep in mind?
Paul Allor: Well, as indicated above, everything you would need to keep in mind on a longer story also applies here. But some things are a little more important. With limited space, it becomes even more important that every moment carry its own weight; every panel, every beat, every line should serve a storytelling purpose. That doesn't mean that every single line has to be load-bearing—that if any element is removed, the whole thing will collapse, though some very short comics are constructed that way, and it is, when pulled off, rather magnificent—but it does mean that every moment has to do something. It has to move the story forward, to tell us something we wouldn't otherwise know about our characters, to foreshadow the story's end or provide subtext. Your space limitations demand it.
Another thing to keep in mind is that a lot of your pre-planning will be just as involved as in a longer story. You still need to put as much thought into who your characters are, what motivates them, how to best tell their story, and on and on and on, as you would for any length story. Your characters, and your world, should feel just as fully realized, just as complex, as any 20-issue run.
An analogy I like to use is to think of a comic as being like a mountain. With an ongoing, or even a [limited series], you get to see a lot of the mountain. You have time to really explore its contours, get a good sense of the terrain, the caves and ridges, the fauna and flora. By contrast, a short or a one-shot is like a tiny oceanic island that's really just the peak of an underwater mountain. You can only see one little piece of it. But, the rest of the mountain still has to be there.
A couple of other things I would say to focus on, just because I often see them done wrong: No matter how short the story, you still need to have something to say. I know some people are allergic to the word "theme," so call it whatever you like. But your story, and your characters, should have a point, and a point-of-view, and a purpose lurking behind all the kicking and punching and laser eyes.
Marvel.com: You've focused a bit on the content of the story, but what about the format?
Paul Allor: My second point would be that in short stories, just like longer stories, you should not be afraid to play around with the format, and find what best fits the story you want to tell. One thing I've noticed is that the overwhelming majority of five-to-eight page comic shorts are structured like a joke, but with a twist standing in for the punchline. Set-up, development, twist! There's a reason this structure is so popular: It works. But a lot of other structures work as well! And lemme tell you, when you're reading an anthology comic, and story after story is set-up, development, twist, set-up, development, twist, set-up, development, twist, you definitely notice. So, let the story you're telling dictate the structure. Don't be afraid to push yourself, to try new things. Again, shorts and one-shots are a great place to sharpen your craft; but if you aren't pushing yourself, you aren't taking advantage of that.
Marvel.com: You've covered a lot of bases in just a short time! Is there anything else would-be writers need to keep in mind?
Paul Allor: The last thing I would say is to make sure that your story is actually a story—that it has an end, that it has structure—even if it's the aforementioned joke structure—that it's not just a vignette. There's nothing more frustrating than a purportedly stand-alone short or one-shot that's clearly just a dress rehearsal for something longer that the writer wants to do.
Marvel.com: There is often the tension between focusing on the narrative arc and character development when it comes to crafting a story. How do you strike this balance in just one issue?
Paul Allor: Other writers' mileage may—and does—vary, but I don't feel there is a tension between those things. I think if you're doing it right, the narrative arc helps develop your characters, and your character development determines the arc of your story.
Think about "Jaws," as I very, very often do. That wasn't a story about a shark terrorizing a town. It was a story about a new, outsider lawman, who lived on an island but was afraid of the water, and had to team up with two diametrically opposed men of the sea to track down a shark terrorizing a town. That story was those characters, and vice versa. Take those characters, but remove the narrative arc of the shark attacks, and you have some mildly interesting folks going about their day. That that narrative arc, but not those characters, and you have a bog-standard, boring action movie; you have the later Jaws sequels, basically. For every great story, in every medium, you can trace this connection between character and narrative arc. And if you find that the story you're writing isn't working, this is quite often the first and most obvious culprit.
So, I think you strike the balance the same way you always do: by making sure your characters and narrative arc are intrinsically connected, and are pushing each other forward. The only difference a shorter story makes is that, again, there's no room for error, and it's a lot more obvious if you're biffing it up.

Marvel.com: Are there any stand-alone issues from your past that you read that heavily informed how you approach this type of comic storytelling? What were they and how do you see them playing into your style?
Paul Allor: Probably my all-time favorite one-shot is WINTER SOLDIER: WINTER KILLS, from Ed Brubaker and Lee Weeks.  Just a really wonderful example of character and narrative driving each other forward, of narrative economy, of saying so much with so little space. It's also a great example of a comic with something to say; a comic that expresses its theme in every panel, without ever hitting you over the head with it. The theme is just a naturally ingrained part of the story.
Another one I really dug, off the top of my head, was CAPTAIN AMERICA AND CROSSBONES—huh, I guess I really like Captain America one-shots—by William Harms and Declan Shalvey. It was a really wonderful example of just telling an extremely stripped-down, character-driven story that never flinches away from who the central character is, and what he would do when placed in this situation. Just a darn fine little slice of action and pathos.
And my final example would be pretty much all of Emily Carroll's short comics, though I would start with His Face All Red. They're wonderful examples of sustained mood, of using the short format to maintain an extraordinary level of creeping dread that would be difficult to pull off over, say, five issues straight. They're also great examples of using different structures in your shorts, of not always relying on the same very staunch rhythms of storytelling.

Marvel.com: How does working on SECRET EMPIRE: BRAVE NEW WORLD provide you with the opportunity to flex this "creative muscle"?
Paul Allor: Ah, man. I honestly can't say much here, just because I can't say much about BRAVE NEW WORLD in general! But yeah, it was a great exercise in structure and craft, and in pairing character and narrative. The story I'm doing—along with the fantastic crew of artist Brian Level, colorist Jordan Boyd, letterer Joe Caramagna and editor Charles Beacham—is told in five parts, of eight-to-10 pages each. And because of that, I really focused on making each part its own very strong unit of storytelling, within the longer, 42-page whole. Each chapter has its own structure, its own purpose, its own setting, its own dramatic underpinning.
I want the reader to walk away from each short chapter feeling like we really gave them something to dig into, that it didn't feel like just one-fifth of a larger story. It was a lot of fun, and I think it came out great. I can't wait for everyone to check it out!
Catch Paul Allor's latest work in SECRET EMPIRE: BRAVE NEW WORLD, issue #1 due out June 7!
The Hype Box
Can't-miss news and updates from across the Marvel Universe!