Comics
Published December 9, 2019
Artist Well-Bee on the 'Earth X' Prequel, 'Marvels X'
Get the artist's perspective ahead of the prequel series' start on January 8!
Take a guided tour of Marvel's mightiest creators with Marvel Tales! Ben Morse, currently a visiting lecturer at UNLV, previously spent a decade working within the House of Ideas. In each installment of this series, he utilizes that insider knowledge—plus his lifelong fandom—to connect with comics professionals as they spin stories about the Marvel Universe and its inhabitants!
By 1997, Alex Ross had already established himself as perhaps not only the preeminent painter of the comic book industry, but also a storyteller who longed to create his own mythology in the manner of Jack Kirby or Stan Lee. His 1994 big break on MARVELS with Kurt Busiek showed an aptitude for bringing to life the stalwarts of the Marvel Universe, while subsequent projects proved his knack for imagining what tomorrow could bring for iconic characters. When the now-defunct Wizard Magazine offered Ross a crack at forecasting a dystopian future for Captain America, Hulk, Spider-Man, and company, he supplied a dynamic sketchbook that left fans wanting more.
Enter EARTH X.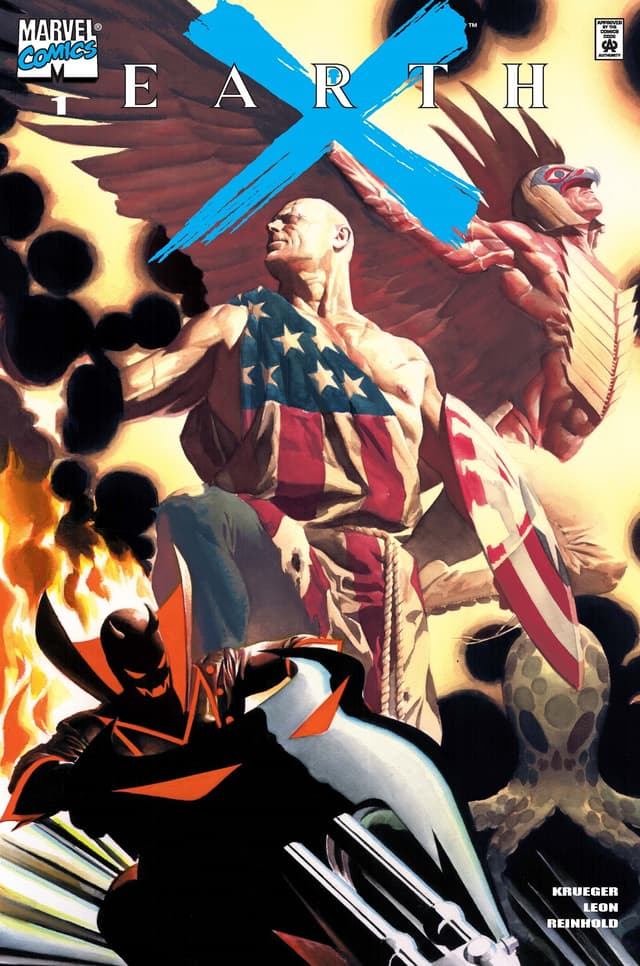 In 1999, Ross along with writer Jim Krueger and artist John Paul Leon embarked on what would become a four-year saga following the future of a Marvel Universe plagued by tragedy that saw the unlikeliest of heroes emerge. EARTH X would be followed by UNIVERSE X (2000) and PARADISE X (2002), along with a myriad of accompanying one-shots and limited series (you can read the entire epic here on Marvel Unlimited). Along the way, Doug Braithwaite would relieve Leon as primary penciler while an array of talented colorists united with Bill Reinhold and Todd Klein, who kept consistency on inks and lettering respectively.
Coming up January 8 of 2020, the Earth X trilogy expands, as Ross and Krueger reunite on the six-issue MARVELS X, a prequel telling the tale of a lone boy trying to survive the altered landscape of the Marvel Universe. Joining the original creative team in this heady endeavor will be newcomer Well-Bee, who brings a unique artistic sensibility to the undertaking and a fresh eye for this familiar yet foreign world.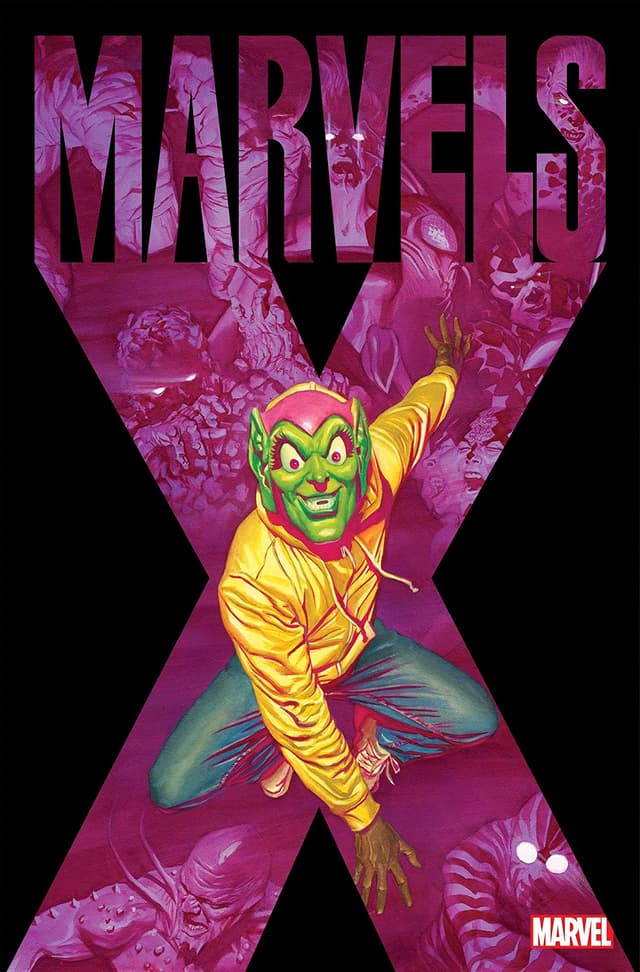 Well-Bee—real name Velibor Stanojevic—grew up in Serbia on a steady comics diet of imports from around Europe, including Hal Foster's Prince Valiant, Blueberry by Moebius, and his favorite, the Italian secret agent satire Alan Ford. American Super Hero stories gradually trickled into his fan experience via reprint magazines, but comics had been a fixture for as long as he could remember.
"My father was a big fan of Western comics as a kid, so he had a pretty big collection at home," Well-Bee shares. "Also, my grandpa was drawing all the time, a lot of comic book characters, but he [had] never done interiors."
Despite the pedigree seemingly pointing him toward a career in illustration, Well-Bee found little support for or inclination toward comics even as he attended art school to pursue painting. He focused instead on music, with the dream of his band hitting it big. Teachers discouraged any interest in his becoming the next Moebius. "Comics to them were always cheap stuff done by some art enthusiasts," he recalls. "I was [attacked] several times by my professors with sentences like, 'don't do that, it's way too comic,' as like that is the worst thing you can ever do."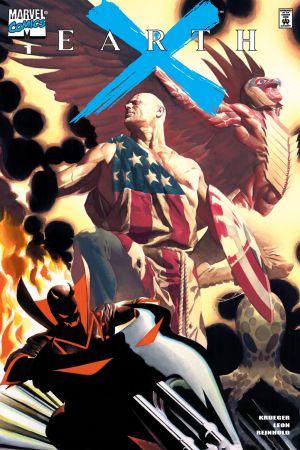 Earth X (1999) #1
published

added to marvel unlimited

inker

penciller

penciller (cover)

writer

colorist

editor

letterer
What is Marvel Unlimited?
Undaunted, when his rock star ambitions waxed and waned, the young Serbian continued to consider comics as an alternate approach, and after the birth of his son, started "to take drawing more serious." His first professional gig came inking five pages done by "some famous Yugoslavia comic creators" whose names he can't recall. The job took him a week and a half and earned him five Euros a page. Jump ahead to earlier this very year and his role as artist on independently published The No Ones would lead to Well-Bee's big Marvel break courtesy of his collaborator on that project, none other than Jim Krueger.
"He [introduced me to] Mr. Ross and both of them agreed I was a good match for their next project."
Well-Bee largely missed out on Alex Ross' initial ascent in the '90s due to the war-torn landscape of his homeland and resulting scarcity of comic book distributors. When he did discover the fully-painted work, he was "speechless," thinking "every damn comic should look like this stuff."
"I started to understand Mr. Ross' art better when I was at Academy," he elaborates. "His color choices, compositions, and for me, most important, his power of limited palette. Also, [his art is like] a history lesson of comics and illustration. You can see all great creators through the lens of [his] eye."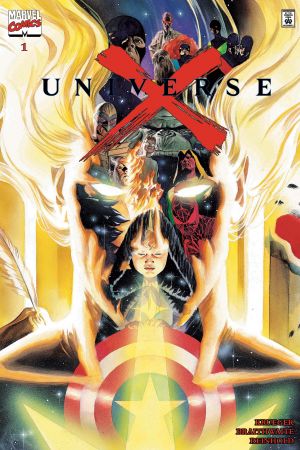 Despite becoming a devotee of Ross, Well-Bee did not come across EARTH X until almost a decade after it debuted, and didn't discover the full trilogy until fairly recently. He calls the original series "a blast" and is both excited and grateful to be adding his own contributions to the lore, promising dynamic storytelling and design as well as a slew of fan favorite characters appearing in MARVELS X.
"It is like a dream come true," says Well-Bee of working on MARVELS X. "Mr. Ross' designs for the book are insanely good and my job is a lot easier. Mr. Krueger is such a great storyteller and it's a [real] enjoyment to draw his stories. Also, I need to mention our editor on this book, Mr. Tom Brevoort—a chance to learn from all these guys is incredible. [They] make you feel so comfortable, it feels like you [have been] working together for years."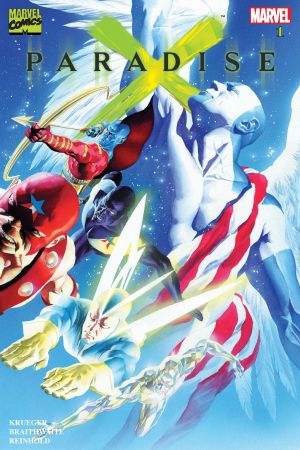 That camaraderie and chemistry will propel a new chapter in the Earth X narrative that promises to thrill and shock. Be sure to book safe passage coming up this January for MARVELS X and get in on the ground floor of the story that changed everything!
Read MARVELS X #1 at your local comic shop on January 8, 2020!
The Hype Box
Can't-miss news and updates from across the Marvel Universe!