Comics
Published November 2, 2022
White Fox, Luna Snow, and Tiger Division Explained
Get to know the heroes of South Korea by reading 'Tiger Division' #1 and 'Avengers: Electric Rain' #1, both special releases on the Marvel Unlimited app!
Have you tried Marvel Unlimited yet? It's your all-access pass to over 30,000 Marvel comics at your fingertips. Start your 7-day free trial, or sign up with plans as low as $9.99 a month.
New on the Marvel Unlimited app: A mystery on the streets of Seoul. Moving buildings and ominous rain. And the shapeshifting Kumiho Super Hero White Fox, the first line of defense against this strangeness gripping the city.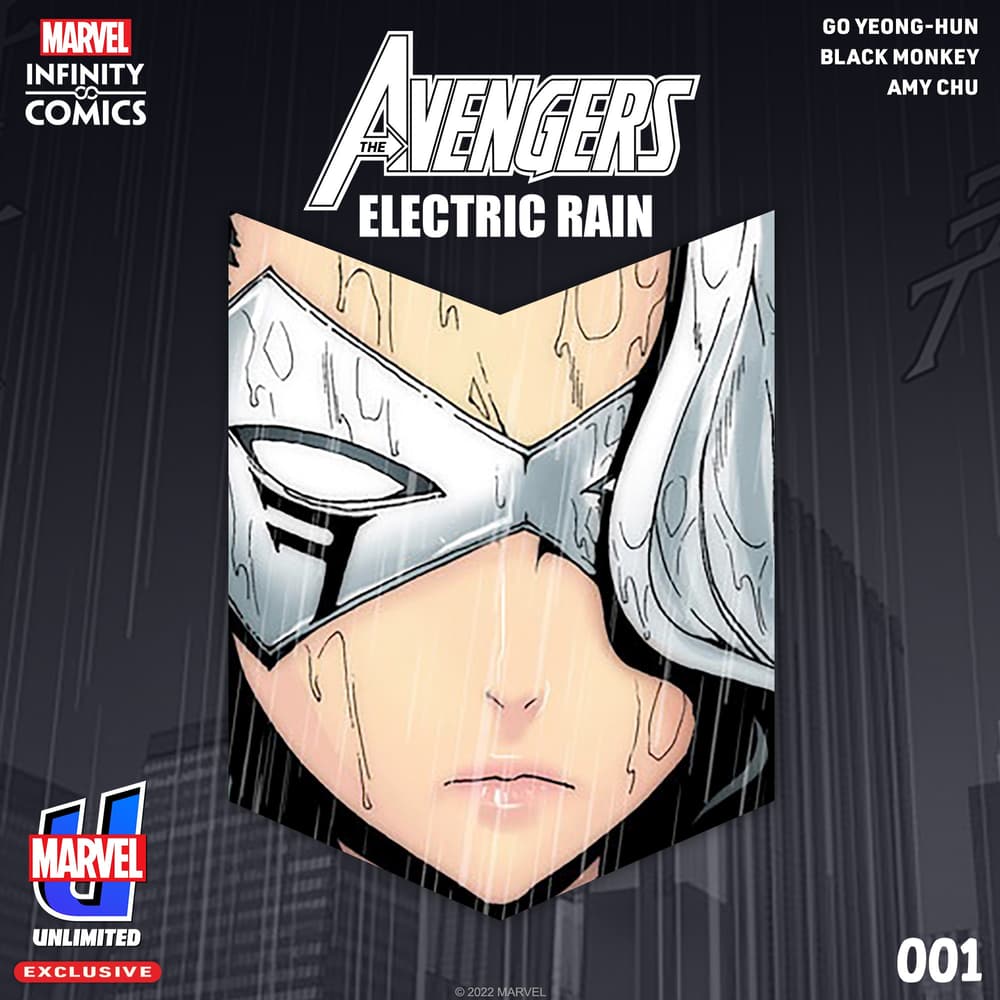 Now, translated for the first time in English, thirteen-part series AVENGERS: ELECTRIC RAIN INFINITY COMIC will pull in top tier Avengers and South Korea's elite Super Heroes to combat a scientific threat that could destabilize the world.  Because while the Avengers may be Earth' Mightiest Heroes, they can't be everywhere all the time! And that's where Tiger Division comes in.
This week, writer Emily Kim and artist Creees Lee launched TIGER DIVISION (2022) #1, the solo debut of South Korea's Super Hero team! The first issue of this limited series has also dropped as a special early release on the Marvel Unlimited app, so readers can get acquainted with White Fox and crew prior to reading AVENGERS: ELECTRIC RAIN INFINITY COMIC. Tiger Division has come a long way since their first appearance as a group in TASKMASTER (2020) #3. So, to get you up to speed with some of the newest additions to the Marvel Universe, we're taking a closer look at each member of the team.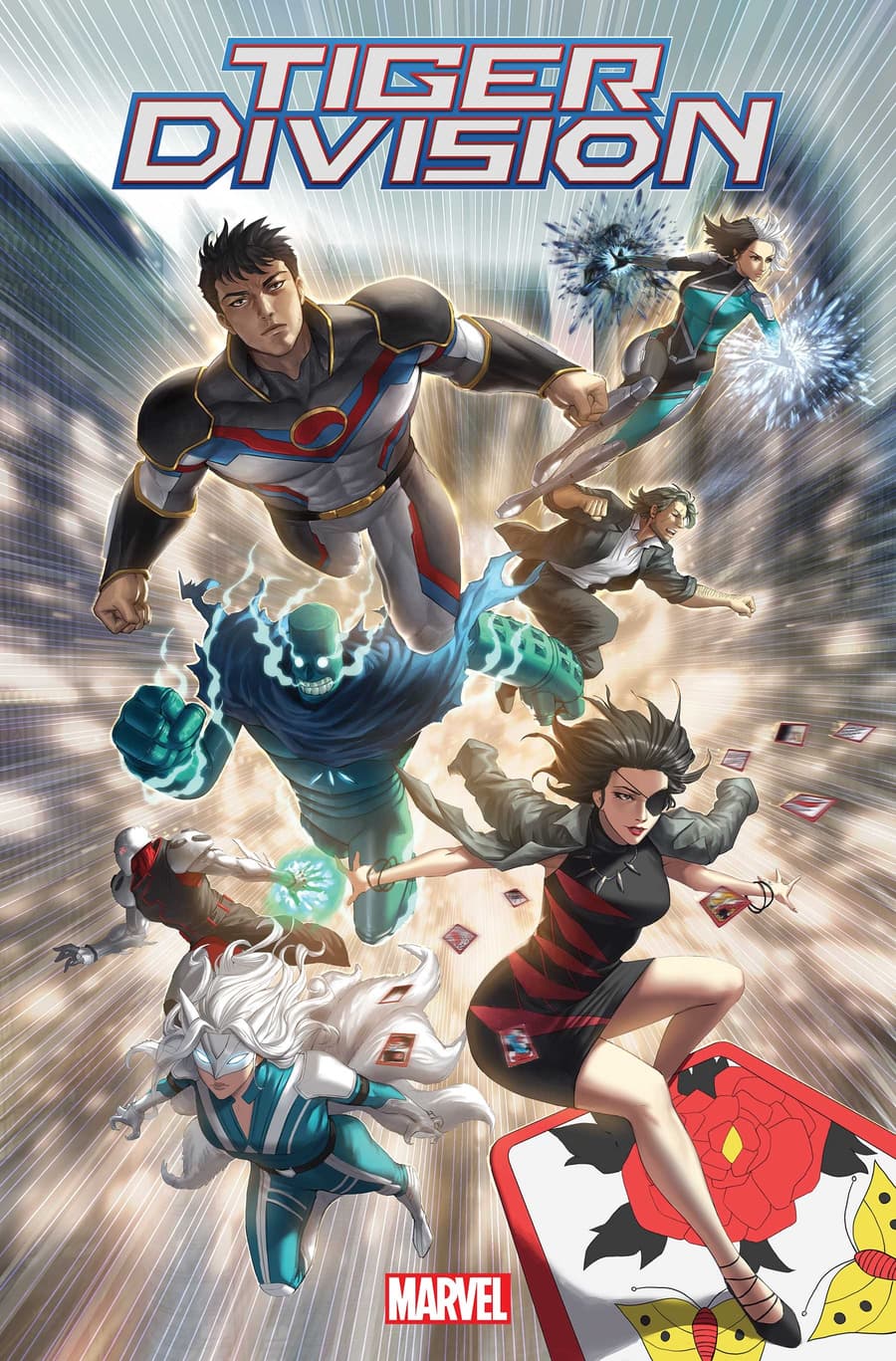 WHITE FOX
Ami Han's codename, White Fox, is not simply an alias that she decided to take on. She is literally a Kumiho, a shapeshifting human/nine-tailed fox. And she is quite possibly the last of her kind. Ami's mystical heritage has given her several superhuman abilities, including enhanced agility, senses, stamina, speed, and strength, as well as the power to communicate with animals and a way to mesmerize anyone she chooses. She can even absorb life force from another person to replenish herself.
White Fox made her Korean debut in web comic AVENGERS: ELECTRIC RAIN, and her English debut in CONTEST OF CHAMPIONS (2015) #1 when she teamed up with the Ultimates to find her missing android friend, Gun-R. In DOMINO: HOTSHOTS (2019), White Fox was briefly a member of a team that included Black Widow, Diamondback, Outlaw, Atlas Bear, and Domino herself. However, White Fox alienated her teammates when they learned that she had her own agenda for a Celestial artifact.
During WAR OF THE REALMS: NEW AGENTS OF ATLAS (2019), White Fox fought alongside several other Asian-Pacific heroes, including Luna Snow. But she ultimately decided to work with Tiger Division. Additionally, the team is well-aware that White Fox is South Korea's National Intelligence Service director Ami Han, and she has taken on a leadership role within the group. In the recent WHITE FOX INFINITY COMIC, Ami found herself tasked with protecting a previously secret community of supernatural beings who were being stalked by an enigmatic threat. She also had to team up with a rival to uncover the truth.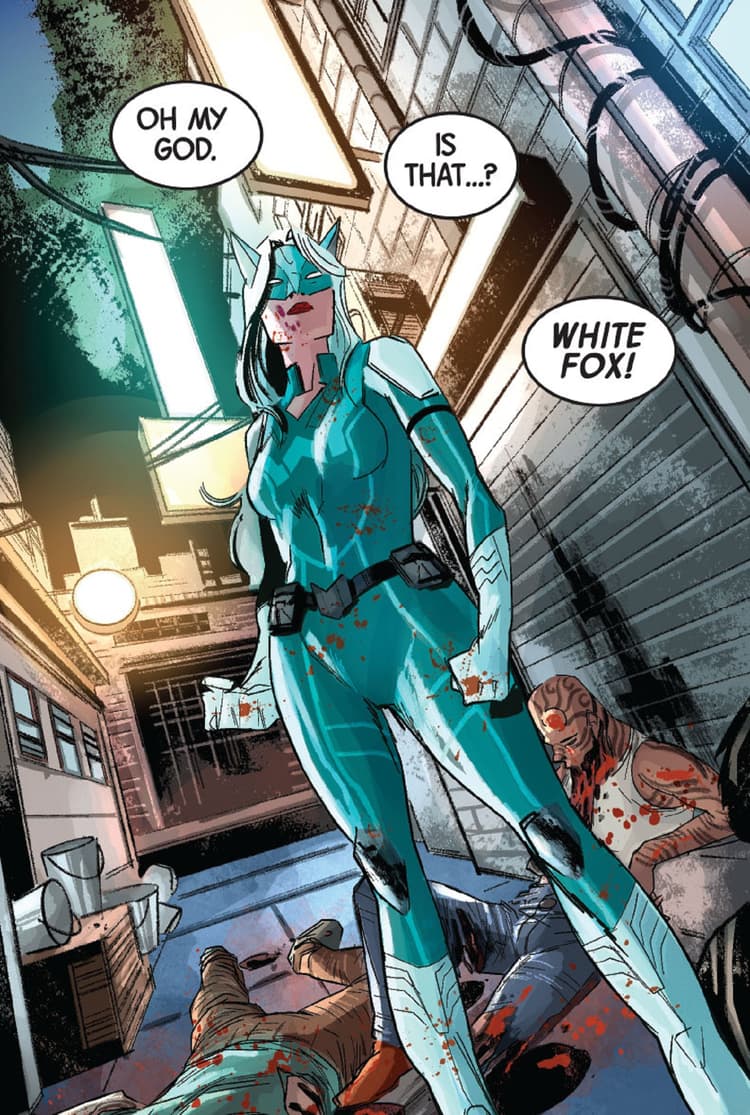 LUNA SNOW
White Fox may be the most experienced hero in Tiger Division, but Luna Snow is by far the most famous. Seol Hee is a genuine K-Pop superstar, both in and out of costume as Luna Snow. Globally, Luna may actually be one of the most popular heroes on the planet even though her career as a hero is just getting started.
WAR OF THE REALMS: NEW AGENTS OF ATLAS (2019) #1 formally introduced Luna into the Marvel Universe as she valiantly fought alongside the makeshift team. Romantic sparks also flew between Luna and Amadeus Cho/Brawn, which led to speculation that they had become a couple.
Luna's ability to control ice is called cryokinesis, and her powers rival those of the X-Men's Iceman. She is also able to create dark ice for destructive purposes, while using light ice to heal friends and bystanders in their hour of need. She is also very social media savvy, and she has millions of followers from around the world.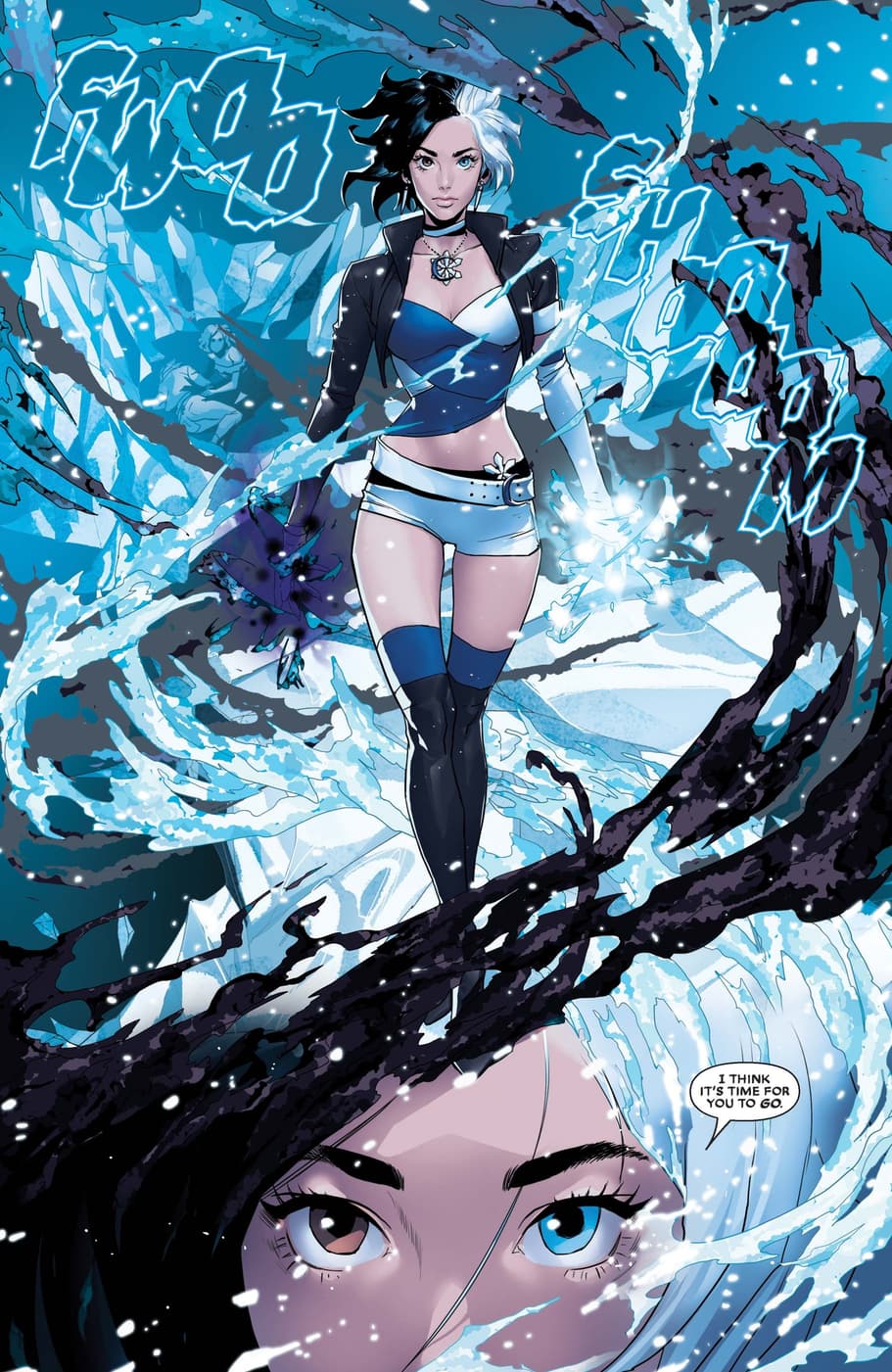 TAEGUKGI
Taegukgi, AKA Tae-Won, is a very "Super" hero, in the vein of Sentry and Hyperion. Although Taegukgi seems blissfully free of the mental anguish suffered by those two heroes, he does have issues of his own. Issue #1 of TIGER DIVISION reveals that Taegukgi is haunted by a ghost from his past, and he is far older than he appears to be.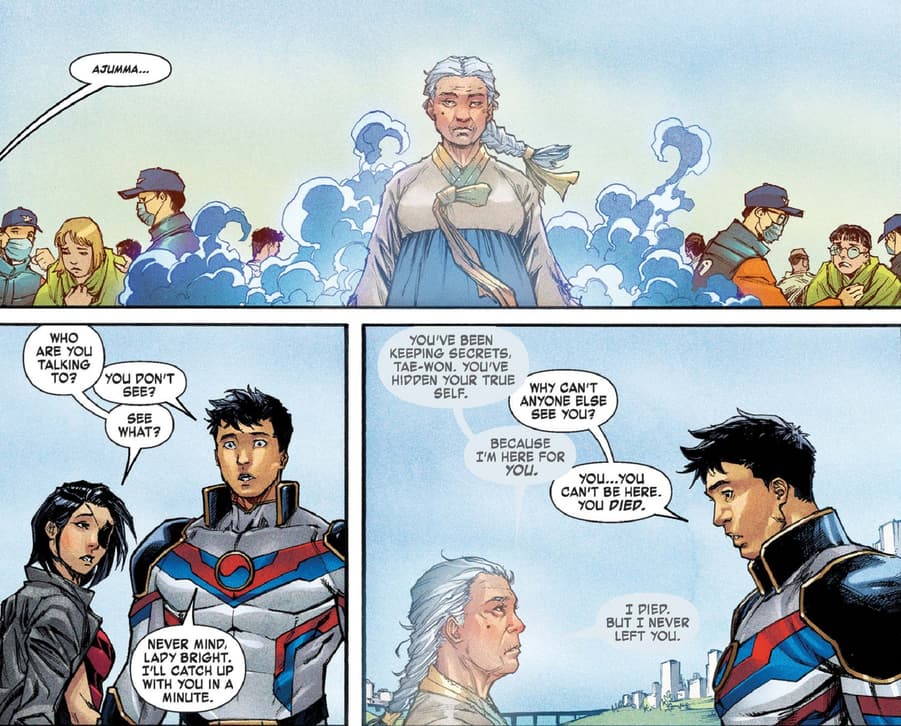 MR. ENIGMA
Not much has been revealed about Mr. Enigma since he first appeared in BLACK CAT ANNUAL (2021) #1. He is apparently an actual demigod who has the ability to "convince" the tides to do his bidding. The National Intelligence Service tried to blackmail Mr. Engima into joining Tiger Division under their thumb, but he laughed off their attempts and stays with the team of his own free will. At least as long as they keep providing him with free drinks and all the fights he could ever hope for.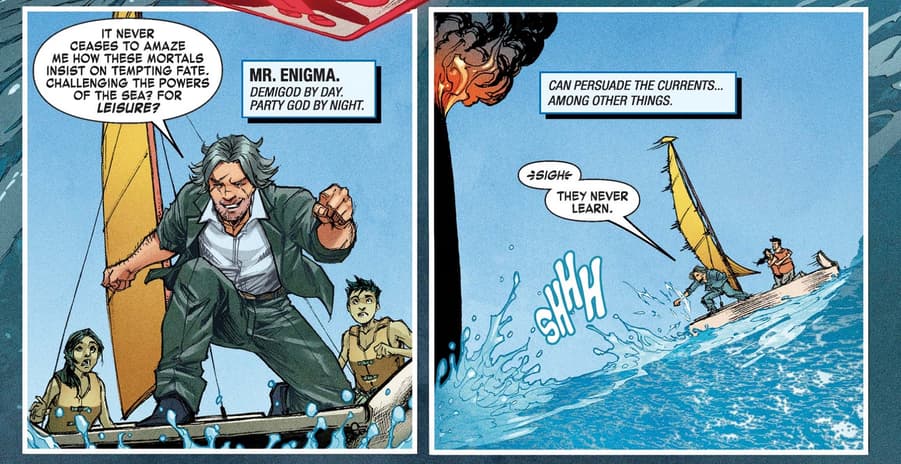 LADY BRIGHT
Lady Bright was once known as Auntie Ante, but she has since picked a different codename. She is a sorceress who has a deck of magical cards that she can use to conjure almost anything she needs at a moment's notice. Lady Bright can even fly on her cards after she uses her powers to enlarge them. There are also indications that Lady Bright is older than she looks, but there's a lot of that going around on this team.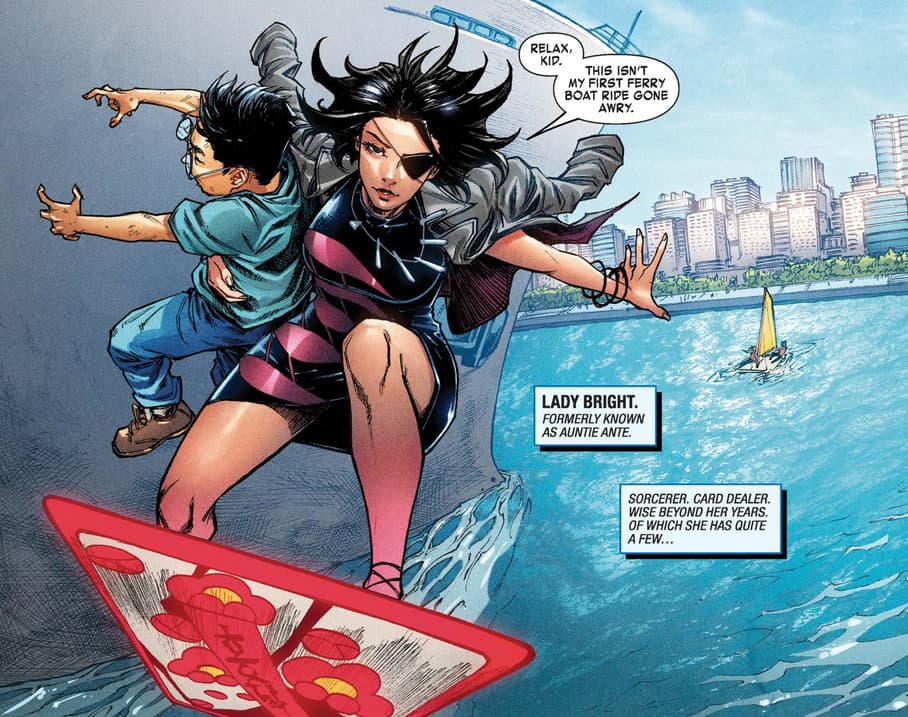 GUN-R II
White Fox wasn't able to save her friend, Gun-R, but his successor, Gun-R II, serves under her as a member of Tiger Division. Despite his mechanical nature, Gun-R II does have a personality and his own unique sense of humor. And for an android, he's quite chatty.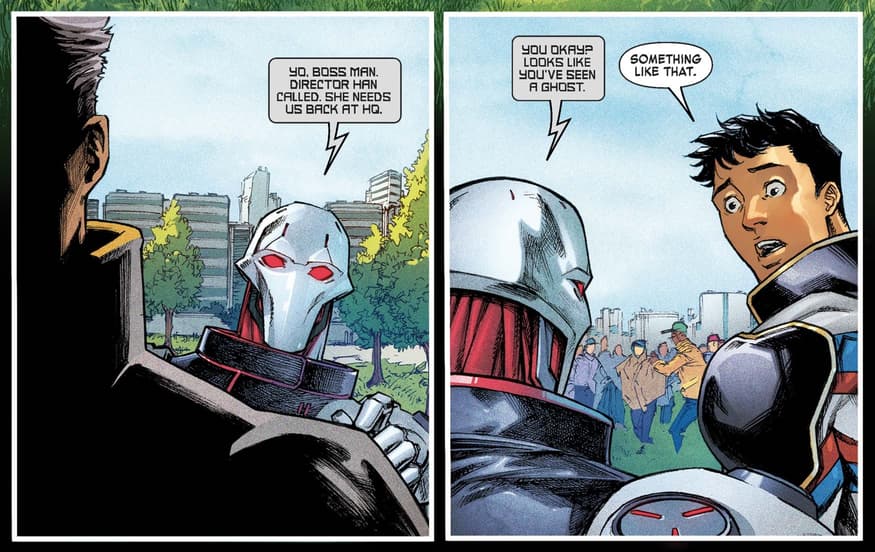 THE GENERAL
The General is a supernatural totem who has somehow been brought to life. In contrast to Gun-R II, The General has a much warmer personality and more empathy for humans. He just hasn't quite mastered a way of speaking that doesn't set him apart from everyone else.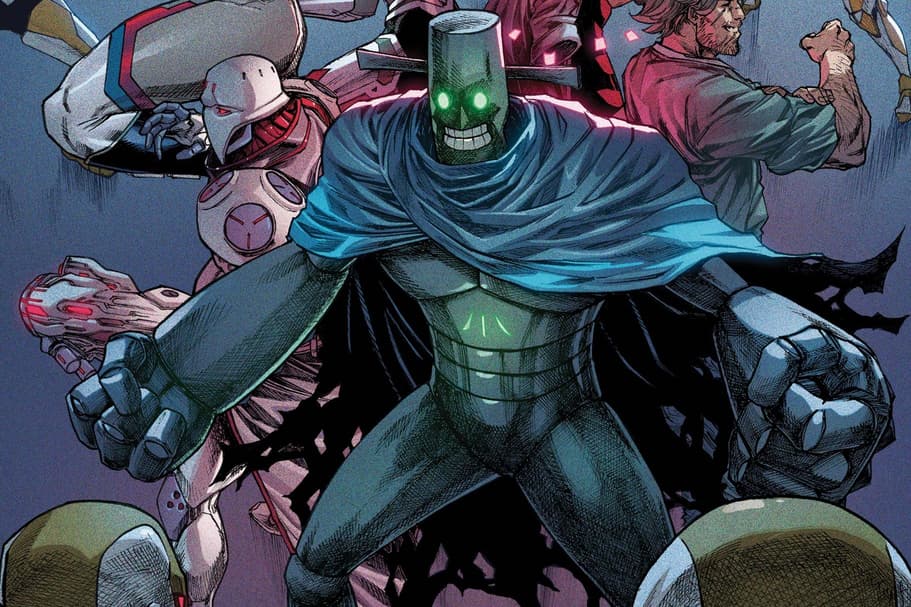 What's next for South Korea's elite Super Heroes? Find out on in TIGER DIVISION #1 and AVENGERS: ELECTRIC RAIN INFINITY COMIC #1, now on the Marvel Unlimited app! Or, pick up TIGER DIVISION #1 in comic shops now!
The Hype Box
Can't-miss news and updates from across the Marvel Universe!