Comics
Published December 9, 2016
Best of Beta!
Beta Ray Bill's Coolest Moments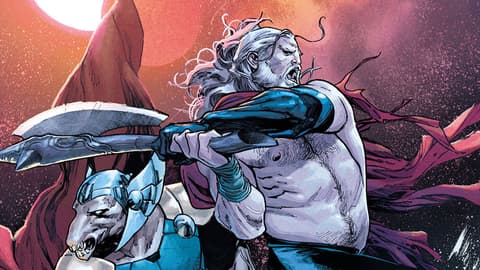 Beta Ray Bill, that hammer wielding Korbinite hero, has long been a favorite of fans and creators alike. But if you find yourself in the dark about the appeal of ol' Bill, no worries. We have some of his coolest moments here for your perusal so you can catch up on what the rest of comicdom already knows!
FIRST APPEARANCE
There exists few more eye catching ways to make your debut than beating Thor on a plummeting space ship, saving the Thunder God's life when he goes unconscious, and then proving yourself worthy to lift Mjolnir which turns you into an alien Thunder God. Bill did all that in under 30 pages.
DEFEATING THOR HEAD TO HEAD
Odin has proven to be kind of a in the box thinker over the years and solving the problem of who should wield Mjolnir demonstrated that reality. The All-Father, when faced with two individuals worthy of the hammer, considered his options and decided the best way to figure things out lay in having Beta Ray and Thor pound on each other until one fell unconscious. In the end, Bill once more proved triumphant in Space Horse v. Thunder God combat but truly confirmed his worthiness by saving the unconscious Odinson from a lava bath.
In the end, rather than strip his son of the title of Thunder God to give it to an alien, Odin cheated a bit and just awarded Bill a hammer of his own, the aptly named Stormbreaker.
LEADING THE EARTH
With the Asgardians heroes taking the fight right to the demon Surtur, humanity found itself largely without leadership to repel Surtur's followers on Midgard. Until, of course, Beta Ray Bill took up the challenge. Despite being an alien of very unusual appearance and largely unfamiliar to human beings worldwide, Bill marshalled Earth's heroes and helped successfully end the on the surface demon threat with few causalities.

SACRIFICE TO STOP THE BEASTS
During his brief time with the Canadian super team known as Omega Flight, Beta Ray Bill and his teammates found themselves up against the mythic Great Beasts. With a solution discovered to imprison the demonic hordes, all that remains is one Flight-er to be left behind the other realm. Despite the plan hinging on Shaman's medicine bag, Bill refuses to let someone else be trapped while he remains free. Thus, into the portal with the demons he plunges, committing himself to fighting demons over and over until someone can free him.
STOPPING THE GODKILLERS
In the midst of SECRET INVASION, Thor and Beta Ray Bill must take on a special cadre of Super Skrulls named the "God Killers." As one might expect from the name, these Skrulls have been created specifically to combat Asgardians. With several of them taking on only Thor and Bill, the deck is stacked against our heroes. Nonetheless, the duo stand firm and though Bill nearly falls into the battle, they eventually fid themselves able to hoist their hammers in triumph.
STARVING GALACTUS
Staying one step ahead of the Eater of Worlds, Beta Ray Bill continues to deny Galactus food by evacuating worlds and destroying them just before the Big G can feed. Even while taking on Silver Surfer and Galactus's newest herald Stardust, the Korbinite refuses to back down until it becomes clear that killing the Eater will harm far more than it helps.
The Hype Box
Can't-miss news and updates from across the Marvel Universe!