Comics
Published February 22, 2017
Black History Month: Ironheart
Return to the introduction of Riri Williams and get her full story!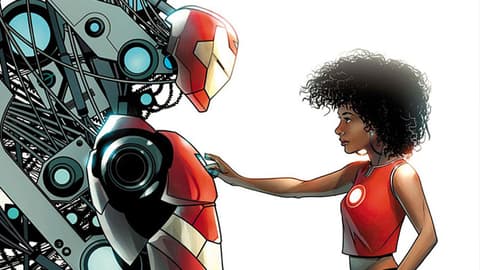 Celebrate Black History Month by delving into the first appearances of Marvel's most prominent African and African-American characters on Marvel Unlimited!
Riri Williams, the first African-American woman to wear the Iron Man armor, debuted in wildly appropriate circumstances. The 15-year-old MIT student made so much noise working on a secret Iron Man armor that she roused the floor's RA in the pages of INVINCIBLE IRON MAN #7 by Brian Michael Bendis and Mike Deodato.
In issue #9, Riri explained that she made the armor as a dare to herself, but took the apparent disappearance of Tony Stark as a sign that it was meant to be. She donned the suit not long after when campus security showed up to ask about some unfortunate video footage implying that she'd stolen some of the tech from the robotics lab, though she routinely stated that she simply borrowed parts that weren't being used by anyone else.
Figuring out the whole flying tactical armor thing over time, a near crash in the pages of issue #10 made Riri realize that she needed an artificial intelligence to help keep the thing in the air. In the following issue, she lost her armor while attempting to stop a police escape and got taken in by the cops, but only briefly.
Riri and Tony Stark finally came face to face in issue #12 when the latter interrupted an argument between the former and her mother. The young woman then revealed the armor to them both. As Riri explained, she based her design on the Mark-41 but put her own touches into it.
With Stark mostly incapacitated thanks to the end of Civil War II and his battle with Captain Marvel, he passed the metallic baton over to Riri who now stars in the latest volume of INVINCIBLE IRON MAN as Ironheart!
History Lesson
Riri just appeared last year for the first time, so there's not a lot of history available on her. However, back in September, creator Brian Michael Bendis did an interview with Marvel.com about the creation of the character and how the announcement lead to crazy amounts of attention, including commentary by Robert Downey, Jr. that got people thinking Riri might take over for Tony in the Marvel Cinematic Universe. He explained that he started getting hate mail as well as actress headshots for the role, which only exists in the comics so far.
"It just revealed how shallow the pool is for women of color in certain roles," Bendis said. "There's evidence we're on the right track, but still much more to do. You see, there are some people who just really have some difficulty with change when it comes to these characters who they've known for years if not decades in some cases. And I get that. But, you know, I think it was [Marvel Chief Creative Officer] Joe Quesada who was talking to Stan Lee and asked him what he thought about some of these changes, and Stan's response was that fans wouldn't recognize one bit of the Marvel Universe if he was still running it. 'You guys are the ones who truly love this stuff,' he said. 'But we would constantly tear it up. Who knows what it'd look like now if we were still at the helm.'"
The Hype Box
Can't-miss news and updates from across the Marvel Universe!