Comics
Published February 15, 2017
Black History Month: Luke Cage
It's the origin of a Hero for Hire as he goes from prison to protector!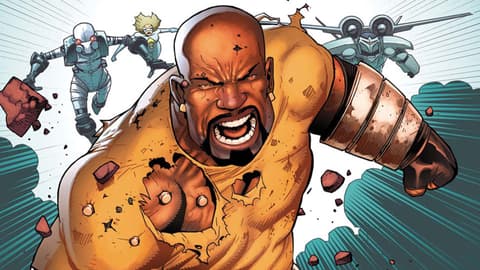 Celebrate Black History Month by delving into the first appearances of Marvel's most prominent African and African-American characters on Marvel Unlimited!
Marvel has always kept their fingers on the pulse when it came to pop culture. If a subgenre becomes popular at the theaters, then it usually makes its way into the hallowed halls of the House of Ideas. You can thank horror films for TOMB OF DRACULA and Blaxploitation flicks for Luke Cage!
Cage first appeared in 1972's LUKE CAGE, HERO FOR HIRE #1 by Archie Goodwin and George Tuska. Instead of the streetwise hero we've all come to know and love, we instead met an inmate desperately looking for a way out of jail. Locked up in the southeastern Seagate Prison, he wanted nothing to do with his fellow prisoners, but also refused to snitch on them.
This led to brutal treatment from some of the guards and eventually a house call from one Dr. Noah Burstein who wanted Cage for a particular project. Before getting into the details of that, the future Avenger explained how he went from thief to gang leader to being set up by his former best friend for selling drugs which ended up with his stay at Seagate.
Though he didn't like the idea of participating in Burstein's experiment at first, Cage eventually changed his mind, realizing that death might be better than further incarceration. Upon Luke entering his lab, Burstein explained that he will test "an Electro-Biochemical system for stimulating human cell regeneration." Cage hopped in, but the experiment came under literal fire when one of the corrupt guards burst in guns blazing.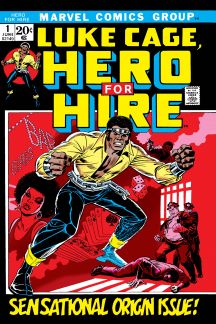 Though not a success for Burstein, Cage felt the benefits of the experiment, namely impenetrable skin and superhuman strength, which he quickly used to bust out of prison. In the escape, the guards shot at him, sending him into the water below. The prison officers assumed their quarry died and marked him as such officially, which gave Luke Cage cover to return to his home in Harlem. There he realized that the super hero game can actually bring about some money, so he became the Hero for Hire!
Eventually, Cage took on the name of Power Man and Iron Fist joined him in his solo book with #50, becoming POWER MAN AND IRON FIST. With 49 issues under his belt before that, though, Luke Cage became the first black solo hero to rack up that many consecutive installments!
The characters continue to be associate with one another and even have a series hitting stands right now. Cage also got involved with a woman named Jessica Jones in the pages of ALIAS. Since then, they became an item, had a baby, joined up with various Avengers teams and went on to star in their own Netflix shows!
Even more important, though, Luke Cage and his stories didn't shy away from some issues that still demand discussion like racism, unfair prison treatment, the complexity of urban living, and crime. Cage navigates those topics in a way that many could and can relate to.
History Lesson
It's interesting that a character like Luke Cage, who partially owes his existence to the world of film, would eventually come to have an effect on the medium itself. About a decade after the character debuted, an actor by the name of Nicolas Coppola decided to borrow Cage as his stage name. Nic Cage eventually went on to play another Marvel character, Ghost Rider, in a pair of films. Luke Cage eventually went on to appear in "Jessica Jones" and then in his own Netflix series as played by Mike Colter.
Next, we'll be sticking around New York City for the introduction of the best private eye-detective-cyborg around, Misty Knight!
The Hype Box
Can't-miss news and updates from across the Marvel Universe!