Comics
Published February 23, 2017
Black History Month: Miles Morales
Swing with a different kind of Spider-Man as he becomes a Marvel staple!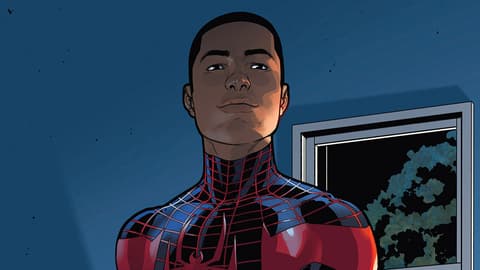 Celebrate Black History Month by delving into the first appearances of Marvel's most prominent African and African-American characters on Marvel Unlimited!
In the wake of Peter Parker's death in the pages of ULTIMATE SPIDER-MAN, the void was felt in the pages of ULTIMATE FALLOUT by friends, family, teammates, and strangers alike. So, it's appropriate that Miles Morales, a teenager of African American and Hispanic descent, first appeared in the fourth issue of that limited series in a tale by Brian Michael Bendis and Sara Pichelli and eventually went on to fill Peter's web-lined boots.
When a new Spider-Man in a costume very much like Peter's appeared to take on Kangaroo, a lot of people thought the demonstration to be in poor taste. Even Miles agreed at the end of the short story that set up the new ongoing series ULTIMATE COMICS SPIDER-MAN.
The series, also by Bendis and Pichelli, actually started out before the events of FALLOUT to show how Miles got his powers after his uncle, who also happened to be The Prowler, robbed Norman Osborn and a genetically altered spider hitched a ride with the loot. The creepy crawly then chomped into young Miles during a visit and a new hero was born.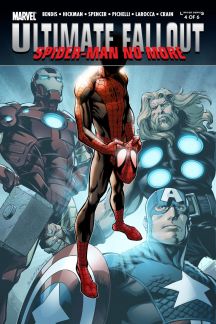 As he got used to his powers Miles realized his abilities mirrored Spider-Man's though he also could camouflage himself and paralyze assailants with a venom sting. With these abilities, the youngster decided to become a hero and pick up where Peter Parker left off, donning a new costume and eventually using his predecessor's web shooters for a time after Aunt May gifted them to him.
Miles went on to become an important part of the Ultimate Universe, meeting the Marvel Universe's version of Spider-Man, helping save the world from Galactus in CATACLYSM, carrying on into another ongoing series called MILES MORALES: ULTIMATE SPIDER-MAN and then playing a major role in SECRET WARS.
At the end of the reality-altering event, Miles found himself integrated into the main Marvel Universe, much to his surprise. Better yet, his mom, dad, and friends also made the jump! Now he's training to be New York City's protector while Peter Parker continues his more global exploits.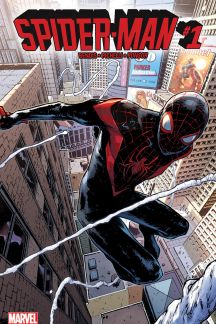 History Lesson
In addition to starring in his own post-Secret Wars series, simply titled SPIDER-MAN, Miles also became an important player with ALL-NEW, ALL-DIFFERENT AVENGERS. Plus, in CIVIL WAR II, Ulysses envisioned the younger Webslinger murdering Captain America! As you know by now, that didn't happen—yet—but Miles did join up with a group of fellow young heroes including Nova, Ms. Marvel, the time-displaced Cyclops, Amadeus Cho's Totally Awesome Hulk, and Viv Vision in the pages of CHAMPIONS. He even recently started a romance with Earth-65's Spider-Woman, otherwise known to readers as Spider-Gwen.
Next, another newer African American character takes center stage as we dive into Lunella Lafayette and her giant red pal as seen in MOON GIRL AND DEVIL DINOSAUR.
The Hype Box
Can't-miss news and updates from across the Marvel Universe!