Comics
Published February 24, 2017
Black History Month: Moon Girl
Leave it to Lunella Lafayette, Devil Dinosaur's best bud and the latest Marvel sensation!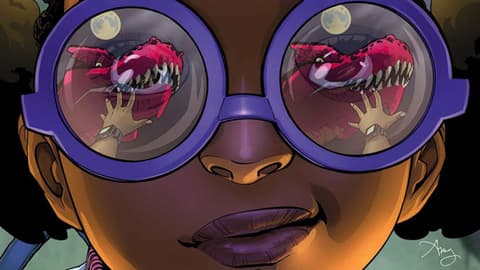 Celebrate Black History Month by delving into the first appearances of Marvel's most prominent African and African-American characters on Marvel Unlimited!
Lunella Lafayette had big things on her mind even before a giant red Tyrannosaurus Rex appeared in the pages of MOON GIRL AND DEVIL DINOSAUR #1. The story, written by Amy Reeder and Brandon Montclare with art by Natacha Bustos, featured a young genius worried about the spreading Terrigen Mist and how it would change her as a carrier of Kree DNA that will alter upon exposure to the clouds traveling all across the Earth.
Thanks to Moon Boy and Devil Dinosaur trying to get the Nightstone away from the Killer Folk in the past and Lunella finding the Kree Omni Wave Projector in the present, DD and the hairy pre-humans found themselves transported to our world. The would-be Moon Girl and Devil Dino teamed up to take on the Killer Folk, who developed into a street gang. To really get in on the action, Lunella even created her own costume complete with gadgets of her own invention. Completing the package, the duo made a cool secret headquarters in the form of the young lady's lab located under her school.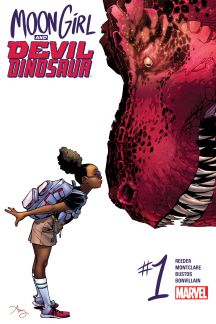 At the end of the first arc, Lunella could not outrun the Terrigen Mist any longer. In issue #7 she emerged from her cocoon, but couldn't figure out her Inhuman abilities. Still, she carried on with her costumed hero career alongside her dinosaur partner. Later, in a fit of rage at school, she discovered that she could switch minds with Devil!
This happened right around the same time that Kid Kree infiltrated Lunella's class in an attempt to capture an Inhuman to impress his dad. Eventually Ms. Marvel jumped in to help out. After that, our hero discovered she's actually the smartest person in the Marvel Universe, much to the chagrin of people like Doctor Doom!
Lunella even played a huge part in MONSTERS UNLEASHED by figuring out the creatures' language which also gave insight into their destructive mission. Not bad for a character with less than two years' worth of stories out there!
History Lesson
In the wake of Inhumans Vs. X-Men, three new titles based on the first group will spring up: ROYALS, BLACK BOLT, and SECRET WARRIORS. That last one, by Matthew Rosenberg and Javier Garrón, will feature Daisy Johnson leading a team of new Inhumans like Moon Girl, Ms. Marvel, Devil Dinosaur, Karnak and Inferno. The series, as just announced, will tie right in to the epic Secret Empire event, so grab a copy in May to see how they do!
Next time we focus on Marvel's most famous monster hunter, Blade back when he debuted in TOMB OF DRACULA #10. 
The Hype Box
Can't-miss news and updates from across the Marvel Universe!