Comics
Published May 24, 2017
Black Panther: Mastering the Past
Dive deep into the history of T'Challa with artist Wilfredo Torres!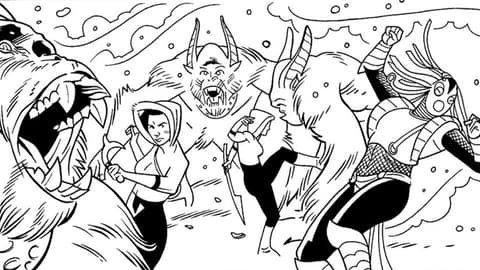 Wakanda just can't catch a break!
In BLACK PANTHER #15—out June 28—the African nation comes to understand that its ancient gods have left them to their own devices. While King T'Challa tries to figure out what's going on, writer Ta-Nehisi Coates and artist Wilfredo Torres continue to throw challenges his way.
Torres took over for fellow artists Brian Stelfreeze and Chris Sprouse–who will return–with issue #13 and kicked off the new storyline "Avengers of the New World." The arc dives into all kinds of beginning-of-time mythology that the artist gets to play with and develop. We talked with him about dreaming up some of these characters, putting his own spin on existing ones, and diving into the world of Wakanda.
Marvel.com: How was it coming up with the designs for the Simbi, Anansi and Teku-Masa? Did you look to ancient images for inspiration in developing them?
Wilfredo Torres: I tried to look at species native to Africa but ultimately I tried to not go too far down the rabbit hole and instead went with more of a traditional comics, movie monster feel.
Marvel.com: Wakanda has such a unique feel and history to it. How has it been getting familiar with that world?
Wilfredo Torres: It's a fantastic setting with all the elements you could ask for; a beautiful natural environment, a technological marvel married to tradition. It's really a wonderful backdrop for any storyteller.
Marvel.com: Black Panther himself has such a sleek, seemingly simple design. Is it difficult putting your own spin on that costume?
Wilfredo Torres: It's deceptively simple really but Brian Stelfreeze had such a great approach to it so I just tried to follow in that same direction.

Marvel.com: How do you feel your collaborative relationship with Ta-Nehisi has evolved since you started working together?
Wilfredo Torres: Ta-Nehisi's scripts play out like massive cinematic scenes and they also have these wonderful personal moments which I love working on. It's been great to collaborate with him on this as well as [colorist] Laura Martin and the entire team.
BLACK PANTHER #15 by Ta-Nehisi Coates and Wilfredo Torres arrives on June 28.
The Hype Box
Can't-miss news and updates from across the Marvel Universe!