Comics
Published September 29, 2017
Black Panther: The Coming of Klaw
T'Challa's greatest enemy makes his return in time for Marvel Legacy!
Writer Ta-Nehisi Coates and artist Leonard Kirk explore King T'Challa's long history in BLACK PANTHER #166, a Marvel Legacy title, which brings a classic Panther villain back into the Wakandan picture: Ulysses Klaw. As it turns out, many things have gone awry in the ancient African country, making it the perfect time for the iconic baddie to show up now.
"Klaw sees an opportunity," editor Wil Moss tells us. "Wakanda is in chaos because their gods—the Orisha—have disappeared, and the gods who ruled Wakanda before the Orisha—known as the Originators—have now returned and are violently reclaiming their country.
"So while Black Panther, his sister Shuri, and Storm are struggling with this literal spiritual crisis, Klaw seizes this opportunity to get something he needs from Wakanda that will allow him to take his abilities to a new level—an almost God-like level…"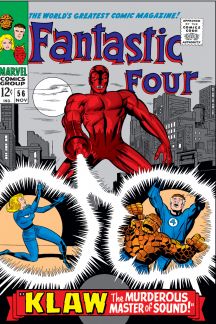 While he made his first super-powered appearance in August of 1996's FANTASTIC FOUR #56—the son of a Nazi war criminal who later had a sonic emitter attached to his right hand—Klaw remains a Black Panther villain through and through. This came about when the ne'er-do-well murdered T'Challa's father, King T'Chaka, after they butted heads over Wakanda's vibranium deposits. Naturally, the king's son wanted revenge and a rivalry for the ages emerged.
"I think in part it's that Klaw represents the danger, the threat that Black Panther must always protect the people of Wakanda from," theorizes Moss. "From the first time he and T'Challa crossed paths, back when he was just Ulysses Klaue and he killed T'Challa's father and then T'Challa in turn destroyed Klaue's hand, beginning his transformation into Klaw, he's represented every outside force that's ever tried to conquer or steal from or destroy or exploit Wakanda and its resources and achievements. And if you look at him that way, then there are a ton of different ways to play him—and Ta-Nehisi has sure come up with a great one for this arc."
Encounter Klaw on October 25 in BLACK PANTHER #166 from Ta-Nehisi Coates and Leonard Kirk!
The Hype Box
Can't-miss news and updates from across the Marvel Universe!