Comics
Published May 12, 2017
Black Panther & The Crew: Who's Ezra Miller?
Yona Harvey introduces us to a key player in the new series!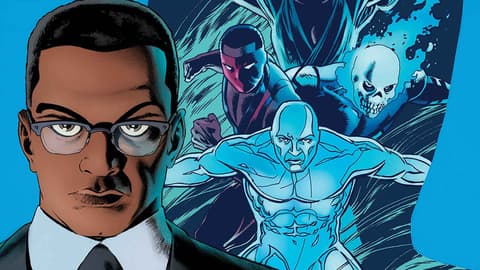 After the death of Harlem activist and community pillar Ezra Miller, the super-powered cast of BLACK PANTHER & THE CREW look to pick up the pieces and answer some pressing questions in issue #3, out June 14 courtesy of writers Ta-Nehisi Coates and Yona Harvey along with artist Butch Guice.
Did this mentor to Misty Knight, Black Panther, Luke Cage, and Storm really have the pristine reputation the good citizens of Harlem believed him to possess or were dark secrets kept from the public eye? Luckily, CREW co-writer Harvey helped shed some light on the Miller mystery and its profound effect on the comic's heroes and setting.
Marvel.com: Ezra is obviously a major impetus on the story. Can you speak on your influences when writing him/his story and what it's like weaving him in and out of the lives of these iconic characters from Misty Knight to the X-Men?
Yona Harvey: The process of writing Ezra has been influenced by a few mentors I've had throughout my life, literal and literary. Specifically, the male mentors come to mind because they can sometimes be very paternal. Misty and Ezra had a more contentious history, but Storm and Ezra were closer. Thinking about them is like thinking about two sisters' relationship to an elder figure. At the same time, neither of these women imagined Ezra having a more complicated life or history before [he] died. He was perceived as an activist or wise counsel. But who was he exactly? These iconic characters have to figure that out. This is often the case, I think, when we age and think more seriously about fathers or paternal figures. They have shortcomings. They have flaws. They have complicated relationships that play out in different ways, depending on the person.
Marvel.com: Speaking of, where would you say Ezra fits within the Marvel Universe on a scale of hero to villain?
Yona Harvey: Hmmm. Let's just say, it's easier to write him as a hero. I had to make a choice from the beginning—no matter what I knew he'd end up doing by the end of the story. It's nice to think like Ezra. He's calculating.
Marvel.com: What kind of impact did he have on the likes of Black Panther and Luke Cage before his death? Any secrets imparted?
Yona Harvey: Ezra impacted Black Panther and Luke Cage on the sly. These two men weren't necessarily "all in" and definitely not all-knowing when it came to Ezra's advice and influence on them. The shock of who Ezra was—and revelations about how he impacted their lives—will possibly be greater for them as the story progresses.
Marvel.com: The gritty, street-level vibe in this series is sort of a far cry from the royal and mystical lands of Black Panther's homeland from your WORLD OF WAKANDA comic. What was the transition like and how does Ezra represent that idea of change?
Yona Harvey: It is thorny, right? Wakanda is completely invented and exists in a different kind of imagined space. The amazing writers and artists who've contributed to Wakanda's visual and cultural history have drawn from real places across the African diaspora, but it often has a kind of mythical or "elsewhere" feel to it. Harlem has a mythical or romantic quality as well, but Harlem's locale is not invented. Ezra is so in love with Harlem. Writing Ezra in Harlem is like writing in a much tighter poetic form. The transition has been challenging and very fun—especially because Ta-Nehisi used to live in Harlem. I grew up in the Midwest! Even though I've visited Harlem, it's always kind of mythical in my mind. So, when we collaborate, I'm testing the boundaries, like, does this scene read as legit?
Marvel.com: How will Harlem be different after this Ezra-centric mystery is solved? Will his good deeds as a pillar of the community end up tarnished?
Yona Harvey: Comics bring out the optimist in me. Maybe Harlem will be more enchanted, if that's possible! You'll have to wait and see.
Learn more about Ezra Miller in BLACK PANTHER & THE CREW #3, coming June 14 from writers Ta-Nehisi Coates and Yona Harvey as well as artist Butch Guice!
The Hype Box
Can't-miss news and updates from across the Marvel Universe!