Comics
Published February 21, 2018
Blood Brother Beginnings
See how the Lethal Legion members made their debut!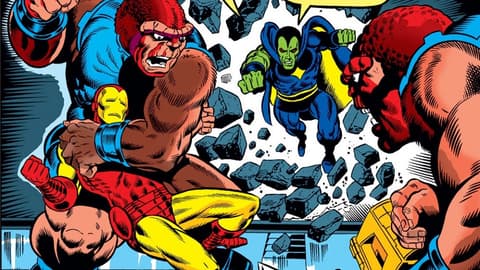 The Blood Brothers first premiered in 1973's IRON MAN #55. Now members of the Lethal Legion, the pair originally appeared as Thanos' lackeys in an issue that also introduced Drax and gave an early look at the Mad Titan. The Brothers showed up, knocked Tony Stark out, loaded him onto their ship, and took him to their master's secret Earthly lair. It was then revealed that Drax actually warned Stark about the oncoming threat before it occurred; to protect himself, he donned the armor just as the Blood brothers entered Stark Industries. Further warning Iron Man about the villains' presence, Drax telepathically filled the hero's mind with images of Titan, Mentor, Eros, and Thanos. These warnings, however, proved to be too late.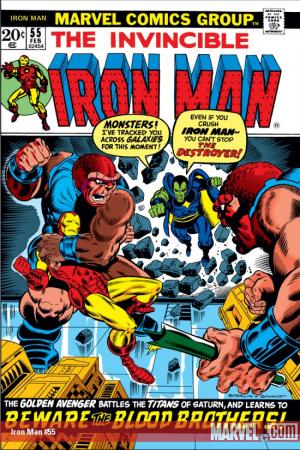 Upon regaining his senses inside Thanos' base, Iron Man blasted the Blood Brothers with his repulsors before escaping to free Drax. The Blood Brothers managed to recover in time, though, and attacked the Armored Avenger once more. Though with the help of the Mentor, Iron Man prevailed again, allowing him to free his newfound friend, Drax.
Iron Man and the Destroyer then teamed up to face the Blood Brothers and bested them with ease. The duo then turned their attention toward Thanos, but the villain fled instead of staying to fight. The alien brutes survived, though, and would go on to menace Iron Man again along with the likes of the Thing, Daredevil, Quasar, and now—in the pages of AVENGERS: NO SURRENDER—the entire Earth!
Flash Forward
Between their early days and their current status as members of the Lethal Legion, the Blood Brothers have encountered some wild events during their stay on Earth. After crashing to the planet on an alien spaceship, the duo managed to enslave a small Alaskan town, fight Drax again, and evade death. After one of the Brothers supposedly died, the other was sent to space jail, which he broke out of before becoming fixture in large criminal gatherings like The Hood's syndicate, the Siege on Asgard, Mr. Knife's Slaughter Lords, and even Pleasant Hill, where his long-lost brother was mysteriously revived.
The Hype Box
Can't-miss news and updates from across the Marvel Universe!