Comics
Published January 3, 2019
Boom-Boom: The Ongoing Meltdown of Tabitha Smith
We're looking back at the history of X-Force's favorite bad girl!
Readers of the recently relaunched X-FORCE may be amused by the way Boom-Boom missed having a slot on the team for their first mission since reuniting. Basically, Tabitha Smith overslept her alarm and got into some hot water with Domino and the rest of her teammates. But on the plus side, she got to star in her own backup feature. And we suspect that Boom-Boom will have a larger role to play in X-FORCE going forward.
It's not out of character at all for Boom-Boom to annoy her friends and colleagues. After all, she got her start by betraying god! Oh, it's true. In SECRET WARS II, Boom-Boom befriended the Beyonder, back when she was going by Time Bomb. At the time, Tabitha was in a rough state of mind since her parents rejected her after the emergence of her powers. Only the all-powerful Beyonder offered her a helping hand and they quickly became friends.

Unfortunately, the Beyonder had already been targeted by Earth's Super Heroes over his increasingly erratic behavior. Having witnessed the Beyonder's power first hand, even Boom-Boom was afraid of him. So she allowed the Avengers to set up the Beyonder for an ambush. But they were far beneath his power, and the Beyonder felt betrayed by Boom-Boom. You may think that she escaped without consequence, but consider this: time and space were the Beyonder's playthings. Boom-Boom may have to answer for that betrayal one day, if the Beyonder ever returns.
From there, Boom-Boom had a very unique history that placed her on almost all of the X-Men-related teams. After a brief stint with the Fallen Angels, Boom-Boom was taken in by X-Factor back when the team was comprised of the original five X-Men. Boom-Boom even formed her own team, the X-Terminators, with Rusty Collins, Skids, Leech, Artie Maddicks, and Wiz Kid, who have barely appeared since they headlined their own miniseries.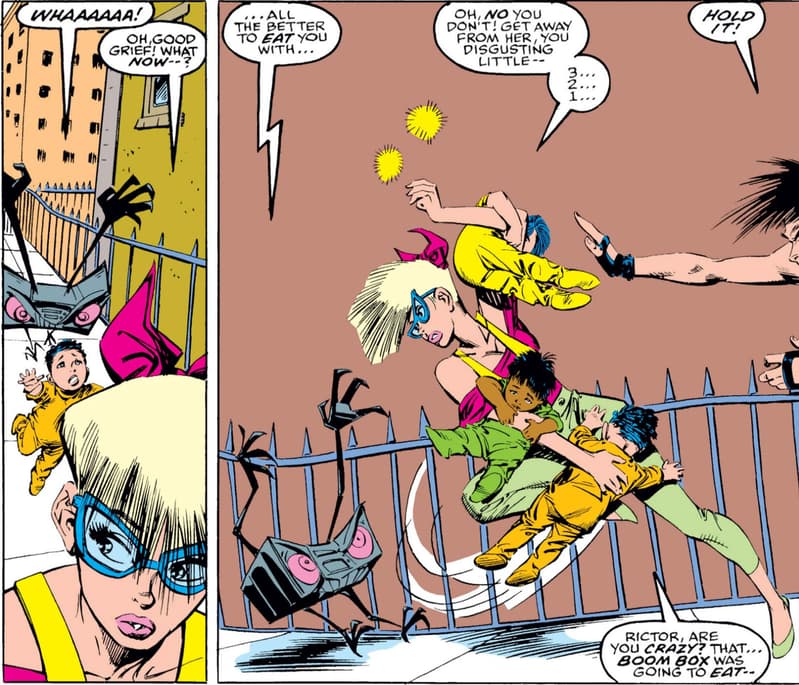 Because the X-Terminators paired so well with the New Mutants, Boom-Boom, Rusty, Skids, and Rictor joined that group in the final days of their first run. But Boom-Boom was the only former X-Terminator who stuck around long enough to be one of the founding members of X-Force. Eventually Rictor came back to the team as well, but Rusty and Skids didn't have a happy ending. The short version is that Rusty was killed by Holocaust, and Skids became a S.H.I.E.L.D. agent.
Not to be outdone by Skids, Boom-Boom eventually joined Nextwave: Agents of H.A.T.E., which stood for the "Highest Anti-Terrorism Effort." It was, shall we say, a very silly time in her life. It also marked the end of a period during which Tabitha had abandoned her Boom-Boom and Boomer personas. Instead, she took the name Meltdown, after she was betrayed by Sabretooth. Tabitha felt guilty about the way Sabretooth subsequently injured Psylocke, and she recast herself with a harder persona as Meltdown. Being a part of Nextwave must have been cathartic for Boom-Boom after a lifetime of adversity. During her time on that team, Tabitha pretended to be dumb and she really played up the absurdity of her life.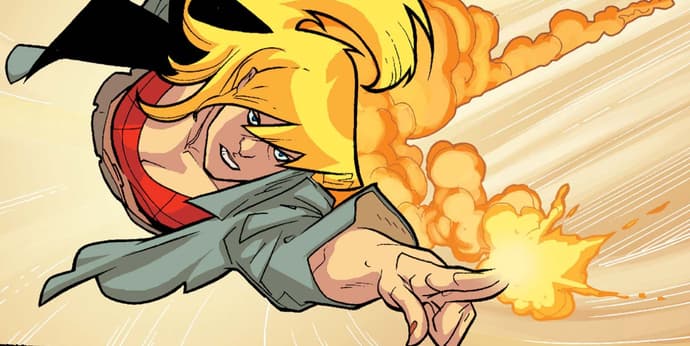 Strangely, Boom-Boom has never been one of the core X-Men members. Although she was aligned with the team when it was stationed on Utopia during Matt Fraction's run on UNCANNY X-MEN. Technically, this might make her one of the X-Men as well, but it's somewhat nebulous. There was also a brief period in which Boom-Boom was murdered by the Leper Queen. But don't worry, Marvel fans! X-23 traveled back in time to save Boom-Boom as a personal favor to Domino.
Boom-Boom's relationship with Domino has been one of the throughlines her numerous stints with X-Force. Which is pretty amazing considering that the Domino who co-founded X-Force with Cable turned out to be an imposter named Copycat. When the real Domino joined the team, she bonded with them and became an integral member. Boom-Boom and Domino don't really have a mother-and-daughter dynamic, but there is a real kinship between them. Note that the message Domino leaves for Boom-Boom in last month's X-FORCE #1 suggests that their connection is still strong, even though Domino is currently upset at her.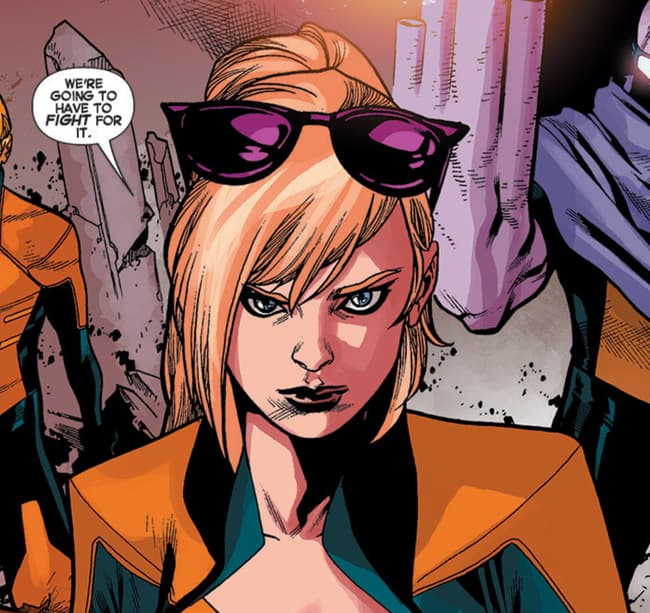 It's safe to say that Boom-Boom isn't always a team player, despite spending most of her heroic career on a team. Will she eventually burst out and star in her own stories? Only time will tell, true believers. But if we were to quote Tabitha Smith, we'd say the countdown begins in "3...2...1. BOOM."
X-FORCE #2, written by Ed Brisson with art by Dylan Burnett, goes on sale Wednesday, January 30. Pre-order your copy today online or at your local comic shop!
The Hype Box
Can't-miss news and updates from across the Marvel Universe!