Comics
Published April 6, 2017
Bullseye: Throwing Knives
Ed Brisson lines up the deadly Black Knife Cartel against the Man Who Can't Miss!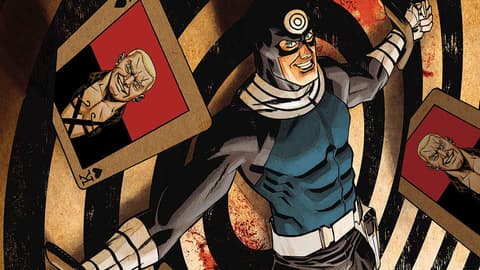 The Black Knife Cartel might already be dead—they just don't know it yet.
That, in part, can be laid at the feet of our protagonist, Bullseye, and his somewhat selfish desire to get back his edge. Writer Ed Brisson, however, must take some responsibility as well, setting the dangerous drug cartel and the assassin for whom everything proves a weapon on a direct collision course.
We found Brisson buying more ammunition and demanded he discussion the upcoming bloodbath in BULLSEYE #4—coming May 3—with us.
Marvel.com: I can't imagine anyone making the mistake of missing the first issues of BULLSEYE, but if they did, what can you tell them about the Black Knife Cartel?
Ed Brisson: Those people don't know what they're missing out on!
The Black Knife Cartel is a Colombian drug cartel responsible for supplying much of the Eastern Seaboard with dope. Right now, they're trying to make a play on New York, which has caused a little tension.
Teodor Zarco, the head of the cartel, is a sick and twisted dude who runs his organization through fear and torture. His antics are the things of local legend. However, he's bored. So, when he finds out that Bullseye is hunting him, he's thrilled at the prospect. He wants to fight someone who's going to be a real challenge to him.
Marvel.com: How aware is the Cartel of Bullseye's rep and abilities? How do they view him?
Ed Brisson: Teodor is well aware of Bullseye's abilities—after Googling him a little—and is tingling with anticipation to meet this Americano with blades. Teodor views him as a challenge, more than he sees him as an actual threat. To Teodor, Bullseye is merely a break in the tedium of his day to day life of running a drug cartel.
Marvel.com: How does Bullseye see them?
Ed Brisson: As dead meat.
He honestly does not know much about Teodor and only took the contract because it requires him to take out as much of the Cartel as possible. Bullseye's been off the grid for a while and feels the need to shake off his ring rust. He's here to rack up as many casualties as possible.
Marvel.com: How much of Bullseye's confrontation with the Cartel is motivated by necessity? How much is motivated by something else? What are some of the other motives?
Ed Brisson: Bullseye could probably sweep in and rescue his target with minor casualties, but, as mentioned above, he's out of practice and is here looking to get his groove back.
Is it necessary for him to confront and kill off Cartel members? Not really.
Is he going to do it anyway? 100%.
In the serious we really lean into how unhinged and crazy Bullseye is, without losing sight of the fact that he's very smart and calculating. While his actions are at times—almost always—excessive, they always get the desired results and lead him to where he needs to be.
Marvel.com: How does Guillermo Sanna's art encourage you to really cut loose in terms of the action and mayhem you put Bullseye and the rest of the book through?
Ed Brisson: Guillermo is an incredible artist who I'm sure will be a name on everyone's lips very soon. He's got a nice, clean style that I love and also handles action scenes like few others can. After seeing how he really nailed the action scenes in #1—that paper clip scene!—and #2—handing in pages that exceeded expectations in every way—I found myself looking for ways to push the action scenes throughout the rest of the issues. Every time I'd write something and think, "Damn, this is crazy," he'd send the pages back and they'd be even better than I was expecting and my expectations were high.
This is probably one of the [most fun] books I've ever worked on. If readers enjoy reading it half as much as we enjoyed making it, then they're getting more than their money's worth.
Marvel.com: Lastly, how aware is Bullseye that he is being hunted by a highly motivated federal agent with a loose moral code? What kind of threat does she pose to him?
Ed Brisson: So far, he's completely unaware. Right now, Joy has teamed up with Shotgun and Bullet—two of my favorite 80s Daredevil villains—and the three are hunting him together. I think that they can pose a real threat to him, especially since he has zero idea that they're out there. They have the element of surprise on their side.
Hit the target with Ed Brisson and Guillermo Sanna's BULLSEYE #4, available May 3!
The Hype Box
Can't-miss news and updates from across the Marvel Universe!