Comics
Published November 14, 2017
Cable: The Newer Mutants
The time-traveling hero decides it's time once again for a team!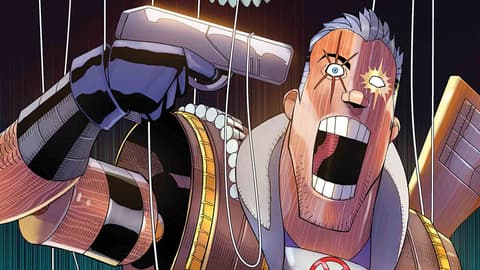 Nathan Summers' no dummy, and CABLE #152, out December 13, will prove it.
When Cable's back's against the wall and there's a murder mystery to solve, he'll forego his usual loner act and admits it's time for a team. And what a team! Pulled from a point in Marvel mutant history around 2004, these characters represent everything your favorite cyborg warrior needs to get the job done—or so he hopes.
We asked CABLE writer Ed Brisson to comment on each timeless titan our hero pulls in:
Marvel.com: Ed, what about Longshot? How do you see his connection to Cable?
Ed Brisson: In terms of relationship, I see Longshot as being Cable's second in command here. He's been on this case since day one, primarily brought in for his—little used—ability to communicate with the recently dead. And, hey, dude has luck ability. Every team needs a good luck charm.
Marvel.com: Surely Shatterstar's providing some "good ol'days" feels for Cable, right?
Ed Brisson: He and Cable are X-Force alum and so have a long history. Shatterstar is brought in for muscle. [Cable] needs a heavy-hitter who has no compunction about running headlong into battle. And, because I've been asked [elsewhere], it's worth noting that at this point in time—circa 2004—Shatterstar and Longshot are unaware that they're related.
Marvel.com: Laura Kinney's here, but as X-23, not Wolverine…
Ed Brisson: At this point in time, X-23 is new to the scene so [she] doesn't have much of a relationship with Cable or the rest of the crew. But, as mentioned above, they need muscle and X-23 gives them that, too.
Marvel.com: And Armor?
Ed Brisson: Similar to X-23, in 2004 Armor is relatively new to the X-Men. In fact, she's not a member of X-Men yet; she's a new student at Xavier Institute. Cable's brought her aboard for abilities that he knows she has that she's still unaware of.  There's a bit of a mentorship happening—Cable knows Armor's headed for great things and is giving her a bit of a push here.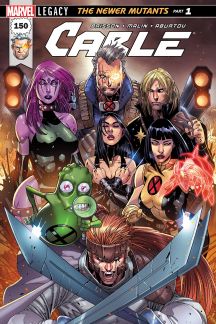 Marvel.com: Then there's Blink!
Ed Brisson: Top secret! We're in a time where Blink isn't supposed to be around. So, how she's here and what she's doing is something that people are going to have to read and discover for themselves.
Marvel.com: Okay, but how the heck will Doop be useful?

Ed Brisson: Doop is there because he's Doop! Doop is awesome! But, also, Cable knows they're going up against Selene, who's a powerful telepath. They need Doop in order to shield them from her…'cause, did you know that Doop can throw up psionic shields? He can!
Marvel.com: Now, to wrap this up, we have to ask: how does big baddie Gideon figure into this?
Ed Brisson: This is another one I'm going to plead the fifth on. How Gideon comes into it and what his play is, that's something that readers will have to discover over the next few issues.
Marvel.com: Wait! You gotta say more than that!
Ed Brisson: For me, personally, that early 90s era of New Mutants/X-Force was seminal. It was an exciting time and Gideon was a large part of that. Dude's been off the playing board for more than two decades and I'm pretty excited to be bringing him back.
Find out what Nate and his crew get up to next in CABLE #152 by Ed Brisson and artist Jon Malin on December 13!
The Hype Box
Can't-miss news and updates from across the Marvel Universe!