Comics
Published August 3, 2023
Captain America Howls Onto The Battlefields Of World War II In 'Capwolf & The Howling Commandos'!
Check out covers for Stephanie Phillips and Carlos Magno's CAPWOLF & THE HOWLING COMMANDOS series launching this October!
In the early 90s, Steve Rogers transformed into CAPWOLF in writer Mark Gruenwald and artist Rik Levins' unforgettable "Man and Wolf" story arc. Now over 30 years later, CAPWOLF is back in his own limited series, CAPWOLF & THE HOWLING COMMMANDOS! 
Written by Stephanie Phillips and drawn by Carlos Magno, this four-issue limited series will tell an all-new story where Steve becomes a terrifying werewolf during an early World War II mission. Luckily, his fiercest allies are by his side--Nick Fury and the Howling Commandos! After years of combat, this elite squad of soldiers thought they've seen it all but this might be their wildest adventure yet as the series captures the spirit of Stan Lee and Jack Kirby's classic wartime storytelling with a modern mystical twist!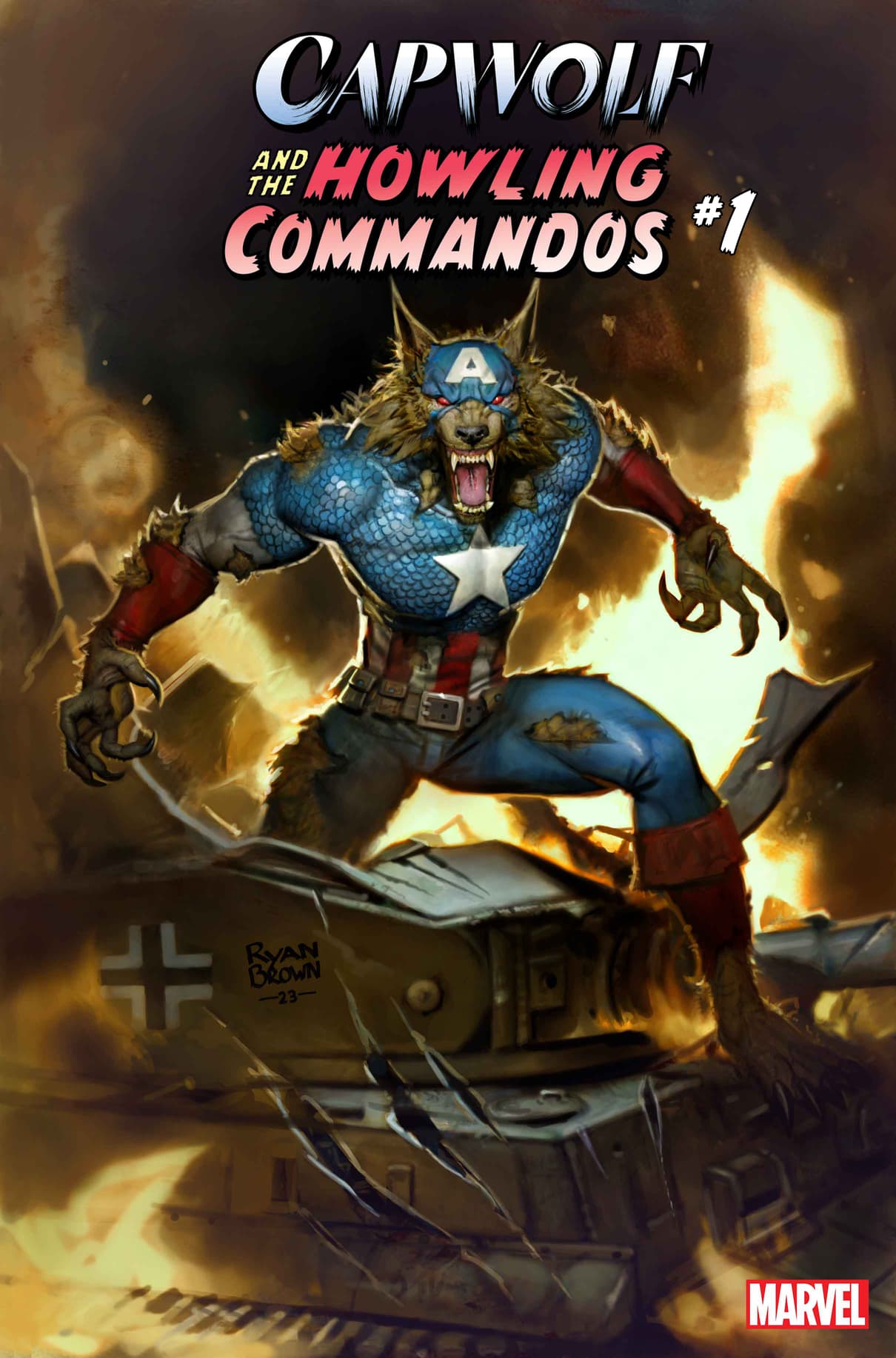 When Captain America is transformed into a werewolf on the front lines of World War II, he'll need the help of the Howling Commandos to take down a band of Nazi cultists who intend to use supernatural forces to turn the tide of battle. But can Cap control the skeptical, jaded Commandos when he can barely control himself?
"This is the kind of story I was dying to tell at Marvel, blending my love of historical fiction with the incredible history of the characters in the Marvel Universe," Phillips told AiPT. "CapWolf and the Howling Commandos may be a war story, but it also has horror, romance, and a few new characters that we introduce along the way. And just wait until you see Carlos Magno's incredible artwork on this series…"
Check out an assortment of covers, including a Hidden Gem wraparound piece using Jack Kirby art of the original Howling Commandos and the issue two cover! And be there when the Marvel Universe hears Capwolf's howl once again this October! 
CAPWOLF & THE HOWLING COMMANDOS #1 (OF 4) 
Written by STEPHANIE PHILLIPS
Art by CARLOS MAGNO
Cover by RYAN BROWN
Variant Cover by GARY FRANK 
Variant Cover by DECLAN SHALVEY 
Wraparound Hidden Gem Variant Cover by JACK KIRBY 
On Sale 10/11
 
CAPWOLF & THE HOWLING COMMANDOS #2 (OF 4)
Written by STEPHANIE PHILLIPS
Art by CARLOS MAGNO
Cover by RYAN BROWN
On Sale 11/15
The Hype Box
Can't-miss news and updates from across the Marvel Universe!