Comics
Published March 1, 2019
Captain Marvel Is Even 'Braver & Mightier' in a New One-Shot
Jody Houser and Simone Buonfantino tell all about Carol Danvers Day and celebrating a Super Hero in CAPTAIN MARVEL: BRAVER & MIGHTIER #1!
As Air Force Pilot Carol Danvers juggles life as Captain Marvel, she's facing a new challenge: celebrating Carol Danvers Day! But there's impending doom ahead in the form of an invading force while her duties to her community and the world at large are against each other.
Marvel.com chatted with writer Jody Houser and artist Simone Buonfantino about taking on Captain Marvel ahead of the release of Marvel Studios' "Captain Marvel" and what's ahead for our cosmic-powered hero in CAPTAIN MARVEL: BRAVER & MIGHTIER #1, on sale now!
Marvel.com: How did you both approach creating CAPTAIN MARVEL: BRAVER & MIGHTIER #1?
Jody Houser: I wanted to write a story that showed multiple sides of Carol's life and the impact she's had on the lives of others. I got to do a lot of re-reading, which is always one of the most fun parts of working in comics. Binge-reading a series for homework is a delight.
Simone Buonfantino: Well, of course with a lot of respect towards such an iconic character. I did not want to distort the figure of Captain Marvel but, at the same time, I wanted to make it "mine" mostly through the body language without forcing too much on the graphic style.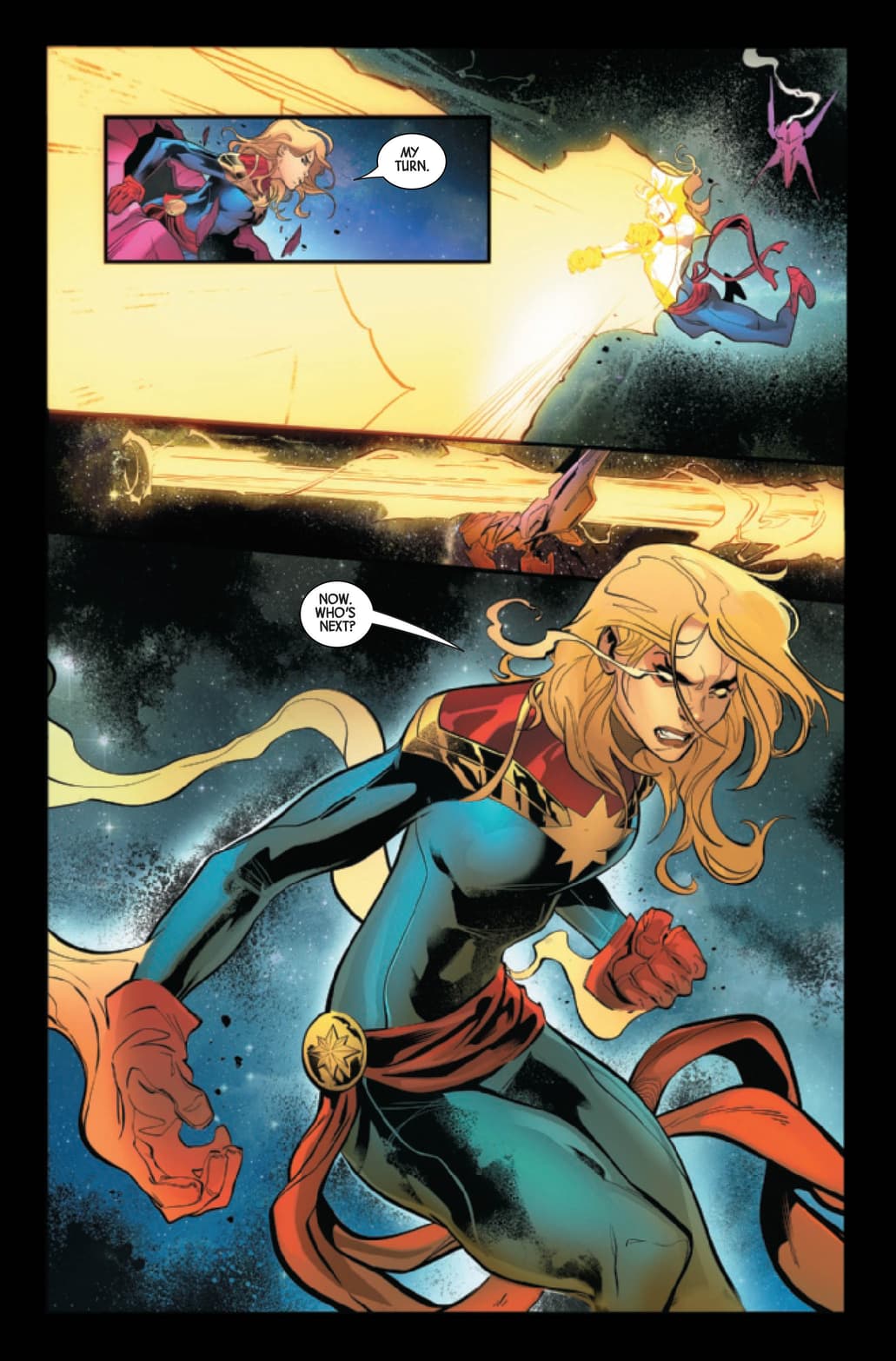 Marvel.com: What's it like taking on the story of Earth's Mightiest Hero just ahead of the release of Marvel Studios' "Captain Marvel"? Did you get to chat with the previous writers and artists, and was there a ceremonial passing of the torch?
Jody Houser: It's an amazing time to get a chance to write Carol! I know some readers will pick up the comic because of the movie, so hopefully this issue will serve as a solid introduction to the comic book version of Captain Marvel.
Simone Buonfantino: For what concerns me, it was satisfying and SCARY, since the attention on Carol Danvers keeps increasing exponentially in the last months, I think mostly thanks to Marvel Studios' "Avengers: Infinity War."
Regarding the communication with the previous writers, usually this kind of project is developed in a very little time, so my target was that of focusing on the story and trying to do justice to the words Jody wrote for the occasion. So I couldn't exchange a lot, if not for the corrections that were arriving from time to time.
Marvel.com: Can you tell us more about where Carol is in her life in this storyline and about Carol Danvers Day?
Jody Houser: This story is meant to slot into the current continuity, but also be something of a timeless story. Plenty of punching aliens in space! Carol Danvers Day is an event at an Air Force History Museum meant to honor one of their own.
Marvel.com: Who else will be making an appearance in this 32-page one-shot? And who is your favorite to write and draw?
Simone Buonfantino: The story is mostly focused on Carol, space ships and some extras will appear. Not only did I enjoy myself while representing Captain Marvel, but I was at ease with the two teenagers, the "reporters" – shy but determined at the same time. I tried to give them character hoping not make them appear ordinary.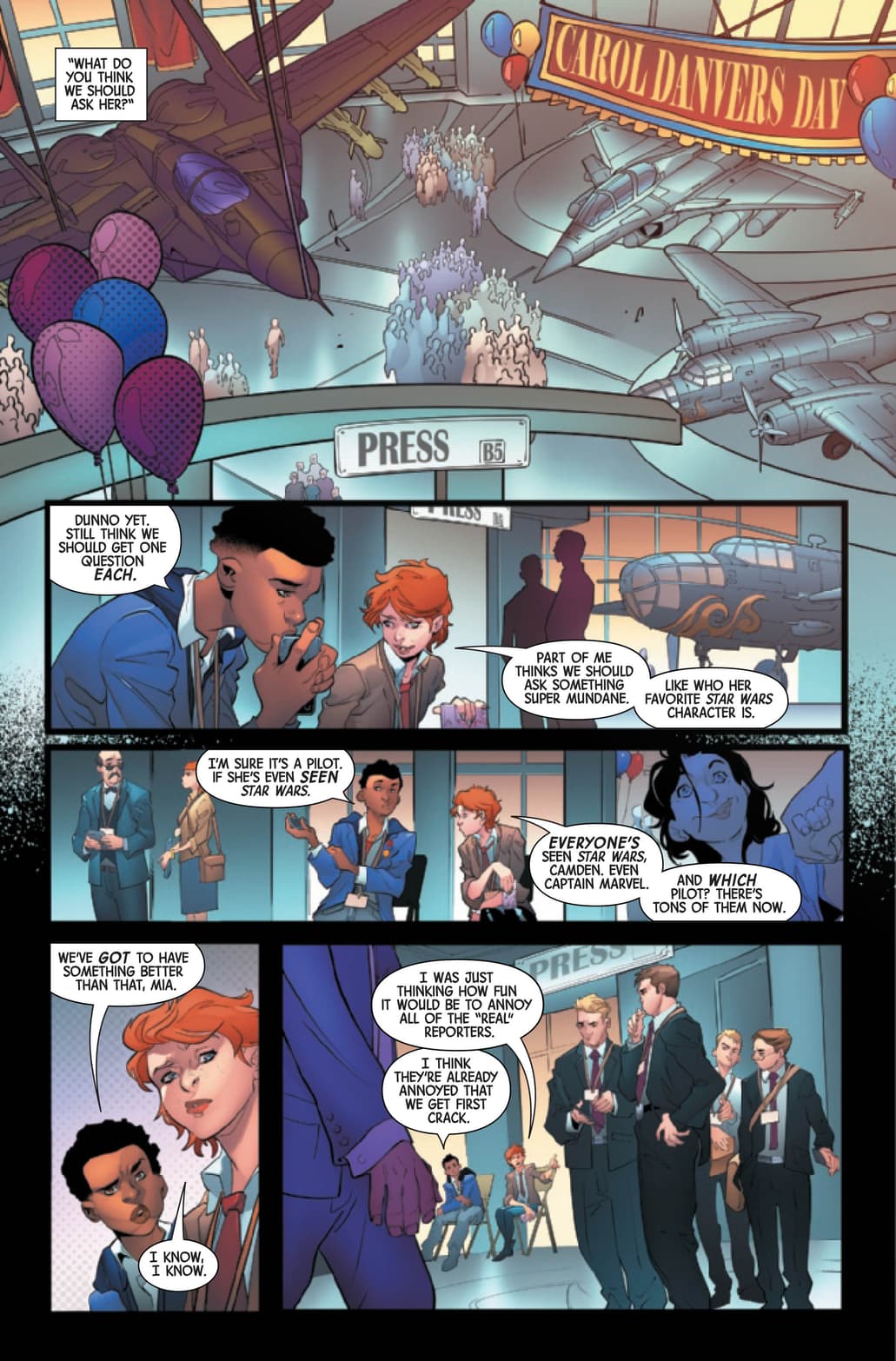 Marvel.com: Simone, what kind of panel layouts are your favorite to tackle and are there any in particular that readers should watch out for?
Simone Buonfantino: Without any doubt, the action scenes are the ones that I enjoy the most. In this issue, I had to create lots of space ships and weird sci-fi weapons, which for the illustrator is icing on the cake, but I would like to ask the readers to pay attention to each and every panel, because I believe I put the same passion in every scene. And I hope it will show.
Marvel.com: Jody and Simone, you both have worked on Super Hero books before, THE AMAZING SPIDER-MAN and THOR VS. HULK respectively. How have your past works informed your work on CAPTAIN MARVEL: BRAVER & MIGHTIER #1?
Jody Houser: I love writing Super Heroes, and for me, the character at the heart of the action is the most important aspect at all. It doesn't matter how crazy or universe-threatening the situation is that you're writing as long of the heart of the character is still beating at the center of it.
Simone Buonfantino: I am still working my way up, so I try to make my style more and more recognizable. More than from a graphic point of view, my goal at the moment is to be able to tell the stories that the writers entrust to me in a fluid and never-predictable way.
Marvel.com: Who else is working on the book with you, and what's been the most memorable part in working with the team so far?
Jody Houser: Seeing all the choices Simone made with the script was a delight. When the initial art comes in, that's the first moment it actually starts being a comic.
Simone Buonfantino: I haven't had the pleasure of seeing the finished work, yet. I mostly took care of the layouts and the inking, but I already admired Valerio Schiti's cover, and I am enthusiastic about it. I had never worked with Jody before, but I have to admit it was really easy. She has a linear and non-complex way of writing, but above all she gave me a lot of freedom to create.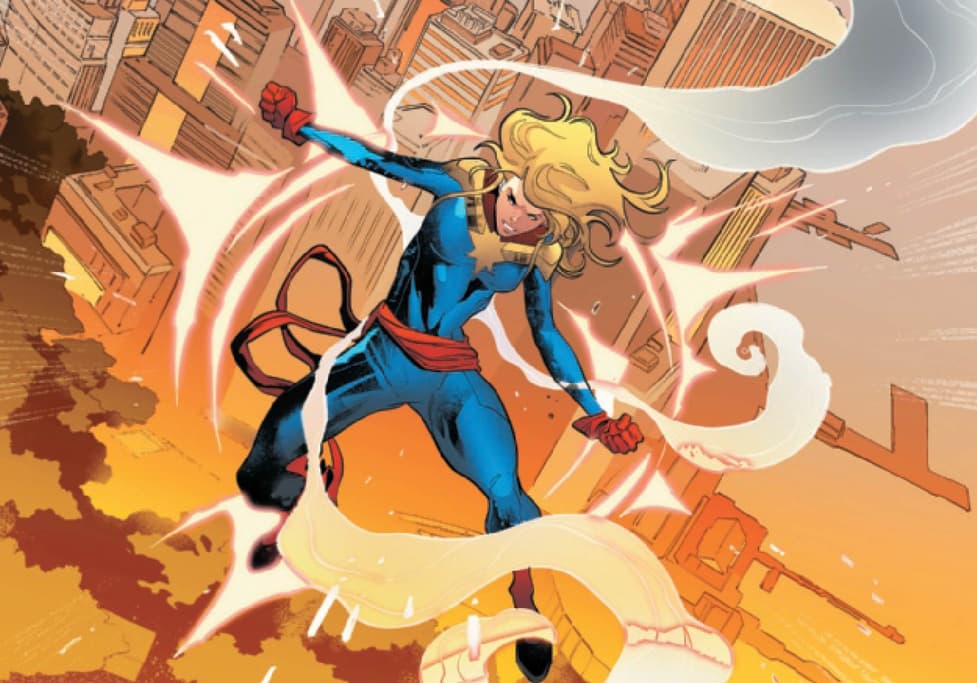 Marvel.com: Why did each of you want to be on this book?
Jody Houser: Besides Carol being a wonderful character to explore, the fact that everyone (including me!) is so excited for the upcoming movie made this project irresistible.
Simone Buonfantino: Certainly, being part of such project, almost simultaneously with the release of the film that the fans of Marvel are awaiting with great interest, make me feel really proud!
CAPTAIN MARVEL: BRAVER & MIGHTIER #1, written by Jody Houser with art by Simone Buonfantino, is available now online and at your local comic shop!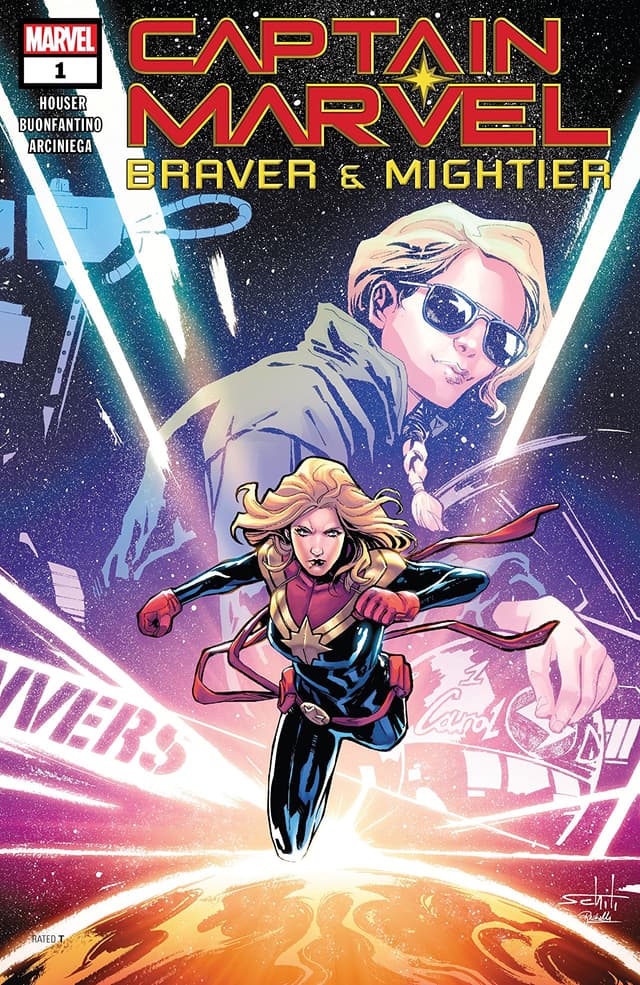 The Hype Box
Can't-miss news and updates from across the Marvel Universe!