Comics
Published April 28, 2017
Celebrate Arbor Day with Groot's Greatest
We pay tribute to the beauty of nature with the Flora Colossus!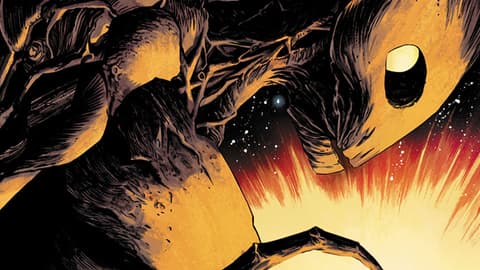 Arbor Day. A day to appreciate the beauty in nature and to plant as many trees as possible so that we can continue breathing.
Mark Marvel as no stranger to the wonder of trees; in fact we have a whole loveable hero dedicated to this wonderment! We all know and love Groot, and in celebration of Arbor Day, we want to share with you some amazing moments from his comic book history that will have you planting trees all day long, hoping for your own little Flora Colossus.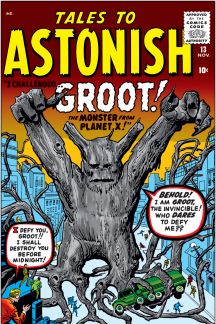 Monarch X (TALES TO ASTONISH #13)
What's the first thing you think of when you think of Groot? Fun? Cuddly? Best friend? Well, boy do we have a surprise for you. The first appearance of Groot from the Atlas days of Marvel Comics proves the exact opposite. This self-proclaimed "Monarch" of Planet X, comes to take a village back to his planet to perform experiments on. A heroic villager challenges this menacing, talking Groot. In response, the extraterrestrial shows his true power and creates an army of nightmarish walking trees!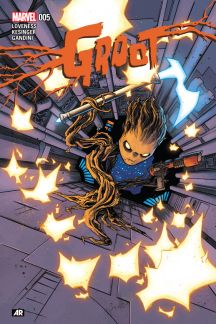 You won't like him when he's angry. (GROOT #5)
Just like the Incredible Hulk, it's probably not a good idea to cross Groot. During an adventure with his best pal Rocket, baby Groot gets "handed" a solar grenade, blasting him with a hyper dose of concentrated solar energy, transforming the cute creature into a monstrous, oversized mega beast. This Groot goes on a rampage taking out a ton of baddies. Eventually Rocket calms him down, brings him back to normal size, and they share a great moment in their victory.
Yggdroot (SECRET WARS #8)
During the Battle in Doomstadt, Black Swan confronts Peter Quill in Doctor Doom's throne room, which just happens to be below the tree of life "Yggdrasil." Backed into a corner, Star-Lord drops just a splinter into Yggrasil, which engulfs it entirely, transforming it into a colossal Groot that destroys the castle from the inside out.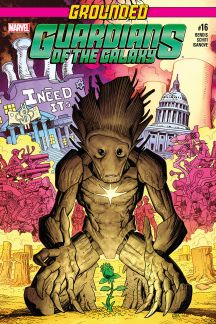 What rhymes with "Groot"? (GUARDIANS OF THE GALAXY #16)
In this recent issue, we see the lighter side of our cosmic woodland friend when he and his partner in crime, Rocket, have a nice day in Central Park. Unfortunately, things turn quickly when The Armadillo springs from the ground and launches Groot's best bud through the air. Our hero springs into action—literally—and fights him off. Things take a turn for the worse when the NYPD surround Groot thinking him the monster. A little boy comes to his rescue, joined by the entire crowd at the park, who defend Groot and showing their gratitude for him rescuing them. The comic ends the way it started, with Groot and his best bud—now joined by the little boy—hanging out in the park. By the way, did we mention the entire story rhymes?

Symbi-groot (GUARDIANS OF THE GALAXY #21–22)
You thought Venom seemed scary with the fury of a trained U.S Army man underneath it? Well how would you feel if a talking tree that can thrash Thanos took on the symbiote? When Flash Thompson as Venom joins the Guardians as a representative of the Avengers, prolonged time in space seems to do some strange things to the symbiote making it too difficult to control. The alien suit goes rouge and attacks Gamora out of nowhere. The team subdues it and get Flash to safety, for the time being. Back at the base, Rocket tries to make a more stable holding cell for the monstrous menace, but the ravaging symbiote breaks out of its tiny cell and attaches to Groot causing the loveable space tree to morph into a powerfully savage hybrid.  This turns a friendly catchphrase sour when he belts out "I am Venom" while giving his team a serious beating.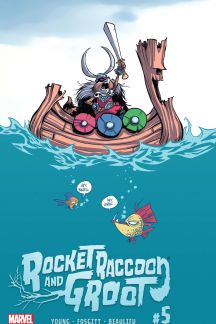 Groot the God (ROCKET RACCOON AND GROOT #5)
Rocket and Groot take a tropical day off at the beach relaxing and sipping some cocktails until its rudely interrupted by Gunhild of the Elmhold clan. She takes the pair back to her majesty only to discover that the king believes Groot to be a God. More specifically the very god that the clan gets its namesake from. Groot is then whisked away to be cleaned and pampered so that he can be sacrificed in an active volcano! Learning of this horrible fate, Rocket teams up with his capturer to free Groot.  During their escape, Groot sprouts a wing suit, of sorts, made of branches and leaves, and propels away with Rocket accidentally drops an atomic bomb in the volcano. The last we see of our heroes: Rocket and Groot back in the ocean with a cocktail.
Groot's Sacrifice (ANNIHILATION CONQUEST: STAR-LORD #2)
Before the Guardians of the Galaxy, they were a rag-tag team put together to do some damage against the nasty Phalanx. When they storm a production facility creating a techno-virus, they run into some fearsome machines that cause them to retreat. However, the bad guys start to overrun the team, until the mighty monarch of Planet X steps in with his enormous stature to give the crew some time to escape. He sacrifices himself by staying behind to take out as many machines as possible in a death befitting a King.
Little Seed, Big Deed (GUARDIANS OF THE GALAXY: TOMORROW'S AVENGERS)
On a far away, un-named planet, a young woman named D'Vorak minds her own business, working her family farm. Preoccupied with thoughts of wars in the stars, she almost steps on a tiny Groot. Not knowing what she just plucked from the ground, she quickly plants him in soil and gives him water until interrupted by a gang of thugs called the Tribbitites. They start roughing up her family and threaten to kill her brother until a gigantic Groot steps in from out of nowhere and hammers down on the jerks. D'Vorak, ever grateful, reminisces about her previous thoughts on the galaxy, this time giving a hopeful look up into the stars.

Howling Groot (NICK FURY'S HOWLING COMMANDOS #6)
Shifting back to the "original" monstrous Groot from 1963, this intellectual monarch grows to a colossal size to carry a team of the Howling Commandos to battle including Clone of Frankenstein, Gorilla-Man, Zombie, Living Mummy, and more, while majestic unicorns gallop past them. The group leads with an all-out attack against Merlin and his minions causing the sorcerer to retreat.

Two sides to every Groot (GUARDIANS OF THE GALAXY ANNUAL #1)
They say there are two sides to every coin, well what about Groot. In this tale, we get to see just that.  Captain Marvel starts it off by sending a video to folks at home on Earth. We get some hilarious moments as some of the Guardians interrupt including a nosey Groot. This gets disrupted further when a portal opens up revealing the Helicarrier and Nick Fury. Eventually, all hell breaks loose as members of S.H.I.E.L.D team up with Guardians of the Galaxy to fight a Skrull invasion. Groot and the rest of the team fight in outer space and crush their enemies with terrifying power. After the end of the battle, Captain Marvel goes back to give her tear-jerking video message to her family, where we get to see that other side of Groot in a sweet moment comforting her.
The Hype Box
Can't-miss news and updates from across the Marvel Universe!