Comics
Published June 9, 2017
Celebrating Star Wars #11
Kieron Gillen shares his favorite Darth Vader moment—written by Jason Aaron!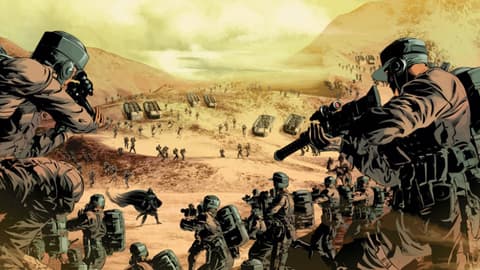 We all know that the first Star Wars film changed the face of pop culture forever when it hit theaters 40 years ago today—but it's not just the movie that's celebrating that milestone in 2017. Star Wars comics arrived with force in 1977, and hundreds of issues later, they're more popular now than ever.
To celebrate the 40th anniversary of Star Wars, we're looking back at our 40 favorite moments from the history of comics from a galaxy far, far away—one day at a time.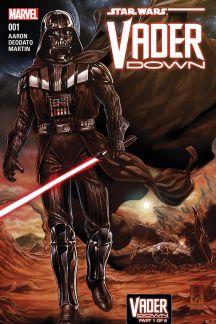 As the writer of 25 issues of DARTH VADER, Kieron Gillen knows a thing or two about scripting amazing moments for the iconic Sith Lord. But, when asked to name his personal favorite moment in Star Wars comics, he's quick to cite the last few pages of STAR WARS: VADER DOWN #1 by Jason Aaron.
"Vader facing an entire rebel army," recounts Gillen. "One brave soul shouts at him: 'Lay down your weapons! You're surrounded!' Vader raises the red saber and addresses the crowd. 'All I am surrounded by is fear. And dead men.'
"And the crowd goes wild. Jason Aaron, Mike Deodato and Frank Martin Jr. basically give the single most defining image of Vader in the new Marvel comics. I can only applaud. And seethe with professional jealousy, of course."
The Hype Box
Can't-miss news and updates from across the Marvel Universe!