Comics
Published June 16, 2017
Celebrating Star Wars #13
Comics adapt a classic Star Wars novel with Heir to the Empire!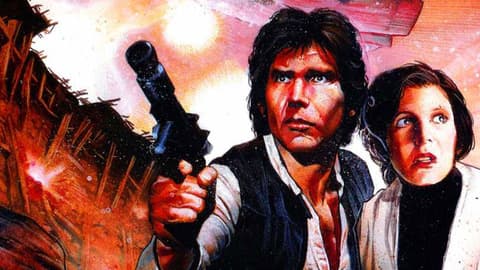 We all know that the first Star Wars film changed the face of pop culture forever when it hit theaters 40 years ago today—but it's not just the movie that's celebrating that milestone in 2017. Star Wars comics arrived with force in 1977, and hundreds of issues later, they're more popular now than ever.
To celebrate the 40th anniversary of Star Wars, we're looking back at our 40 favorite moments from the history of comics from a galaxy far, far away—one day at a time.
Of all the Star Wars novels written over the years, "Heir to the Empire" stands out to most fans as the most important; released in 1991, it still ranks among the best, and largely gains credit for making Star Wars cool again. Four years later, writer Mike Baron and artists Olivier Vatine and Fred Blanchard pleased fans by adapting the beloved book to comic form in STAR WARS: HEIR TO THE EMPIRE #1, the debut of a six-issue series.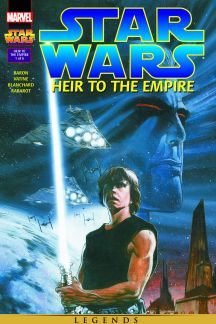 As the first installment of what's now known as "The Thrawn Trilogy," HEIR TO THE EMPIRE not only continues the adventures of Luke, Leia, and Han five years after "Return of the Jedi," it also introduces beloved new characters to the Star Wars Legends universe, most notably Grand Admiral Thrawn and Mara Jade. Though everyone who had read the novels likely already had their own depictions of these characters in their heads, the comic brought them to life like never before: The poise of Thrawn. The vengeful determination of Mara. The madness of former Jedi Jorus C'baoth. Fans of the books received a whole new reason to experience the great story all over again, followed up by DARK FORCE RISING and THE LAST COMMAND, both in 1997.
Remarkably, some of Zahn's creations have emerged from the Legends universe into the current Star Wars canon. Grand Admiral Thrawn serves as a main adversary in "Star Wars Rebels," and longtime Star Wars actor Warwick Davis will voice his loyal assistant, the alien Noghri named Rukh, in the next season. Also, Zahn named and characterized the Imperial capital planet of Coruscant, brought to the big screen in 1999 for "The Phantom Menace"
The Hype Box
Can't-miss news and updates from across the Marvel Universe!