Comics
Published June 20, 2017
Celebrating Star Wars #15
Meet Mara Jade, the Emperor's Hand!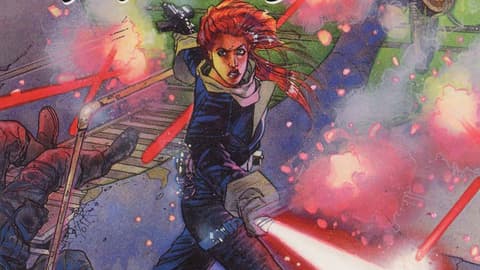 We all know that the first Star Wars film changed the face of pop culture forever when it hit theaters 40 years ago today—but it's not just the movie that's celebrating that milestone in 2017. Star Wars comics arrived with force in 1977, and hundreds of issues later, they're more popular now than ever.
To celebrate the 40th anniversary of Star Wars, we're looking back at our 40 favorite moments from the history of comics from a galaxy far, far away—one day at a time.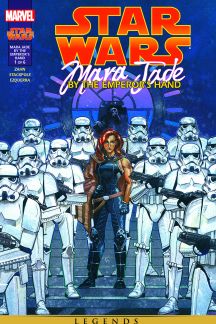 If you know HEIR TO THE EMPIRE and the rest of the "Thrawn Trilogy," then you're very familiar with Mara Jade, one of the greatest new characters created by writer Timothy Zahn. As the Emperor's personal assassin—aka, the Emperor's Hand—she believed Luke Skywalker killed Palpatine and set out to take her revenge. But what about her days of serving The Emperor? Typically a novelist, Zahn himself developed a story exclusively for comic books to tell this tale—STAR WARS: MARA JADE: BY THE EMPEROR'S HAND—with fellow Star Wars author Michael A. Stackpole acting as writer and Carlos Ezquerra illustrating the adventure.
Right away we're greeted with a very familiar setting, as Mara pleads to board Jabba's skiff and assist with the execution of Luke Skywalker, as seen in "Return of the Jedi"—we learn Palpatine sent her there to capture him and bring him before The Emperor. When Jabba denies her request, she reports back to her master that she proved unable to kill Luke, then finds herself on a quest to assassinate the leader of Black Nebula—an offshoot of Black Sun, which you may remember from SHADOWS OF THE EMPIRE. By issue #2, she learns of the Emperor's demise through the Force—though in the way he wants her to see it. But that doesn't mean she's done with her mission…
The Hype Box
Can't-miss news and updates from across the Marvel Universe!