Comics
Published June 21, 2017
Celebrating Star Wars #16
Mara Jade and Luke Skywalker tie the knot—and chaos ensues!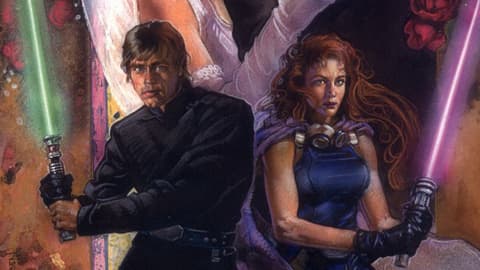 We all know that the first Star Wars film changed the face of pop culture forever when it hit theaters 40 years ago today—but it's not just the movie that's celebrating that milestone in 2017. Star Wars comics arrived with force in 1977, and hundreds of issues later, they're more popular now than ever.
To celebrate the 40th anniversary of Star Wars, we're looking back at our 40 favorite moments from the history of comics from a galaxy far, far away—one day at a time.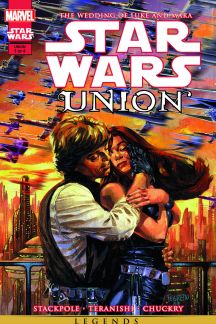 If you've read past entries in this series, you'll remember Mara Jade's mission in both HEIR TO THE EMPIRE and MARA JADE: BY THE EMPEROR'S HAND: to kill Luke Skywalker. What a difference a few years makes! Mostly through the Star Wars novels of the 1990s, once Mara realized that maybe she had not made the best career choice serving Emperor Palpatine, she and Luke fell in love. And in STAR WARS: UNION, writer Michael A. Stackpole and artist Robert Teranishi married the former adversaries.
But naturally, much like Reed and Sue or Peter and Mary Jane, no comic book wedding can go off without a hitch. In this case, objectors allied with both the Imperial Remnant and the New Republic had their own plans on stopping the wedding in the most dramatic of ways. But in the end, the two are wed until death do they part—and you might want to read the "New Jedi Order" novels to find out how that turns out…
The Hype Box
Can't-miss news and updates from across the Marvel Universe!