Comics
Published June 23, 2017
Celebrating Star Wars #18
Go behind the masks of the Emperor's elite in Crimson Empire!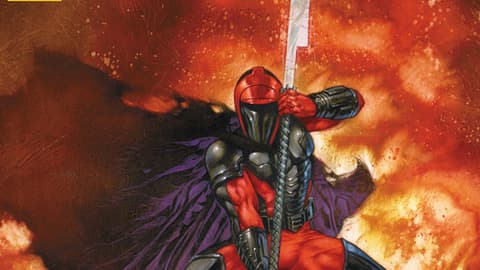 We all know that the first Star Wars film changed the face of pop culture forever when it hit theaters 40 years ago today—but it's not just the movie that's celebrating that milestone in 2017. Star Wars comics arrived with force in 1977, and hundreds of issues later, they're more popular now than ever.
To celebrate the 40th anniversary of Star Wars, we're looking back at our 40 favorite moments from the history of comics from a galaxy far, far away—one day at a time.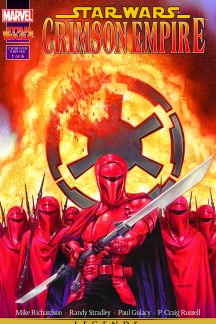 Until 1997, all Star Wars comics in some way heavily featured characters you grew to love from the films, from Luke, Leia, and Han to Boba Fett and Jabba the Hutt—even Wedge Antilles. For CRIMSON EMPIRE, writers Mike Richardson and Randy Stradley dared to expand the Star Wars universe in a way no other series had to this point—with no main characters you had ever heard of. The result stands up today as perhaps the most "cult classic" Star Wars series ever published.
Every Star Wars fan remembers the striking red uniform of the Emperor's Royal Guard, as seen in "Return of the Jedi." But that was all we really knew about them at this point. What is happening underneath those masks? How did they earn their spot among Palpatine's elite? Are they even men in there? Though all of the action occurs years after "Return of the Jedi," we get our first answers to those questions—including flashbacks, one featuring an incredible Darth Vader moment— as the remnants of the Empire fight their own internal battles for political control.
If you're not intimidated by a book starring names like Carnor Jax, Kir Kanos, and Mirith Sinn, CRIMSON EMPIRE offers a welcome and unique take on the Star Wars universe. There's even an official Handbook to guide through the cast of characters.
The Hype Box
Can't-miss news and updates from across the Marvel Universe!