Comics
Published June 28, 2017
Celebrating Star Wars #21
Enjoy some lighthearted hijinks in the midst of intergalactic war!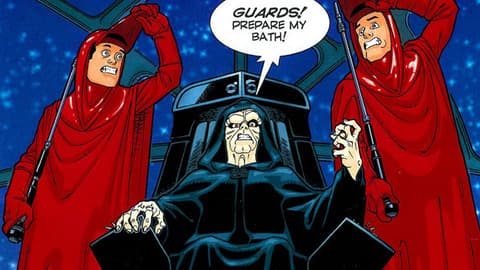 We all know that the first Star Wars film changed the face of pop culture forever when it hit theaters 40 years ago today—but it's not just the movie that's celebrating that milestone in 2017. Star Wars comics arrived with force in 1977, and hundreds of issues later, they're more popular now than ever.
To celebrate the 40th anniversary of Star Wars, we're looking back at our 40 favorite moments from the history of comics from a galaxy far, far away—one day at a time.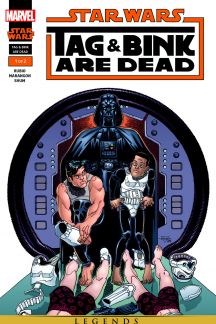 In 1966, a play known as "Rosencrantz and Guildenstern Are Dead"—later adapted to film in 1990—dared to retell "Hamlet" from the perspective of two minor characters. It offered a comedic take on key moments in Shakespeare's masterpiece by implying that the bumbling duo in some way influenced key events.
Much along those lines, TAG AND BINK ARE DEAD delves into the background characters of "A New Hope" and "The Empire Strikes Back" to offer a little more "actual back story" to moments you've probably never thought twice about. Starting with the battle aboard Princess Leia's Tantive IV that kicks off "Episode IV," we follow two Rebels—the eponymous Tag and Bink—as they eventually escape Empire imprisonment and decide to disguise themselves as stormtroopers aboard the Death Star.
The comedic consequences result in "back stories" for moments like the lone TIE fighter that the Millennium Falcon encounters near the Death Star, the real reason Boba Fett showed up at Bespin, and how the Rebels acquired the shuttle Tyderium they'll later use to infiltrate Endor in "Return of the Jedi." Oh, and those two stormtroopers discussing "another drill" as Obi-Wan disarms the Death Star's tractor beam? That's Tag and Bink in inaction.
Writer Kevin Rubio masterminded TAG AND BINK ARE DEAD, and followed with a sequel in 2006—and this wasn't the first time Rubio showed us "what really happened" in Star Wars movies. In 1996, he made a name for himself as the creator of "Troops," a parody of "Cops" from a stormtrooper's perspective largely responsible for ushering in an entire era of Star Wars fan films.
The Hype Box
Can't-miss news and updates from across the Marvel Universe!