Comics
Published June 29, 2017
Celebrating Star Wars #22
Han Solo has a historic date with a bounty hunter on Ord Mantell!
We all know that the first Star Wars film changed the face of pop culture forever when it hit theaters 40 years ago today—but it's not just the movie that's celebrating that milestone in 2017. Star Wars comics arrived with force in 1977, and hundreds of issues later, they're more popular now than ever.
To celebrate the 40th anniversary of Star Wars, we're looking back at our 40 favorite moments from the history of comics from a galaxy far, far away—one day at a time.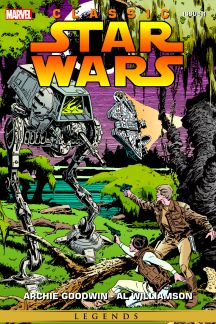 By 1979, the world started to understand that Star Wars went beyond just a blockbuster movie. Kenner's toy line proved incredibly successful, Marvel's STAR WARS comics flew off the shelves, and soon enough, our newspaper funny pages took fans to a galaxy far, far away. The CLASSIC STAR WARS line of comics reprints these strips.
If you're inclined to assume that these stories never fit into Star Wars canon, CLASSIC STAR WARS #1 will squash such presumptions right away. The comic reissues an early-'80s tale by Archie Goodwin—who also wrote many Marvel STAR WARS comics of that era—and penciler Al Williamson released by the LA Times Syndicate. Goodwin used knowledge gleaned from "The Empire Strikes Back" to craft a throwaway movie line into an entire story set between the first two films. Remember when Han tells Leia he's leaving the Alliance because "The bounty hunter on Ord Mantell changed my mind?" Goodwin introduces us to Skorr—i.e., said bounty hunter!
The story of this encounter lasts through CLASSIC STAR WARS #2 and remains remarkably readable as a cohesive comic book arc, despite the chopped-up nature of its original media vehicle. It's classic Star Wars, indeed.
The Hype Box
Can't-miss news and updates from across the Marvel Universe!