Comics
Published July 5, 2017
Celebrating Star Wars #25
Jedi Padawan Aayla Secura battles Aurra Sing in a Star Wars showdown!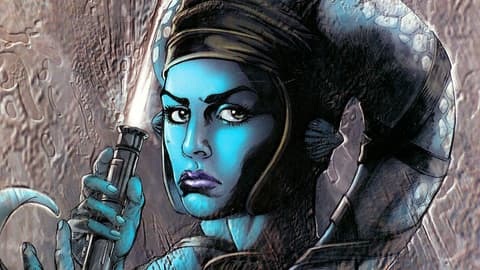 We all know that the first Star Wars film changed the face of pop culture forever when it hit theaters 40 years ago today—but it's not just the movie that's celebrating that milestone in 2017. Star Wars comics arrived with force in 1977, and hundreds of issues later, they're more popular now than ever.
To celebrate the 40th anniversary of Star Wars, we're looking back at our 40 favorite moments from the history of comics from a galaxy far, far away—one day at a time.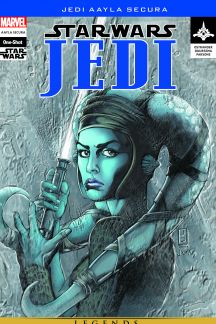 Whereas Quinlan Vos stands out as perhaps the most important Prequel-era character created by comics, his Padawan Aayla Secura may just be the most popular, making it all the way to the the silver screen. At the same time, a Jedi-hunting bounty hunter named Aurra Sing, who made a brief debut watching the Podrace in "The Phantom Menace," would go on to become a major player in Star Wars Prequel-era comics. Their lightsabers would clash in STAR WARS: JEDI – AAYLA SECURA, a one-shot from 2003.
While on a mission of espionage to the planet Devaron, Aayla discovers Aurra hunting her and other Jedi. Throughout the course of the action, we learn a lot about each player—Aayla's defiance of Twi'lek stereotypes, Aurra's taste for fear through her bionic antenna implant, and more. An emotional lightsaber battle serves as the issue's climax, as Aayla fights to save herself and her comrades pinned in debris.
A strikingly beautiful blue Twi'lek, Aayla artist Jan Duursema and writer John Ostrander created Aayla, who made her first full appearance in STAR WARS #22. Her look made such an impression on George Lucas that he cast Amy Allen to portray her for the Battle of Geonosis in "Attack of the Clones," later killing Aayla on Felucia as a result of Order 66 in "Revenge of the Sith."
Aurra's does not have as well-defined a fate. Though she never got any screen time beyond two seconds in "Episode I," comics such as the "Outlander" story arc would make her a fan favorite. She would even mentor a young Boba Fett in Lucasfilm Animation's "The Clone Wars."
The Hype Box
Can't-miss news and updates from across the Marvel Universe!