Comics
Published August 7, 2017
Celebrating Star Wars #28
A life on the run for Kanan Jarrus before he joined the crew of 'Star Wars Rebels'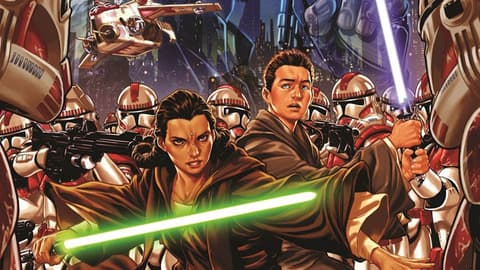 We all know that the first Star Wars film changed the face of pop culture forever when it hit theaters 40 years ago today—but it's not just the movie that's celebrating that milestone in 2017. Star Wars comics arrived with force in 1977, and hundreds of issues later, they're more popular now than ever.
To celebrate the 40th anniversary of Star Wars, we're looking back at our 40 favorite moments from the history of comics from a galaxy far, far away—one day at a time.
Ever since its debut on Disney XD in fall 2014, "Star Wars Rebels" has become must-watch TV for fans, exploring the state of the Star Wars galaxy in the years preceding "A New Hope." Though its motley crew of crusaders against the Empire included no familiar faces when the animated series began, fans all over the world now know and love characters like Ezra, Hera, Sabine and Zeb. Shortly after the end of the first season of "Rebels'', writer Greg Weissman and artist Pepe Larraz began a 12-issue series exploring the untold past of one particular character in KANAN.
For an entire season, viewers got to know Kanan as a Jedi on the run who mentors Ezra in the ways of the Force, but his past was largely a mystery. The comic takes us back 15 years to the last days of the Clone Wars. Issue #1 beautifully illustrates an epic battle on the planet Kaller, where Jedi Knight Depa Billaba and her Padawan Caleb Dume fight alongside a battalion of clone troopers against Separatist forces. The skirmish is won, and scenes of celebration between the Jedi and their clone companions indicate their strong camaraderie—until one clone receives a command from Palpatine: "Execute Order 66."
The Jedi fight off their former friends for as long as they can, Depa heroically defending her Padawan and ordering him to run. Caleb follows the order and manages to escape—Depa is not so lucky. From this point on, Caleb faces a life on the run, part of which involves taking a new name: Kanan Jarrus.
The Hype Box
Can't-miss news and updates from across the Marvel Universe!