Comics
Published August 8, 2017
Celebrating Star Wars #29
A rare look at Obi-Wan and Anakin's relationship as master and apprentice before the Clone Wars.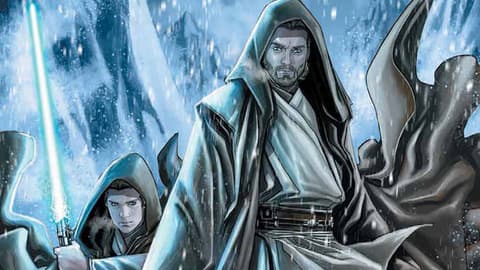 We all know that the first Star Wars film changed the face of pop culture forever when it hit theaters 40 years ago today—but it's not just the movie that's celebrating that milestone in 2017. Star Wars comics arrived with force in 1977, and hundreds of issues later, they're more popular now than ever.
To celebrate the 40th anniversary of Star Wars, we're looking back at our 40 favorite moments from the history of comics from a galaxy far, far away—one day at a time.
Between the events of "The Phantom Menace" and "Attack of the Clones," Obi-Wan Kenobi mentored Anakin Skywalker for eight years. That's a lot of time for Anakin to shape his skills and for many adventures to unfold—but as far as official canon is concerned, few stories have been told that explore this time period. Writer Charles Soule and artist Marco Checchetto changed that with STAR WARS: OBI-WAN AND ANAKIN.
Two plots unfold throughout the five issues. The primary story finds Obi-Wan and his Padawan on a remote planet called Carnelion IV, where the duo has responded to a distress signal. The common belief is that society no longer exists on the planet, but it doesn't take long before the two find themselves in the midst of a civil war between clans known as the Open and the Closed—and neither is particularly friendly.
Perhaps even more notable, the subplot introduces us to some of Palpatine's earliest interactions in mentoring Anakin himself. Instead of exposing Anakin to anything remotely Sith-like, the secret Darth Sidious opts to win over his trust by exposing him to corruption in the Senate through a field trip to the dangerous depths of Coruscant. He stresses he is there to do the right thing—the perfect manipulation to seed the trust he seeks in eventually becoming Anakin's dark master.
The Hype Box
Can't-miss news and updates from across the Marvel Universe!