Comics
Published May 30, 2017
Celebrating Star Wars #3
Obi-Wan takes center stage as we continue to look at Luke's farm life!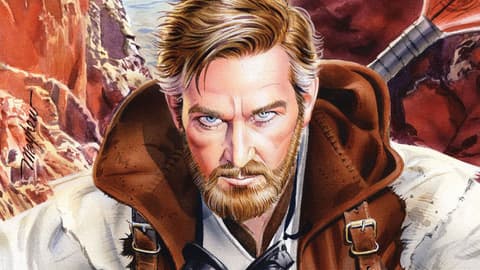 We all know that the first Star Wars film changed the face of pop culture forever when it hit theaters 40 years ago today—but it's not just the movie that's celebrating that milestone in 2017. Star Wars comics arrived with force in 1977, and hundreds of issues later, they're more popular now than ever.
To celebrate the 40th anniversary of Star Wars, we're looking back at our 40 favorite moments from the history of comics from a galaxy far, far away—one day at a time.
As much fun as a day in the life of farmboy Luke Skywalker may have been to see in Marvel's 1970s Star Wars comics,  writer Jason Aaron has taken the idea and run with it for his current STAR WARS series. So far, three issues—#7, #15, and #20—have brought Obi-Wan Kenobi's journal entries from Tatooine to life, as we experience his protection of Luke and the Lars family moisture farm from the Jedi Master's perspective. At times, this presents as simple as watching young Luke crash his T-16 skyhopper at Beggar's Canyon—womp rat cameos included! Obi-Wan jumps into action against Jabba's thugs and Tusken Raiders. And without spoiling too much, Luke himself does some dramatic rescuing of his own!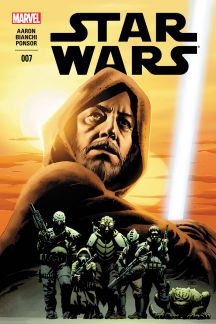 While getting a solid taste of Luke's craving for adventure and excitement at such a young age proves fascinating enough, Obi-Wan's own actions and introspection really make these issues stand out as modern classics. Aaron takes us inside Obi-Wan's head, providing a better understanding not only of how seriously he takes his role of protecting Luke, but also of his struggle to balance assisting Tatooine citizens in peril with keeping a low profile—which, as his showdown with Wookiee bounty hunter Black Krrsantan attests, doesn't always work out so well for him. Obi-Wan even has to deal with Uncle Owen yapping at him, saying he doesn't need his help.
Who ever said life as a secluded hermit would be peaceful?
The Hype Box
Can't-miss news and updates from across the Marvel Universe!