Comics
Published August 16, 2017
Celebrating Star Wars #33
The Sith Lord's first ongoing series begins with one of the best single Star Wars issues ever.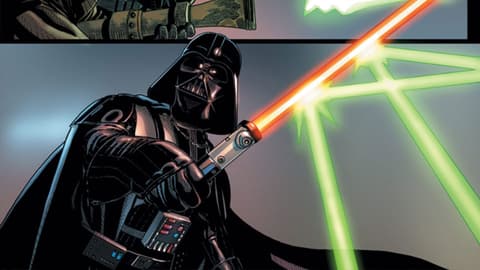 We all know that the first Star Wars film changed the face of pop culture forever when it hit theaters 40 years ago—but it's not just the movie that's celebrating that milestone in 2017. Star Wars comics arrived with force in 1977, and hundreds of issues later, they're more popular now than ever.
To celebrate the 40th anniversary of Star Wars, we're looking back at our 40 favorite moments from the history of comics from a galaxy far, far away—one day at a time.
Though several limited series of the past had featured Darth Vader as their—for lack of a better word—protagonist, not until 2015's Marvel relaunch of Star Wars comics did the Dark Lord of the Sith receive his own ongoing title. It was worth the wait, though—DARTH VADER ranks among the best Star Wars comic series ever, and its first issue kicks things off memorably.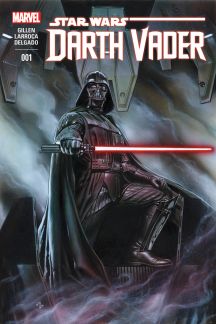 Anyone who's seen "Return of the Jedi" remembers Luke Skywalker's dramatic entrance into Jabba's Palace on Tatooine. Set shortly after the events of "A New Hope," DARTH VADER #1 offers an alternate take on this scenario. Vader's entrance closely mirrors his son's that will occur a few years later, though with decidedly more sinister methods—mostly involving a lightsaber—used to reach the gangster. "I have only killed two [guards]," the man once known as Anakin Skywalker tells Jabba. "Do not make me reconsider my generosity."
As the issue continues, we realize its ties to Jason Aaron's STAR WARS, with references to Vader's first direct altercation with Luke mentioned—and the fact that Vader's appearance at Jabba's Palace is "unofficial," with the "official" one to occur in STAR WARS #4. We also experience a conversation with the Emperor in which Palpatine expresses his disgust with Vader for the destruction of the Death Star, and that now he will be taking orders from Grand General Tagge. When Palpatine asks Vader if he has anything further to report, he willfully neglects to mention important facts such as the death of Obi-Wan Kenobi.
DARTH VADER #1 proves that writer Kieron Gillen and artist Salvador Larocca absolutely get this character and this universe. And they won't let up for the duration of the series' 25-issue run.
The Hype Box
Can't-miss news and updates from across the Marvel Universe!