Comics
Published August 17, 2017
Celebrating Star Wars #35
Lando Calrissian wasn't always the "respectable leader" we see in the films…
We all know that the first Star Wars film changed the face of pop culture forever when it hit theaters 40 years ago—but it's not just the movie that's celebrating that milestone in 2017. Star Wars comics arrived with force in 1977, and hundreds of issues later, they're more popular now than ever.
To celebrate the 40th anniversary of Star Wars, we're looking back at our 40 favorite moments from the history of comics from a galaxy far, far away—one day at a time.
LANDO #1 begins just the way a limited series starring Lando Calrissian should—with the loveable scoundrel wooing a beautiful woman. In the same scene, Charles Soule elegantly provides a full understanding of Lando's current place in the galaxy—and he's not exactly the administrator of a profitable tibanna gas mining facility yet. Rather, he lives a life much like the one lived by his old friend Han Solo, constantly on the run. And in massive debt.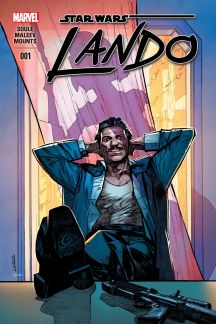 Just as Han has Jabba the Hutt, Lando owes his fair share of credits a soft-spoken crime lord named Papa Toren, who's got just the operation in mind for Lando to wipe that debt away. It's a simple robbery involving the theft of a ship full of priceless art from "some rich Imperial." By issue's end we learn that said rich Imperial is none other than Emperor Palpatine. Oops…
As a whole, LANDO is worth your time not only for Soule's spot-on characterization of someone we love from the films despite limited screen time, but also for "buddy film" vibe between Lando and his closest friend, Lobot. Yeah, that's right—the silent bald guy in "The Empire Strikes Back" with a huge cybernetic implant going around his head. He's not so silent here, asking intelligent questions in the face of Lando's unorthodox line of thinking…but by the end of the series, we'll learn why he's not so chatty by the time Episode V comes around.
The Hype Box
Can't-miss news and updates from across the Marvel Universe!