Comics
Published August 18, 2017
Celebrating Star Wars #36
Poe Dameron's search for Luke Skywalker begins.
We all know that the first Star Wars film changed the face of pop culture forever when it hit theaters 40 years ago—but it's not just the movie that's celebrating that milestone in 2017. Star Wars comics arrived with force in 1977, and hundreds of issues later, they're more popular now than ever.
To celebrate the 40th anniversary of Star Wars, we're looking back at our 40 favorite moments from the history of comics from a galaxy far, far away—one day at a time.
We all remember the first scene of "The Force Awakens," where Poe Dameron receives a key bit of information from Lor San Tekka that might lead the Resistance to the whereabouts of Luke Skywalker. But how did Poe know to go there in the first place? Writer Charles Soule tackles that question in his ongoing POE DAMERON series, and issue #1 sets the tone by establishing two important things.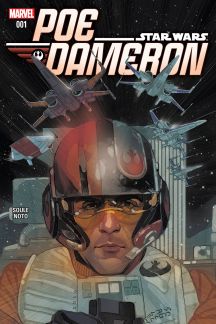 First, an early scene depicts General Leia Organa explaining a vital Resistance mission she entrusts to Poe. She relays that their best hope for finding her Jedi brother is to locate Lor San Tekka and that she has authorized him to form a small squadron for this essential task. This leads to the second important event established by POE DAMERON #1—the creation of Black Squadron.
By the end of the issue, Black Squadron has arrived to the last known whereabouts of Lor San Tekka, only to learn from the native Crèche cult that he left long ago. Only by learning their ways—which includes the worship of a huge egg that contains their "savior"—will they release this information. And, wouldn't you know it, that's the least of Poe's problems… The First Order has tracked Black Squadron and has just arrived to attack.
Though this particular adventure ends with issue #3, Black Squadron's search for Lor San Tekka continues today on the shelves of your current local comic shop in the pages of POE DAMERON.
The Hype Box
Can't-miss news and updates from across the Marvel Universe!