Comics
Published August 22, 2017
Celebrating Star Wars #38
The Kessel Run was just a warmup for the biggest race of Han Solo's life…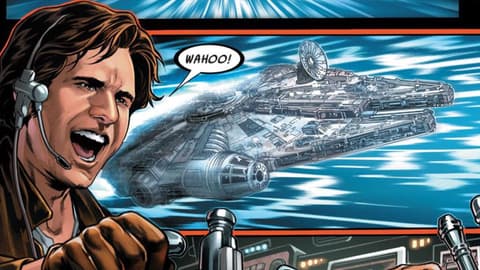 We all know that the first Star Wars film changed the face of pop culture forever when it hit theaters 40 years ago—but it's not just the movie that's celebrating that milestone in 2017. Star Wars comics arrived with force in 1977, and hundreds of issues later, they're more popular now than ever.
To celebrate the 40th anniversary of Star Wars, we're looking back at our 40 favorite moments from the history of comics from a galaxy far, far away—one day at a time.
As popular as Han Solo remains in the Star Wars mythos, few stories have actually centered around his personal perspective and adventures. In HAN SOLO #1, writer Marjorie Liu and artist Mark Brooks kick off a five-issue series focused squarely on our favorite rebellious scoundrel, as he and Chewbacca embark on a mission for the Rebel Alliance in the time between the Death Star's destruction in "A New Hope" and the events of "The Empire Strikes Back."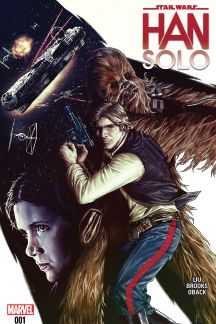 It doesn't start out as a Rebel mission, however—quite the opposite, in fact. As the story opens, we see Han Solo doing what he does best—acting as a smuggler—as he has left the Rebellion to earn the remaining credits he needs to pay off Jabba the Hutt. Soon enough, though, some forceful Rebel agents present Han with a mission from Princess Leia that demands the use of the Millennium Falcon to engage in the Dragon Void Run, described by Leia as "one of the most notorious, dangerous races in the galaxy." Of course, Han won't have anyone piloting the Falcon but he and Chewbacca. So by issue's end, the race of his life has begun—even bigger than the legendary Kessel Run they legendarily ran in less than 12 parsecs.
"Remember, Han, the mission comes first," cautions Leia. "The race is your cover. It is not your objective." Yeah… We'll see how that goes…
The Hype Box
Can't-miss news and updates from across the Marvel Universe!